The Closing of the Net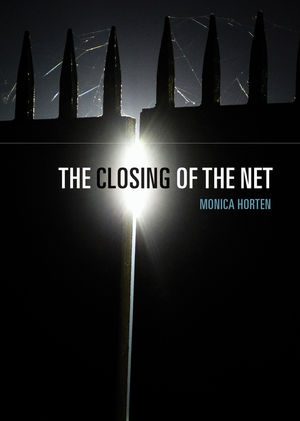 The Closing of the Net
ISBN: 978-1-509-50689-7
Mar 2016, Polity
200 pages
Description
How are political decisions influencing the future direction of Internet communication? As the interests of powerful businesses become more embedded in the online world, so these corporations seek greater exemption from liability. They are manipulating governments and policymakers, blocking and filtering content, and retaining and storing personal data – at the cost of individual access and privacy.

In this compelling account, Monica Horten confronts the deepening cooperation between large companies and the state. Corrupt political manoeuvrings, she argues, suggest that the original vision of a free and democratic Internet is rapidly being eclipsed by a closed, market-led, heavily monitored online ecosystem. And the results are chilling.

The Closing of the Net boldly tackles the controversies surrounding individual rights today. It is essential reading for anyone concerned with present and future Internet policy and its effects on our freedoms.
Acknowledgements
Acronyms and Abbreviations
1 Power and the Internet
2 Private Lives, Public Policy
3 The PRISM Agenda
4 Surveillance Liabilities
5 Not Neutrality Under Pressure
6 Filtering Policy
7 The Cooperation Agenda
8 Blocking Judgements
9 A Dark Cloud
10 Closing Pressures
Notes
References
Index
"Today's communications fabric relies on a layered connective space (the Internet). The corporate power that underwrites that space generates an unprecedented power problem for democracy. Monica Horten's sharply written book confronts that problem head-on, with striking case studies. Who really benefits from the "fingertap of desire" that drives our device use? Read this illuminating book to find out."
Nick Couldry, London School of Economics and Political Science
"Monica Horten writes about human beings' greatest invention – the Internet – and the emerging political and social trends that may cloud its future. Few thinkers could paint such a compelling, unified picture of the political forces across net neutrality, privacy, and mass surveillance – it is politics, not technology, that will most determine the Internet that our children inherit."
Marvin Ammori, Affiliate Scholar at Stanford Law School, Center for Internet and Society
"a book well worth reading ... both original and valuable"
Times Higher Education
"Future histories of information technology may record that the 'open' Internet proved but a transitory phase, and that those old enough to remember taking it for granted recall a golden era when views and ideas could be freely expressed online; for though we might still be able to express ourselves on tomorrow's Internet, 'The Closing of the Net' warns, it may not be for free."
E&T
"Considering the scope and breadth of the research and the clarity of the corresponding analysis, this book would be extremely helpful to those working in the fields of politics, law, media and technology as well as being a general interest text. It is an extremely relevant and timely addition to the growing body of cyber-related literature that I do not hesitate to recommend."
LSE Book Review
"Many books are insightful. The author has a vision, or an interpretation, or a prediction to make. These books all show insight, used by their writers to express a unique viewpoint. Rarer than all is a book which offers its readers insight; where the author does not simply demonstrate their own understanding, but allows the reader to gain new understanding of their own. Chapter by chapter, The Closing of the Netpaints an intricate picture of the politics and law of data privacy in Europe and beyond. Monica Horten's understanding of internet politics is succinct and incisive, making this just such a book."
It Security
"Meticulously well-researched and thoughtfully written, the book takes the pulse of the open web. ... a must-read for any lawyer studying the legislation that internet politics produces."
Journal of Intellectual Property Law & Practice
"This book leads the reader to understand the intricate net of lobbying underpinning core Internet policy issues such as government surveillance, net neutrality, online piracy or the TTIP agreement."
Journal of Cyber Policy (2016)