The Corrupting Sea: A Study of Mediterranean History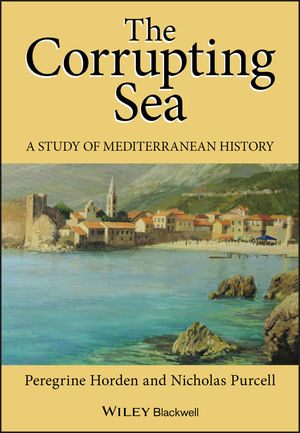 The Corrupting Sea: A Study of Mediterranean History
ISBN: 978-0-631-21890-6 January 2000 Wiley-Blackwell 776 Pages
Description
The Corrupting Sea is a history of the relationship between people and their environments in the Mediterranean region over some 3,000 years. It offers a novel analysis of this relationship in terms of microecologies and the often extensive networks to which they belong.
Table of contents
Introduction.
Acknowledgements.
Note on References and Abbreviations.
Lists of Illustrations.
Part I: 'Frogs Round a Pond': Ideas of the Mediterranean:.
1. A Geographical Expression.
2. A Historian's Mediterranean.
Part II: 'Shory Distances and Definite Places'': Mediterranean Microecologies:.
3. Four Definite Places.
4. Ecology and the Larger Settlement.
5. Connectivity.
Part III: Revolution and Catastrophe:.
6. Imperatives of Survival: Diversify, Store, Redistribute.
7. Technology and Agrarian Change.
8. Mediterranean Catastrophes.
9. Mobility of Goods and People.
Part IV: The Geography of Religion:.
10.'Territories of Grace'.
Part V: 'Museums of Man': The Uses of Social Anthropology:.
11.'Mists of Time': Anthropology and Continuity.
12.'I also Have a Moustache' : Anthropology and Mediterranean Unity.
Bibliographical Essays.
Consolidated Bibliography.
Index.
Reviews
"
The
Corrupting Sea
is a book that all classicists should read."
Classical Review
<!--end-->
"In their book The Corrupting Sea, Horden and Purcell have engaged in one of the most relentless intellectual reassessments to have been undertaken in recent times of the history of the pre-industrial Mediterranean. One seldom emerges from a book as rich as this, having had so many firmly-held notions shaken out of one's mind and having glimpsed so many enthralling new vistas on a once-familiar past." Professor Peter Brown, Princeton University

"To bring together the economic and social history of so many periods and places within the great story of the Mediterranean is a remarkable achievement and Peregrine Horden and Nicholas Purcell should be congratulated upon it." Professor Colin Renfrew, McDonald Institute for Archaeological Research, University of Cambridge

"In recreating the Mediterranean for the new millennium, the authors offer a substantial achievement that challenges many long-held assumptions not only about the Mediterranean, but also about human relations with the environment and even the very nature of historical writing. It certainly deserves to provoke discussion among scholars from fields as broad as its own grand scope." Times Higher Education Supplement

"The Corrupting Sea is a book of magisterial synthesis and scholarship - a huge multi-disciplinary literature turned into a narrative that is at once comprehensive, enjoyable, quirky and thought-provoking." Antiquity

"This book will be indispensable for the serious student of the Mediterranean past and present." CHOICE

"This is an important book that presents a powerful and original model of Mediterranean history that will be used, debated, and criticized by historians of all periods for years to come." English Historical Review

"Horden and Purcell's new Mediterranean panorama, which will take a generation of historians to digest and implement, forms one of those manifest watersheds in the study of antiquity." Journal of Roman Archaeology

"This book amounts to an often fascinating, and unerringly useful, compendium." International History Review

"Here a generation of ecological historians ... has led the way. Horden and Purcell have synthesized that literature, extended its reach into the Middle Ages, and made it accessible to the general medievalist." Speculum

"This impressive work synthesizes a vast amount of historical, geographical, archaelogical, and ethnographic knowledge about the Mediterranean region." Historical Geography
Features


Provides a broad, interdisciplinary history of the Mediterranean from the ancient to the early modern era.


Discusses the geography and ecology of the region as well as social and economic change over time.


Challenges Ferdinand Braudel's assumptions in his classic work on the later history of the Mediterranean.