The Cultural Foundations of Nations: Hierarchy, Covenant, and Republic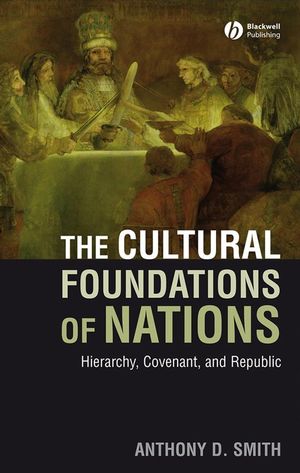 The Cultural Foundations of Nations: Hierarchy, Covenant, and Republic
ISBN: 978-1-405-18219-5 April 2008 Wiley-Blackwell 264 Pages
Description
This major new work by Professor Anthony D. Smith challenges the notion of nationalism as a product of modernity.
Major new work by a leading historical sociologist
Challenges the prevailing idea of nationalism as a product of modernity
Demonstrates that different political forms of community and collective identity from pre-modern times have contributed to the formation and character of nations
Analyzes the chronology and nature of nations, from the ancient world, to the European Middle Ages, the early modern, and the modern eras
Discusses alternative destinies facing modern nations today
Table of contents
Preface.
Introduction: The Theoretical Debate.
1 The Concept and its Varieties.
2 Ethnic and Religious Roots.
3 Community in the Ancient World.
4 Hierarchical Nations.
5 Covenantal Nations.
6 Republican Nations.
7 Alternative Destinies.
Conclusion.
Notes.
References
Reviews
"This book bears the unmistakable hallmarks of a work by Anthony D. Smith. The theme, the breadth of cases covered, generous sprinkles of insights from history of art and measured critiques of modernist positions are all Anthony D. Smith par excellence. There are no nasty surprises and the reader can simply sit back and let his/her mind wander off to enjoy the intellectual tour under Smith's sure guidance."  (
European History Quarterly
, 2011)
"Smith's attempt to reintegrate pre-modern history into the study of nations and nationalism is certainly to be welcomed, as it highlights the degree to which even modern nationalism draws on cultural practices and ideological concepts that are indeed of very old origin." (
Journal of Contemporary History
, July 2009)
"In its organization, theory, and scholarship, the book is outstanding." (CHOICE)
Features


Major new work by a leading historical sociologist

Challenges the prevailing idea of nationalism as a product of modernity

Demonstrates that different political forms of community and collective identity from pre-modern times have contributed to the formation and character of nations

Analyzes the chronology and nature of nations, from the ancient world, to the European Middle Ages, the early modern, and the modern eras

Discusses alternative destinies facing modern nations today