The Ethnic Origins of Nations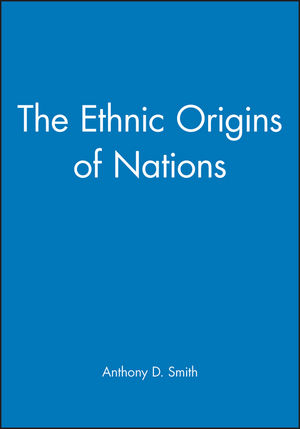 The Ethnic Origins of Nations
ISBN: 978-0-631-16169-1 April 1988 Wiley-Blackwell 332 Pages
Description
This book is an excellent, comprehensive account of the ways in which nations and nationhood have evolved over time. Successful in hardback, it is now available in paperback for a student audience.
Table of contents
Preface.
Note to Maps.
Maps.
Introduction.
1. Are Nations Modern?.
'Modernists' and 'Primordialists'.
Ethnie, Myths and Symbols.
The Durability of Ethnic Communities.
Part I: Ethnic Communities in Pre-Modern Eras:.
2. Foundations of Ethnic Community.
The Dimensions of Ethnie.
Some Bases of Ethnic Formation.
Structure and persistence of Ethnie.
3. Ethnie and Ethnicism in History.
Uniqueness and Exclusion.
Ethnic Resistance and Renewal.
External Threat and Ethnic Response.
Two Types of Ethnic Mythomoteur.
4. Class and Ethnie in Agrarian Societies.
Military Mobilization and Ethnic Consciousness.
Two Types of Ethnie.
Ethnic Polities.
5. Ethnic Survival and Dissolution.
Location and Sovereignty.
Demographic and Cultural Continuity.
Dissolution of Ethnie.
Ethnic Survival.
Ethnic Socialization and Religious Renewal.
Part II: Ethnie and Nations in the Modern Era.
6. The Formation of Nations.
Western Revolutions.
Territorial and Ethnic Nations.
Nation-Formation.
The Ethnic Model.
Ethnic Solidarity or Political Citizenship?.
7. From Ethnie to Nation.
Politicization of Ethnie.
The New Priesthood.
Autarchy and Territorialization.
Mobilization and Inclusion.
The New Imagination.
8. Legends and Landscapes.
Nostalgia and Posterity.
The Sense of 'The Past'.
Romantic Nationalism as an 'Historical Drama'.
Poetic Spaces: The Uses of Landscape.
Golden Ages: The Uses of History.
Myths and Nation-Building.
9. The Genealogy of Nations.
Parmenideans and Heraclitans.
The 'Antiquity' of Nations.
Transcending Ethnicity?.
A World of Small Nations.
Ethnic Mobilization and Global Security.
Notes.
Bibliography.
Index.
Reviews
"The scope of Smith's work is breathtaking ... Part I is in some respects the most original part of the book; to my knowledge there is no comparable survey."
Journal of American Ethnic History
"Unquestionably an important contribution to the literature on nationalism ... this is a thoughtful, insightful investigation into the roots and strengths of ethnonational identity. ... I recommend it unhesitatingly to all students of nationalism." Walker Connor, Trinity College, Hartford
A well-researched, perceptive study of an important subject. It discusses comprehensively ethnic communities in pre-modern eras and ethnic and nations in modern ones. In addition to being based on solid facts, it is methodologically sound and conceptually provocative ... no political scientist, historian or sociologist can do without it." A. Jacob M. Landau, The Hebrew University of Jerusalem
"Smith's depth of learning is awe-inspiring, and this work deserves a prominent place wherever nationalism is discussed." Michael Levin, Ethnic and Racial Studies