The Future of Higher Education: Rhetoric, Reality, and the Risks of the Market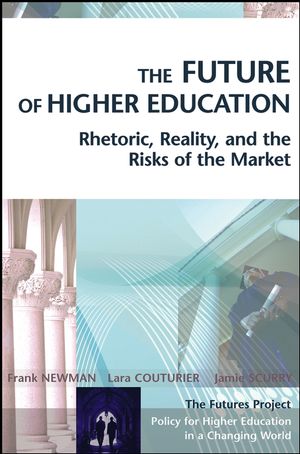 The Future of Higher Education: Rhetoric, Reality, and the Risks of the Market
ISBN: 978-0-787-96972-1
Oct 2004, Jossey-Bass
304 pages
Description
A powerful look at the risks inherent in the trend toward making higher education a market rather than a regulated public sector, The Future of Higher Education reveals the findings of an extensive four-year investigation into the major forces that are transforming our American system of higher education. The book explores the challenges of intensified competition among institutions, globalization of colleges and universities, the expansion of the new for-profit and virtual institutions, and the influence of technology on learning. This important resource offers college and university leaders and policy makers an analysis of the impact of these forces of change and includes suggestions for creating an effective higher education market as well as a call for a renewed focus on the public purposes of higher education.
Preface.
The Authors.
1. Higher Education in the Grip of Transforming Change.
2. The New Competition.
3. The Coming of the Market.
4. The Growing Gap Between Public Needs and the Reality of Higher Education.
5. The Public, Political Leaders, and the Academy View Higher Education.
6. Creating a Thoughtful Market.
7. Autonomy, Accountability, and the New Compact.
8. Who Is Responsible for Student Learning?
9. Expanding Access and Success.
10. Competitive Grants for Teaching and Institutional Service.
11. College and University Strategies for the New Era.
12. A Decade of Opportunity.
Notes.
References.
Index.
""Revealing findings from a thorough four-year examination…"" (The Midwest Book Review; 12/1/2004)