The Girl with the Dragon Tattoo and Philosophy: Everything Is Fire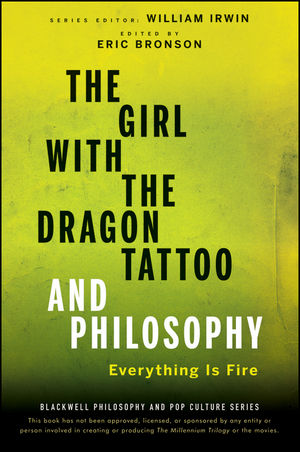 The Girl with the Dragon Tattoo and Philosophy: Everything Is Fire
ISBN: 978-0-470-94758-6 November 2011 240 Pages
Description
The essential companion to Stieg Larsson's bestselling trilogy and director David Fincher's 2011 film adaptation
Stieg Larsson's bestselling Millennium Trilogy—The Girl with the Dragon Tattoo, The Girl Who Played with Fire, and The Girl Who Kicked the Hornet's Nest—is an international phenomenon. These books express Larsson's lifelong war against injustice, his ethical beliefs, and his deep concern for women's rights. The Girl with the Dragon Tattoo and Philosophy probes the compelling philosophical issues behind the entire trilogy. What philosophies do Lisbeth Salander and Kant have in common? To catch a criminal, can Lisbeth and Mikael be criminals themselves? Can revenge be ethical? Drawing on some of history's greatest philosophical minds, this book gives fresh insights into Larsson's ingeniously plotted tale of crime and corruption.
Looks at compelling philosophical issues such as a feminist reading of Lisbeth Salander, Aristotelian arguments for why we love revenge, how Kant can explain why so many women sleep with Mikael Blomkvist, and many more
Includes a chapter from a colleague of Larsson's—who worked with him in anti-Nazi activities—that explores Larsson's philosophical views on skepticism and quotes from never-before-seen correspondence with Larsson
Offers new insights into the novels' key characters, including Lisbeth Salander and Mikael Blomkvist, and investigates the author, Stieg Larsson
As engrossing as the quest to free Lisbeth Salander from her past, The Girl with the Dragon Tattoo and Philosophy is ideal reading for anyone interested in unraveling the subtext and exploring the greater issues at work in the story.
ACKNOWLEDGMENTS:
Confi dential Sources xv
Introduction: The Girl Who Kicked the Sophists' Nest 1
PART ONE: LISBETH "THE IDIOT" SALANDER
1 Labeling Lisbeth: Sti(e)gma and Spoiled Identity 7
Aryn Martin and Mary Simms
2 The Mis- Education of Lisbeth Salander and the Alchemy of the At- Risk Child 19
Chad William Timm
3 The Girl Who Turned the Tables: A Queer Reading of Lisbeth Salander 33
Kim Surkan
PART TWO: MIKAEL "DO-GOODER" BLOMKVIST
4 Why Are So Many Women F***ing Kalle Blomkvist?: Larsson's Philosophy of Female Attraction 49
Andrew Terjesen and Jenny Terjesen
5 Why Journalists and Geniuses Love Coffee and Hate Themselves 65
Eric Bronson
6 The Making of Kalle Blomkvist: Crime Journalism in Postwar Sweden 75
Ester Pollack
PART THREE: STIEG LARSSON, MYSTERY MAN
7 The Philosopher Who Knew Stieg Larsson: A Brief Memoir 91
Sven Ove Hansson
8 "This Isn't Some Damned Locked- Room Mystery Novel": Is The Millennium Trilogy Popular
Fiction or Literature? 107
Tyler Shores
9 Why We Enjoy Reading about Men Who Hate Women: Aristotle's Cathartic Appeal 120
Dennis Knepp
10 The Dragon Tattoo and the Voyeuristic Reader 128
Jaime Weida
PART FOUR: "EVERYONE HAS SECRETS"
11 Hacker's Republic: Information Junkies in a Free Society 141
Andrew Zimmerman Jones
12 Kicking the Hornet's Nest: The Hidden "Section" in Every Institution 155
Adriel M. Trott
13 Secret Meetings: The Truth Is in the Gossip 166
Karen C. Adkins
PART FIVE: 75,000 VOLTS OF VENGEANCE CAN'T BE WRONG, CAN IT?
14 The Principled Pleasure: Lisbeth's Aristotelian Revenge 181
Emma L. E. Rees
15 Acting Out of Duty or Just Acting Out?: Salander and Kant 189
Tanja Barazon
16 To Catch a Thief: The Ethics of Deceiving Bad People 198
James Edwin Mahon
CONTRIBUTORS: The Knights of the Philosophic Table 211
INDEX: Code Words 217
"In this excellent and timely addition to the series, Bronson (humanities, York University, Toronto) pulls together 18 international scholars and writers who examine both Stieg Larsson's novels and the movies based on them. Main characters Lisbeth Salander and Mikael Blomkvist each receive a section devoted to essays on identity politics, feminist dimensions in culture, and other salient and philosophical concerns they personify. Larsson is treated in a third section of essays, with the final two sections taking on secrets and ethics. Contributors include Karen Adkins (philosophy, Regis Coll.), Ester Pollack (journalism, Stockholm University), Andrew Terjesen, who has contributed to other volumes in the series, and James E. Mahon (philosophy & law, Washington and Lee Univ.). They take up such specific considerations as Lisbeth's sexual identity, Mikael's investigatory methodology, and the ethical nature of social institutions; of course, each essay suggests philosophical assertions that can be and are argued against as well as for, making for a heady and welcome whole. You'll learn how Aristotle and Kant—among others—can be illuminated through the "Millennium Trilogy." VERDICT This volume belongs in both popular and scholarly collections." [The book is not an officially licensed product of the Larsson books or the movies.—Ed.]—Francisca Goldsmith, Infopeople Project, Berkeley, CA (Library Journal, November 15, 2011)