The Handbook of Conflict Resolution: Theory and Practice, 2nd Edition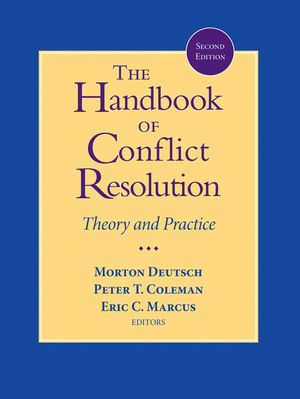 The Handbook of Conflict Resolution: Theory and Practice, 2nd Edition
ISBN: 978-0-787-98058-0
Oct 2006, Jossey-Bass
960 pages
Product not available for purchase
Description
The Handbook of Conflict Resolution, Second Edition is written for both the seasoned professional and the student who wants to deepen their understanding of the processes involved in conflicts and their knowledge of how to manage them constructively. It provides the theoretical underpinnings that throw light on the fundamental social psychological processes involved in understanding and managing conflicts at all levels—interpersonal, intergroup, organizational, and international. The Handbook covers a broad range of topics including information on cooperation and competition, justice, trust development and repair, resolving intractable conflict, and working with culture and conflict. Comprehensive in scope, this new edition includes chapters that deal with language, emotion, gender, and personal implicit theories as they relate to conflict.
Preface.
Introduction (Morton Deutsch).
PART ONE: INTERPERSONAL AND INTERGROUP PROCESSES.
1 Cooperation and Competition (Morton Deutsch).
2 Justice and Conflict (Morton Deutsch).
3 Constructive Controversy: The Value of Intellectual Opposition (David W. Johnson, Roger T. Johnson, Dean Tjosvold).
4 Trust, Trust Development, and Trust Repair (Roy J. Lewicki).
5 Power and Conflict (Peter T. Coleman).
6 Communication and Conflict (Robert M. Krauss, Ezequiel Morsella).
*7 Language, Peace, and Conflict Resolution (Francisco Gomes de Matos).
8 Intergroup Conflict (Ronald J. Fisher).
9 The PSDM Model: Integrating Problem Solving and Decision Making in Conflict Resolution (Eben A. Weitzman, Patricia Flynn Weitzman).
*10 Gender Conflict and the Family (Janice M. Steil, Liora Hoffman).
PART TWO: INTRAPSYCHIC PROCESSES.
11 Judgmental Biases in Conflict Resolution and How to Overcome Them (Leigh Thompson, Janice Nadler, Robert B. Lount, Jr.).
*12 Emotion and Conflict: Why It Is Important to Understand How Emotions Affect Conflict and How Conflict Affects Emotions (Evelin G. Lindner).
13 Self-Regulation in the Service of Conflict Resolution (Walter Mischel, Aaron L. DeSmet, Ethan Kross).
PART THREE: PERSONAL DIFFERENCES.
*14 Implicit Theories and Conflict Resolution (Carol S. Dweck, Joyce Ehrlinger).
15 Personality and Conflict (Sandra V. Sandy, Susan K. Boardman, Morton Deutsch).
16 The Development of Conflict Resolution Skills: Preschool to Adulthood (Sandra V. Sandy).
PART FOUR: CREATIVITY AND CHANGE.
17 Creativity and Conflict Resolution: The Role of Point of View (Howard E. Gruber).
18 Some Guidelines for Developing a Creative Approach to Conflict (Peter T. Coleman, Morton Deutsch).
*19 Creativity in the Outcomes of Conflict (Peter J. Carnevale).
20 Change and Conflict: Motivation, Resistance and Commitment (Eric C. Marcus).
21 Changing Minds: Persuasion in Negotiation and Conflict Resolution (Alison Ledgerwood, Shelly Chaiken, Deborah H. Gruenfeld, Charles M. Judd).
22 Learning Through Reflection (Victoria J. Marsick, Alfonso Sauquet, Lyle Yorks).
PART FIVE: DIFFICULT CONFLICTS.
23 Aggression and Violence (Susan Opotow).
24 Intractable Conflict (Peter T. Coleman).
*25 Moral Conflict and Engaging Alternative Perspectives (Beth Fisher-Yoshida, Ilene Wasserman).
*26 Matters of Faith: Religion, Conflict, and Conflict Resolution (Bridget Moix).
*27 Conflict Resolution and Human Rights (Andrea Bartoli, Yannis Psimopoulos).
PART SIX: CULTURE AND CONFLICT.
28 Culture and Conflict (Paul R. Kimmel).
*29 Multicultural Conflict Resolution (Paul Pederson).
30 Cooperative and Competitive Conflict in China (Dean Tjosvold, Kwok Leung, David W. Johnson).
PART SEVEN: MODELS OF PRACTICE.
31 Teaching Conflict Resolution Skills in a Workshop (Ellen Raider, Susan Coleman, Janet Gerson).
32 Mediation Revisited (Kenneth Kressel).
33 Managing Conflict Through Large-Group Methods (Barbara Benedict Bunker).
*34 Conflict in Organizations (W. Warner Burke).
*35 Eight Suggestions from the Small-Group Conflict Trenches (Kenneth Sole).
PART EIGHT: LOOKING TO THE FUTURE.
36 A Framework for Thinking About Research on Conflict Resolution Initiatives (Morton Deutsch, Jennifer S. Goldman).
*37 Some Research Frontiers in the Study of Conflict and Its Resolution (Dean G. Pruitt).
Concluding Overview (Peter T. Coleman, Eric C. Marcus).
Recommended Reading.
About the Editors.
About the Contributors.
Name Index.
Subject Index.
"an excellent introduction to psychological theories of conflict and its resolution . . . " (Analysis of Social Issues and Public Policies, Vo. 1, No. 1 2007)