The Handbook of Internet Studies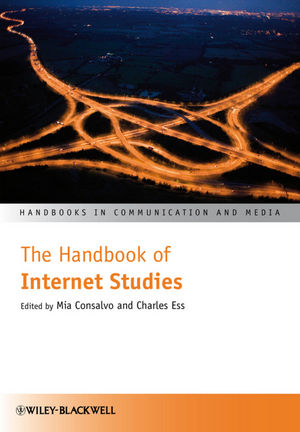 The Handbook of Internet Studies
ISBN: 978-1-405-18588-2 April 2011 Wiley-Blackwell 516 Pages
Description
The Handbook of Internet Studies brings together scholars from a variety of fields to explore the profound shift that has occurred in how we communicate and experience our world as we have moved from the industrial era into the age of digital media. 
Presents a wide range of original essays by established scholars in everything from online ethics to ways in which indigenous peoples now use the Internet
Looks at the role of the internet in modern societies, and the continuing development of internet studies as an academic field
Explores Internet studies through history, society, culture, and the future of online media
Provides introductory frameworks to ground and orientate the student, while also providing more experienced scholars with a convenient and comprehensive overview of the latest trends and critical directions in the many areas of Internet research
Notes on Editors and Contributors.
Acknowledgments.
Introduction (Charles Ess and Mia Consalvo).
Part I: Beyond the Great Divides? A Primer on Internet Histories, Methods, and Ethics.
Introduction to Part I (Charles Ess).
1. Studying the Internet Through the Ages (Barry Wellman).
2. Web Archiving – Between Past, Present, and Future (Niels Brügger).
3. New Media, Old Methods – Internet Methodologies and the Online/Offline Divide (Klaus Bruhn Jensen).
4. The Internet in Everyday Life: Exploring the Tenets and Contributions of Diverse Approaches (Maria Bakardjieva).
5. Internet Research Ethics: Past, Present, and Future (Elizabeth A. Buchanan).
Part II: Shaping Daily Life: The Internet and Society.
Introduction to Part II (Mia Consalvo).
6. Assessing the Internet's Impact on Language (Naomi S. Baron).
7. Internet Policy (Sandra Braman).
8. Political Discussion Online (Jennifer Stromer-Galley and Alexis Wichowski).
9. Does the Internet Empower? A Look at the Internet and International Development (Deborah L. Wheeler).
10. Internet and Health Communication (Lorna Heaton).
11. Internet and Religion (Heidi Campbell).
12. Indigenous Peoples on the Internet (Laurel Dyson).
13. Queering Internet Studies: Intersections of Gender and Sexuality (Janne Bromseth and Jenny Sundén).
Part III: Internet and Culture.
Introduction to Part III (Mia Consalvo).
14. Community and the Internet (Lori Kendall).
15. MOOs to MMOs: The Internet and Virtual Worlds (Mia Consalvo).
16. Internet, Children, and Youth (Sonia Livingstone).
17. Internet and Games (T. L. Taylor).
18. Social Networks 2.0 (Nancy K. Baym).
19. Newly Mediated Media: Understanding the Changing Internet Landscape of the Media Industries (P. David Marshall).
20. Online Pornography: Ubiquitous and Effaced (Susanna Paasonen).
21. Music and the Internet (Robert Burnett).
22. Why and How Online Sociability Became Part and Parcel of Teenage Life (Marika Lüders).
Index.
"Summing Up: Highly recommended.  Upper-division undergraduates, graduate students, and faculty."  (Choice, 1 April 2012)
"Together, the comprehensive and quite thought-provoking individual essays provide richly insightful perspectives into the extent to which the internet is shaping and being shaped by human cultures and societies, and the various ways in which scholars might consider and approach such processes."  (Digital Journalism, 19 August 2014)
Presents a wide range of original essays by established scholars in everything from the online ethics to ways in which indiginous peoples now use the Internet

Looks at the role of the internet in modern societies, and the continuing development of internet studies as an academic field

Explores Internet studies through history, society, culture, and the future of online media
Provides introductory frameworks to ground and orientate the student, while also providing more experienced scholars with a convenient and comprehensive overview of the latest trends and critical directions in the many areas of Internet research