The Ironic Spectator: Solidarity in the Age of Post-Humanitarianism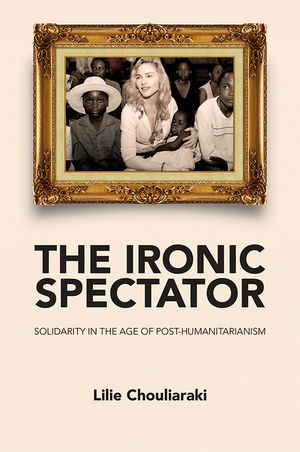 The Ironic Spectator: Solidarity in the Age of Post-Humanitarianism
ISBN: 978-0-745-64210-9 December 2012 Polity 248 Pages
Description
WINNER of the 2015 ICA Outstanding Book Award
This path-breaking book explores how solidarity towards vulnerable others is performed in our media environment. It argues that stories where famine is described through our own experience of dieting or or where solidarity with Africa translates into wearing a cool armband tell us about much more than the cause that they attempt to communicate. They tell us something about the ways in which we imagine the world outside ourselves.
By showing historical change in Amnesty International and Oxfam appeals, in the Live Aid and Live 8 concerts, in the advocacy of Audrey Hepburn and Angelina Jolie as well as in earthquake news on the BBC, this far-reaching book shows how solidarity has today come to be not about conviction but choice, not vision but lifestyle, not others but ourselves – turning us into the ironic spectators of other people's suffering.
Table of contents
Figures viii
Acknowledgements ix
1 Solidarity and Spectatorship 1
Introduction: 'Find your Feeling' 1
Th e instrumentalization of humanitarianism 5
Solidarity without 'grand narratives' 9
The technologization of communication 15
The ethics of objectivity 21
Conclusion: on this book 24
2 The Humanitarian Imaginary 26
Introduction: communicating vulnerability 26
The theatricality of humanitarianism 27
Critiques of the theatricality of humanitarianism 36
The humanitarian imaginary 43
Conclusion: on the performances of the imaginary 52
3 Appeals 54
Introduction: the paradox of appeals 54
The crisis of the theatre of pity 55
The controversy around appeals 57
The reflexive styles of appealing 65
Reflexive appeals and their authenticity effects 73
Conclusion: the ambivalence of 'cool' activism 76
4 Celebrity 78
Introduction: the celebrity as expert performer 78
Theatre, celebrity, authenticity 79
The celebrity controversy 83
The performativity of celebrity humanitarianism 88
'Moments' of humanitarian performance 90
Celebrity and its authenticity eff ects 98
Conclusion: towards a utilitarian altruism 104
5 Concerts 106
Introduction: rock as ritual ceremonies 106
Aid concerts: communitas or cynicism? 108
An analytics of ceremonial performativity: Live Aid and Live 8 114
The authenticity effects of ceremonial humanitarianism 132
Conclusion: towards a strategic morality of solidarity 136
6 News 138
Introduction: the moral appeal of news 138
The theatricality of journalism 140
The controversy around television witnessing 144
The analysis of narrative aesthetics 149
News narratives: a typology of witnessing 153
The authenticity eff ects of news: from narrative to database 164
Conclusion: objectivity or therapy? 170
7 Theatricality, Irony, Solidarity 172
Introduction: the historical shifts of humanitarianism 172
Post-humanitarianism: solidarity as irony 174
Post-humanitarianism as neoliberalism 179
Beyond irony: solidarity as agonism 188
Conclusion: on being good 203
Notes 206
References 215
Index 232
Reviews
WINNER of the 2015 ICA Outstanding Book Award

"This book achieves a rare combination of opening new analytical and theoretical ground while retaining direct and lucid engagement with critical and urgent human concerns."
The British Journal of Sociology

"The Ironic Spectator, therefore, is not only an eminent work of media studies scholarship that presents a detailed and inspiring analytical framework. Its theorization of post-humanitarianism and the aesthetic and sociopolitical questions posed by new media practices deserves to earn it a wide readership in all disciplines interested in contemporary popular culture and world politics."
European Journal of Communication

"The significance of The Ironic Spectator for students and scholars of contemporary media, international relations, "development", and the broader social sciences, and, ideally, people working within media, for NGOs and INGOs, and the wider humanitarian and development sectors, cannot be overstated."
Social Semiotics

"Chouliaraki conducts an impressive, interdisciplinary analysis. She embraces the paradoxes and ambivalences of each genre, presenting a state of the art critique, and thoroughly analysing the genre's past and present form in order to suggest how the changes in communicative structure may affect how we are invited to act on distant others."
The Journal of Development Studies

"Chouliaraki qualifies as a high priestess of the representation of suffering and how we engage with distant others. She dissects with great clarity exactly what is taking place in this post humanitarian sensibility and how supporters are now being drawn in to apparently care and show solidarity with distant sufferers."
LSE Review of Books

"As refreshing and enervating as a cold mountain spring on a hot day. Chouliaraki has extraordinary ability to condense and parse complex debates briskly."
Journal of International Development

"The Spectatorship of Suffering, by Lilie Chouliaraki, rapidly became a classic, present on almost every key and suggested reading list on courses dealing with global media and international journalism… Therefore, The Ironic Spectator is a more than welcome contribution to this field, offering an opportunity to discuss one of the most pressing issues in media and journalism studies. In this book, she deals with the issue of humanitarian communication, offering a comprehensive set of arguments which makes us think truly out of the box."
Digital Journalism

"Lilie Chouliaraki's The Ironic Spectator is the best journalism book for 2013."
Prof. Bob Franklin, Cardiff University; editor of Journalism Studies

"The Ironic Spectator will have far-reaching impact, as its arguments unsettle accepted paradigms in media ethics and development studies, but also in political communication, journalism, and social theory. Written in her distinctively lyrical prose, Lilie Chouliaraki's latest book inspires us to judge not only the efficiencies but the ethics of humanitarian projects. With it, we can no longer deny the infinite folly in failing to factor in the moral cost of self-centered communication."
Journal of Communication

"In 2006 Lilie Chouliaraki published The Spectatorship of Suffering which is commonly considered to be a seminal work within the young and emerging field of research that concerns itself with the issue of mediated disasters and human suffering...It is fair to say that Chouliaraki has raised the bar once more with her more recent contribution to this field, 'The Ironic Spectator', which discerns important differentiations, distinctions and transformations at work in the humanitarian mediation of human suffering while also reflecting on broader societal developments."
International Journal of Communication

"Chouliaraki provides us with an exceptionally rich, detailed and comprehensive framework for understanding the moral role of the media in our time. The Ironic Spectator ... offers a compelling account of how humanitarian communications have become increasingly focussed on the self, rather than the other, but also, perhaps more importantly, it offers an equally compelling normative vision of what humanitarian communication should look like."
Critical Discourse Studies

"An exceptionally important work … We should be grateful to Lilie Chouliaraki for providing such inspiration and challenge."
Communications

"How can humanitarian communication move beyond the pitfalls of both traditional humanitarianism (which can reinforce stereotypical images of helpless victims from the South) and of post-humanitarianism? Chouliaraki provides an alternative theoretical model based on theatricality, but the extent to which it can be enforced in practice remains to be seen. Indeed, this is precisely why her book – written with brio, depth and sensitivity – is so valuable, and deserves attention. The Ironic Spectator is a must-read for anyone professing to a level of social consciousness, and proves that academic debates can play a role in both fostering improved ethics in the context of a pervasive aspect of contemporary global life, as well as informing new humanitarian practices."
Global Journal

"Lilie Chouliaraki is the Aristotle of mediated humanitarianism. With empirical finesse and theoretical bite, she shows how compassion for distant suffering turned from pity into glitz. And yet she defends theatricality as a potential moral force if checked by critical self-awareness. This book casts desperately needed light onto media and morality today."
John Durham Peters, University of Iowa

"In this breakthrough investigation, Lilie Chouliaraki brings a 'sceptical optimism' to bear on humanitarian politics today. With its theoretical finesse and rich cases, The Ironic Spectator shows the transformations solidarity has recently undergone, and still needs to make, as citizens seek an emotional connection to a tragic but distant world."
Samuel Moyn, Columbia University, author of The Last Utopia: Human Rights in History

"The Ironic Spectator is a profoundly arresting argument for our global and mediated times. With razor intelligence, Chouliaraki slices into old debates, salvages what's still of use and structures new analytical constructs for the exploration of the possibilities of cosmopolitan solidarity in a 'post-humanitarian' world. Brilliant, disturbing, humane."
Simon Cottle, Cardiff University
"Lilie Chouliaraki provides us with excellent intellectual food for thought to keep 'us' (academics, teachers, development 'experts',…) on our toes!"
Aidnography Blog
Features
Analyses how the media present violence globally and the ethical implications this has for audiences
Develops an Aristotelian framework in order to understand the issues involved
Accessible and engaging text that uses strong, international examples to explicate the philosophy
Deals with a pressing and important topic in the field of media and communications