The Liberating Power of Symbols: Philosophical Essays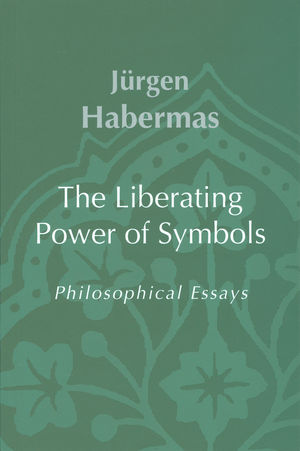 The Liberating Power of Symbols: Philosophical Essays
ISBN: 978-0-745-62552-2 January 2001 Polity 144 Pages
Description
In this new collection of lectures and essays Jurgen Habermas engages with a wide range of figures in twentieth-century thought. The book displays once again his ability to capture the essence of a thinker's work, his feeling for the texture of intellectual traditions and his outstanding powers of critical assessment.


Habermas has described these essays as 'fragments of a history of contemporary philosophy'. The volume includes explorations of the work of Ernst Cassirer, Karl Jaspers and Gershom Scholem, as well as reponses to friends and colleagues such as Michael Thuenissen, Karl-Otto Apel and the writer and film-maker Alexander Kluge. It also includes pieces on the Finnish philosopher Georg Henrik von Wright and the theologian Johann Baptist Metz.


This new volume will be an invaluable resource for students and scholars of Habermas and twentieth-century philosophy.
Table of contents
Preface.
Chapter 1: The Liberating Power of Symbols: Ernst Cassirer's Humanistic Legacy and the Warburg Library.
Chapter 2: The Clash of Beliefs: Karl Jaspers on the Conflict Between Cultures.
Chapter 3: Between Traditions: A Laudatio for Georg Henrik von Wright.
Chapter 4: Tracing in History the Other of History: On Gershom Scholem's Sabbatai Zwi.
Chapter 5: A Master Builder with Hermeneutic Tact: Karl-Otto Apel's Path of Thought.
Chapter 6: Israel or Athens: To Whom does Anamnetic Reason Belong? Johann Baptist Metz on Unity Amidst Multicultural Plurality.
Chapter 7: Communicative Freedom and Negative Theology: Questions for Michael Theunissen.
Chapter 8: The Useful Mole who Ruins the Beautiful Lawn: The Lessing Prize for Alexander Kluge.
Index
Reviews
Jürgen Habermas has been awarded the prestigious 'Friedenspreis des deutschen Buchhandels' prize for 2001
'The Liberating Power of Symbols carries on from where Habermas's previous foray into modern European thought, The Philosophical Discourse of Modernity, left off. If the latter offered a trenchant critique of post-structuralism, the former concentrates on promising departures for contemporary philosophy ... These new books by Habermas will be indispensable for years to come [and will] undoubtedly make provocative reading.' Anthony Elliott, The Australian

'This book is a must read for students interested in the power of symbols and how these can serve as mechanisms of suppression and emancipation. This is also a good book for those interested in the development of Habermas' ideas, as many of the essays and lectures illustrate how he builds and validates his arguments.' Millennium
Features
1. A new collection of philosophical essays by one of the world's leading social and political thinkers.
2. Explores the work of important figures in twentieth-century philosophy and theology, such as Karl Jaspers and Gerschom Scholem
3. An invaluable resource for students and scholars of contemporary philosophy and theology.