The New Pioneers: Sustainable business success through social innovation and social entrepreneurship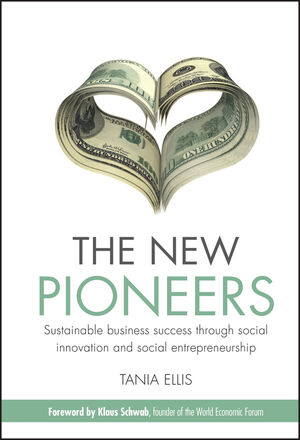 The New Pioneers: Sustainable business success through social innovation and social entrepreneurship
ISBN: 978-0-470-74842-8
Jul 2010
276 pages
Description
New times create new needs – and new needs require new solutions. The New Pioneers is a practical guide for capitalists and idealists on how to navigate in the new economic world order.

It is about the social megatrends that are shaping our lives in new ways and creating a new face of capitalism. And it is about the pioneers that are paving the way for the new business revolution: this century's generation of visionary leaders, social entrepreneurs and social intrapreneurs.

'Hardcore business people are realising that they can increase their profits by incorporating social responsibility into their business, and heartcore idealists are realising that the use of market methods helps them meet their social goals successfully,' argues Tania Ellis.

With a wide array of cases from all over the world Tania Ellis explains the key principles of sustainable business success. Read The New Pioneers to gain insight into the new rules that are paving the way for business unusual – for the benefit of humanity and the bottom line.

Learn more about The New Pioneers and join the movement of sustainable businesses and social entrepreneurs at www.thenewpioneers.biz
Foreword (
Klaus Schwab
)
Introduction.
PART I New Times – New Needs.
CHAPTER 1 Outer globalization.
A business world of disorder – the new business paradigm.
The great globalization race – how nations compete.
Five planets wanted – environmental imbalances and growth principle.
More wealth and more inequality – economic imbalances and growth principle.
The silent killers – social imbalances and growth principle.
CHAPTER 2 Inner globalization.
Generation MeWe – conscious labour markets.
The Global Brain – hybrid markets.
Collaborative problem solvers – collective intelligence markets.
Civil power brokers – activism markets.
Conscious buycotters – ethical consumption markets.
PART II New Needs – New Solutions.
CHAPTER 3 The routes to sustainable business success.
The new faces of capitalism – blurring sector borders and the fourth sector.
The value of social entrepreneurship – three dimensions of the new business paradigm.
Responsible business 2.0 – from CSR to CSI and the four enabling Cs.
A business force for good – the power of partnerships and converging fields.
CHAPTER 4 Visions for the future.
An evolutionary revolution – in the midst of a paradigm shift.
Utopias and pessimism – about hope and fear.
Everyone has a role to play – and the power of YOU!
References.
Further reading.
Acknowledgements.
About the author.
Index.