The Phenomenal Woman: Feminist Metaphysics and the Patterns of Identity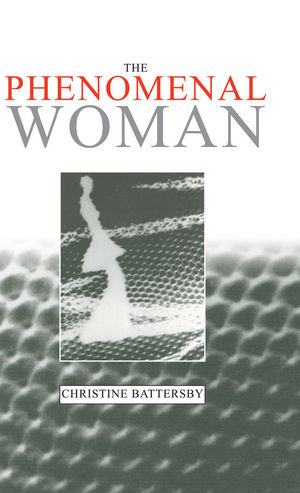 The Phenomenal Woman: Feminist Metaphysics and the Patterns of Identity
ISBN: 978-0-745-69582-2 March 2016 Polity 256 Pages
Description
This original book enters the undeveloped territory of feminist metaphysics and offers a bold and unusual contribution to debates about identity, essence and self. Using a diverse range of theories - from Kant to chaos theory, from Kierkegaard to Deleuze, Irigaray, Butler and Oliver Sachs - this book challenges the assumption that metaphysics can remain unchanged by issues of sexual difference.
Table of contents
1. Introduction: Fleshy Metaphysics.
2. Essentialisms, Feminisms and Metaphysics.
3. Her Body/Her Boundaries.
4. Kantian Metaphysics and the Sexed Self.
5. Feminist Postmodernism and the Metaphysics of Absence.
6. Antigones of Gender.
7. Flesh with Trimmings: Adorno and Difference.
8. Kierkegaard, Woman and the Workshop of Possibilities.
9. Scoring the Subject of Feminist Theory: Kierkegaard and Deleuze.
10. Coda.
Notes.
Bibliography.
Index .
Reviews
"The Phenomenal Woman
is a startlingly original work of philosophy. In her construction of a new metaphysics, which takes the woman as norm in definitions of self, personhood and identity, Christine Battersby contests the conceptualization of the Kantian subject. Taking the risk of (re)constructive philosophy, she offers a challenge to postmodernist feminisms and their reliance on what she describes as the 'despairing epistemology' of deconstructive postmodernism. Firmly grounded in the history of philosophy, Christine Battersby's book offers a new impetus and direction to feminists working in philosophy."
Professor Margaret Whitford, University of London
"In this philosophically rich text Christine Battersby moves issues of metaphysics and ontology to the centre stage of feminist concern, correcting a preoccupation with epistemology which has been dominant in feminist philosophy during the last decade. Whether we agree or disagree, this challenging book will now form the point from which future discussions of female subjects must depart." Dr Kathleen Lennon, University of Hull
"Combining rigorous analysis with accessibility, Christine Battersby has set a new standard for discussion in feminist philosophy. This is a truly remarkable achievement." Joanna Hodge, Manchester Metropolitan University
Features
This book offers an important and original contribution to feminist theory
It is wide-ranging, covering a number of key figures from both the continental and analytic tradition
The author is well-known and respected in this field.