The Politics of the Body: Gender in a Neoliberal and Neoconservative Age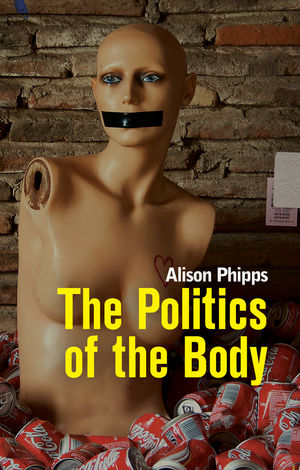 The Politics of the Body: Gender in a Neoliberal and Neoconservative Age
ISBN: 978-0-745-64888-0 February 2014 Polity 200 Pages
Download Product Flyer
Download Product Flyer
Download Product Flyer is to download PDF in new tab. This is a dummy description. Download Product Flyer is to download PDF in new tab. This is a dummy description. Download Product Flyer is to download PDF in new tab. This is a dummy description. Download Product Flyer is to download PDF in new tab. This is a dummy description.
Description
Winner of the 2015 FWSA Book Prize

The body is a site of impassioned, fraught and complex debate in the West today. In one political moment, left-wingers, academics and feminists have defended powerful men accused of sex crimes, positioned topless pictures in the tabloids as empowering, and opposed them for sexualizing breasts and undermining their 'natural' function. At the same time they have been criticized by extreme-right groups for ignoring honour killings and other 'culture-based' forms of violence against women. How can we make sense of this varied terrain?

In this important and challenging new book, Alison Phipps constructs a political sociology of women's bodies around key debates: sexual violence, gender and Islam, sex work and motherhood. Her analysis uncovers dubious rhetorics and paradoxical allegiances, and contextualizes these within the powerful coalition of neoliberal and neoconservative frameworks. She explores how 'feminism' can be caricatured and vilified at both ends of the political spectrum, arguing that Western feminisms are now faced with complex problems of positioning in a world where gender often comes second to other political priorities.

This book provides a welcome investigation into Western politics around women's bodies, and will be particularly useful to scholars and upper-level students of sociology, political science, gender studies and cultural studies, as well as to anyone interested in how bodies become politicized.
Table of contents
Acknowledgements vii
Introduction 1
1 Neoliberalism and Neoconservatism: Framing the Politics of the Body 7
2 Sexual Violence and the Politics of Victimhood 20
3 Gender and Islam in a Neoconservative World 49
4 The Commodified Politics of the Sex Industry 76
5 The New Reproductive Regimes of Truth 102
Conclusion 132
Notes 139
Bibliography 143
Further Reading 184
Index 200
Reviews
"Phipps explores the ways in which modern-day feminist beliefs intersect with and may even be appropriated by neoliberal and neoconservative agendas … As Phipps observes, unless accompanied by structural change, 'choice' is too often only meaningful for a small elite."
New Statesman

"Anybody who wants to know about contemporary political confusions about the body should start here"
Times Higher Education

"Thought-provoking, caustic, and self-reflexive, as its wide range of themes reflect both breadth and depth in analytic scope."
Gender and Society

"The Politics of the Body offers valuable insights into the insidious ways in which neo-conservative and neo-liberal agendas shape even our most intimate thinking and behaviour… A rich and provocative set of arguments that could inform efforts 'to revitalise the feminist politics of the body, reconnecting the personal with the political, instead of positioning it as an end in itself'"
Gender and Development

''This is a brave and important book. Beautifully written, cogently argued and with vivid up-to-date examples, it shows how a neoliberal and neoconservative politics is rewriting our common sense about bodies. A must-read for students and scholars of gender, sociology and cultural studies.''
Rosalind Gill, City University London


''Alison Phipps revises the old feminist understanding of "victimhood" in the context of neoliberal and neoconservative politics. Her analysis shows how mythologies about victims not only prevail but also are spurred on by the political and economic agendas of contemporary capitalism.''
Kristin Bumiller, Amherst College
"This book can be useful for a range of different actors, practitioners, and researchers in sociology, especially those working on and for gender issues. The Politics of the Body is a well-documented and responsible must-read account of gender equality challenges in the contemporary Western world."
Bodies in Society