The Power of the 2 x 2 Matrix: Using 2 x 2 Thinking to Solve Business Problems and Make Better Decisions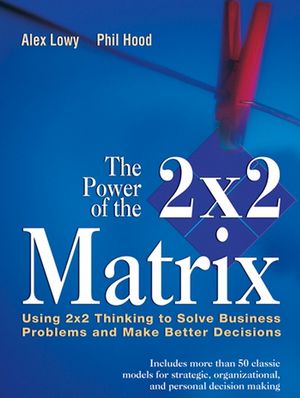 The Power of the 2 x 2 Matrix: Using 2 x 2 Thinking to Solve Business Problems and Make Better Decisions
ISBN: 978-1-118-00879-9 September 2010 Jossey-Bass 352 Pages
Description
By studying the work of hundreds of the most original and effective business minds, the authors present a common architecture that illuminates exceptional analysis and creative performance. 2 x 2 Thinking is characterized by a fundamental appreciation for the dynamic and complex nature of business. The best strategists go out of their way to tackle dilemmas rather than merely solve problems. They use opposition, creative tension, iteration and transcendence to get to the heart of issues and involve critical others in finding the best solutions. The authors demonstrate how to apply the 2 x 2 approach to a wide range of important business challenges.
Foreword (
James H. Gilmore and B. Joseph Pine II
).
Acknowledgments.
The Authors.
Introduction.
PART ONE: 2 x 2 THINKING.
1 The DNA of Great Problem Solving.
2 Form, Method, and Mastery: 2 × 2 Thinking as Dialectical Process.
3 The Eight Archetypal Dilemmas.
PART TWO: 2 x 2 PRACTICE.
4 Designing 2 × 2 Matrices: Making Intuition Explicit.
5 2 × 2 Thinking in Action: Fujitsu FTXS Tackles Level 2 Dilemmas.
PART THREE: 2 x 2 FRAMEWORKS INVENTORY.
6 Strategic Frameworks.
Beyond Customer Led.
Discontinuity and the Life Cycle.
Customer as Value Manager.
Customer Value Analysis.
Scenarios.
Gartner Magic Quadrant.
Portfolio Analysis.
Problems and Solutions.
Dialectical SWOT Analysis: Strengths, Weaknesses, Opportunities, and Threats.
Market Tipping.
Corporate Strategy.
Generic Strategy.
E-Business Opportunity Matrix.
Global Product Planning.
Generic Network Strategy.
Mass Customization: The Four Approaches.
Attentionscape.
Managing Customer Loyalty.
Likelihood to Buy.
Revenue and Profitability.
BCG: Product Portfolio Matrix.
Impact-Uncertainty Matrix.
Entrance and Exit Strategies.
7 Organizational Frameworks.
Good to Great Matrix of Creative Discipline.
Employee Motivation.
Alliance Drivers.
Team Types.
Situational Leadership.
The Four Power Players in Knowledge Organizations.
T-Group Leadership.
SECI.
Human Capital.
Differentiation and Integration.
Means and Ends.
The Change Grid.
Learning and Change.
Similarities and Differences.
The Four Realms of Experience.
Make versus Buy.
Four Square Model.
Product and Supply Chain Architecture.
Telematics Framework.
The Virtue Matrix.
8 Individual Frameworks.
Johari Window.
Myers-Briggs Type Indicator.
Learning Styles Inventory.
I'm OK, You're OK: The Four Life Positions.
Conflict Mode.
Social Styles.
Getting It Right.
Leadership Coaching.
Career Transitioning.
Prisoner's Dilemma.
Urgency and Importance.
Influence and Concern.
Notes.
Index.
STRONG AUTHOR PLATFORM:
Authors due to have articles in the key media outlets:
Harvard Business Review
,
Sloan Management Review
,
Strategy + Business
. Authors are the recognized experts on this particular decision-making tool and previous books give them more notoriety.  The authors also working behind the scenes with all of the big consulting firms, and previosuly sold this to them in raw form.
TOPIC TIMELESS AND TIMELY: A solid pracitical resource in the growing discipline of problem-solving and decision making.
BIG-NAME ENDORSERS including Steven Covey and a foreword by Joseph Pine and James Gilmore, authors of the best-selling The Experience Economy.