The Raymond Williams Reader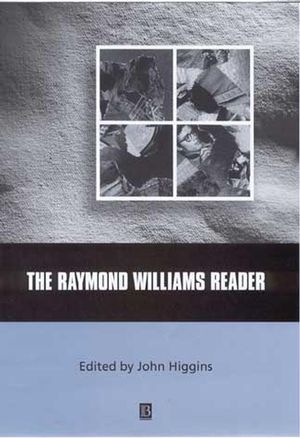 The Raymond Williams Reader
ISBN: 978-0-631-21311-6 December 2000 Wiley-Blackwell 324 Pages
Description
This carefully-structured reader presents a survey of the whole body of Williams' existing work, providing existing readers with a new perspective on his writings, and new readers with the opportunity to explore his ideas in depth.
Table of contents
Preface.
Acknowledgements.
Part I: Culture Wars (1954-1961):.
Introduction.
1. Culture is Ordinary (1958).
2. Film and The Dramatic Tradition (1954).
3. The Masses (1958).
4. Individuals and Societies (1961):.
Part II: Countering The Canon (1962-71):.
Introduction.
5. Tragedy and Revolution (1966).
6. Literature and Rural Society (1967).
7. Thomas Hardy and The English Novel (1970).
8. Orwell (1971).
Part III: Theory and Representation (1972-80):.
Introduction.
9. Base and Superstructure in Marxist Cultural Theory (1973).
10. Television and Representation (1974).
11. Language as Sociality (1977).
12. The Writer: Commitment and Alignment (1980).
Part IV: Cultural Materialism in Action (1978-1988):.
Introduction.
13. The Bloomsbury Fraction (1978).
14. Crisis in English Studies (1981).
15. Writing, Speech and The "Classical" (1984).
16. Language and The Avant-Garde (1986).
Works Cited.
Index.
Features
Provides an unparalleled insight into the influence of one of the century's exemplary public intellectuals.

Includes a detailed historical and theoretical introduction.

Incorporates extracts from key works as well as less well-known texts and seminal essays.