The Rise of Mass Literacy: Reading and Writing in Modern Europe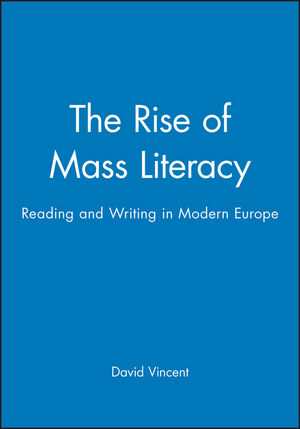 The Rise of Mass Literacy: Reading and Writing in Modern Europe
ISBN: 978-0-745-61445-8 August 2000 Polity 208 Pages
Description
This important book provides a comparative study of the growth and impact of mass literacy across Europe between 1750 and 1950. The volume outlines the main features of the comparative growth of literacy, and relates them to the later growth of electronic media. It assesses the ways in which mass literacy has transformed ways of living and thinking, by exploring broader social and cultural issues such as gender, age, consciousness of time and space, and our relationship with the natural world.
Vincent begins by considering the evolution of methods of teaching and learning across the centuries, and examines the relationship between literacy and economic growth, including the changing function of literacy in the workplace. He discusses the changing pattern of demand for and provision of reading matter, as well as the changing relationship between oral and written modes of generating and reproducing both information and fantasy. In later chapters, Vincent analyses the history of popular writing, and the relationship between print, language and national identity. The impact of literacy on democracy and political mobilization, and on the making of censorship and propaganda, is also discussed in this lively and accessible study.
Table of contents
Figures.
Acknowledgements.
1. The Rise of Mass Literacy.
2. Learning Literacy.
3. Economic Development.
4. Reading and Writing.
5. The Boundaries of Literacy.
Notes.
Bibliography.
Index.
Reviews
"In this succinct and intelligent survey, David Vincent moves beyond his British base to present a comparative analysis of the growth of mass literacy in Europe between the nineteenth and early twentieth centuries."
English Historical Review

"This short book is one of the most ambitious summative texts on the history of literacy in the nineteenth century. Making a clear synthesis of recent texts in the history of literacy and reading in the nineteenth century it takes its examples and comparative approaches from countries as varied as Spain, Scotland, Hungary or Russia."

European Review of History

"David Vincent's book is an admirably careful, lucid and perceptive synthesis, the first to integrate recent approaches which stress the interactions between the written and the oral and between groups and individuals."

Peter Burke, Emmanuel College, Cambridge