The Unfinished Leader: Balancing Contradictory Answers to Unsolvable Problems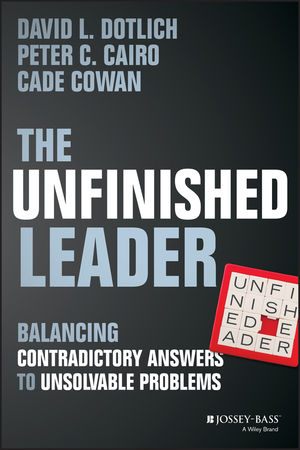 The Unfinished Leader: Balancing Contradictory Answers to Unsolvable Problems
ISBN: 978-1-118-45509-8 May 2014 Jossey-Bass 288 Pages
Description
With the demands of technology, transparency, and constant connectedness, and calls for higher performance, leaders from the front line to the C-suite face complex dilemmas that cannot be easily denied or postponed. These perplexing, recurring issues are familiar to anyone in a leadership role today, including:
How do I balance my functional or business unit goals with the needs of my peers and the whole company?
How do I support and promote others while still advancing my own career?
How do I emphasize teamwork and still reward the "stars"?
Can I really devote enough time and energy to both family and work?
These are not "problems" but paradoxes—situations in which there will never be a single correct solution—and while they make many leaders feel overwhelmed and challenged, this remarkable book provides help. The Unfinished Leader is a modern handbook for recognizing, facing, and inspiring others to expose the real issues that underlie paradoxes in modern organizations. Leaders must first recognize situations they will never be able to "solve" and understand how to confront the barriers—in their own heads and their organizations—that push them towards seeking ultimate solutions that don't exist. Leading through complexity requires giving up the illusion of control, consistency, and closure, while embracing the reality of being permanently "unfinished."

Drawing from interviews with 100 CEOs and top leaders from a wide range of companies—such as Avon, Nike, Colgate, DeutschePost DHL, Johnson & Johnson, PepsiCo, and many more— The Unfinished Leader provides the mindsets and tools to recognize contradictory requirements, understand competing demands, and still be able to take action. No one can find or even should look for perfect solutions to impossible situations. The Unfinished Leader will help leaders at all levels understand and excel at their true task: guiding themselves and their teams through ongoing paradoxes, reconciling competing outcomes, continually changing and adapting, and thereby building lasting success.
Foreword ix
by Stephen H. Rhinesmith
Preface xiii
Introduction: Stepping Up to Complete Leadership 1
PART 1 THE CHALLENGE OF PARADOXES 9
1 Puzzles and Paradoxes 11
2 Jumping Over the Line 30
3 Obstacles to Leadership 52
PART 2 MINDSETS FOR LEADING THROUGH PARADOX 69
4 The Purpose Mindset 71
5 The Reconciliation Mindset 91
6 The Innovation Mindset 108
PART 3 TOOLS FOR LEADERSHIP 129
7 Scanning for the Right Paradox 131
8 Scenario Thinking 143
9 Stakeholder Mapping 159
10 Dialogue for Alignment 172
11 Quelling Confl ict 185
PART 4 YOUR PERSONAL CHALLENGE 201
12 Developing Yourself 203
Conclusion: Managing Personal and Public Paradoxes 224
Notes 229
About the Authors 239
Index 241
"I hope every leader will finish The Unfinished Leader. Written by coaches and advisers to some of the world's top CEOs, this book describes in concrete terms how successful leaders bring people together in the face of complexity and uncertainty."
—Stephen P. Holmes, chairman and CEO, Wyndham Worldwide 
"Using their extensive experience with global leaders and deep knowledge, Dotlich, Cairo, and Cowan make a compelling case for why every leader should aspire to be unfinished. The Unfinished Leader offers proven methods, instructive examples, and practical tools."
—John T. Cahill, chairman, Kraft Foods Group, Inc.
"Senior leaders live in a world of complex, ever-changing, and unstructured challenges. The Unfinished Leader offers a rare opportunity to learn from experts not only how to deal with real world complexity but to thrive in it."
—Fred Hassan, executive chairman, Bausch & Lomb, and managing director, Warburg Pincus
"The mental skills a leader cultivates and brings to solving challenges are important. The Unfinished Leader will allow leaders to face with clarity the seemingly unsolvable problems they confront."
—Mahzarin R. Banaji, Richard Clarke Cabot Professor of Social Ethics, Department of Psychology, Harvard University, and coauthor, Blindspot
"The Unfinished Leader shows how best to tackle big issues: through collaboration, constant revision, and a willingness to let go of being in control."
—Andrew Thorburn, managing director and CEO, Bank of New Zealand
"The Unfinished Leader is a must-read for any executive who wrestles with paradoxes such as the tension between short-term and long-term goals, local and global demands, and messy organizational structures. Every executive in business today needs to read this book."
—Paul M. Rand, chief digital officer, Ketchum; president and CEO, Zócalo Group; and author, Highly Recommended
"Leaders in all organizations—whether companies or governments—are faced with messy challenges every day. The Unfinished Leader accepts these paradoxes as a fact of life and offers useful advice and real world examples so every leader can respond more effectively to these challenges."
—Alan Webber, founding editor, Fast Company
"The Unfinished Leader is a fascinating and provocative book which makes a strong case that leaders are always 'becoming' rather than reaching a destination. In particular, the authors focus on the paradoxes that characterize organizational life and how leaders can learn to confront, live with, and ultimately leverage those paradoxes. The book is a compelling combination of counterintuitive theory combined with a tremendous amount of very practical and pragmatic advice. Leaders at all levels, facing the increasingly paradoxical nature of leadership and organizations, will benefit greatly from this work."
—David A. Nadler PhD, principal, Nadler Advisory Solutions, and retired vice chairman, Marsh & McLennan Companies
 "Leadership dilemmas are an opportunity to inspire innovation and creativity if you approach them with the right tools and mindset. Full of invaluable insights from international CEOs and senior executives, The Unfinished Leader provides practical advice on how the best leaders turn obstacles into opportunities to inspire innovation and creativity."
—Marvin Chow, marketing director,  Google Inc.