The Wealth Dragon Way: The Why, the When and the How to Become Infinitely Wealthy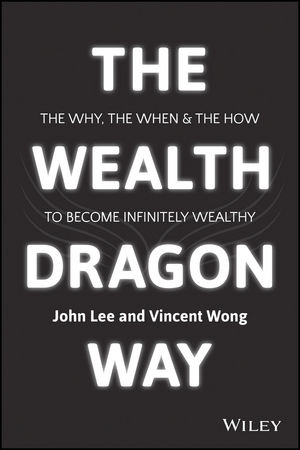 The Wealth Dragon Way: The Why, the When and the How to Become Infinitely Wealthy
ISBN: 978-1-119-07783-1 June 2015 224 Pages
Description
Stop procrastinating and become financially free, by building asset-based wealth and creating passive income.
The Wealth Dragon Way: The Why, the When and the How to Become Financially Free is a practical guide to becoming financially free through building asset-based wealth and creating passive income. Part motivational, part informational, this guide will change your whole perspective on wealth and your personal growth potential. The book discusses both moral and monetary wealth, and looks at how we are easily misled and influenced by media-driven myths surrounding money, debunking notions such as the idea that there is no truly moral way to become wealthy, or the belief that the state will provide for us in retirement, and more. You'll discover new truths surrounding the subject of wealth, and get to the root of your own procrastination over planning for your financial future. You will learn how to tackle your fears and overcome the issues holding you back. You will also read real-life examples of how two property entrepreneurs built their significant portfolios using alternative strategies such as using lease options, and structuring and securing deals at below market value. Along the way, you'll learn what it means to become a Wealth Dragon, and the key principles to live by if you're ready to work towards achieving real financial freedom.
You are far more likely to achieve personal wealth if you are one hundred percent clear as to why you want it. This book explores the psychology of our relationship with money and offers a practical advice for anyone who is determined to meet their goals and realize their dreams.
Bust the myths surrounding the subject of wealth
Start taking control of your financial future
Adopt the key Wealth Dragon principles
Discover your full potential for financial and personal growth
The importance of taking control of your financial future cannot be overstated, especially in these economically uncertain times. Whether you want to quit the rat race, build some assets as security, or develop a branded business that will provide you with a passive income, The Wealth Dragon Way is your guide to building wealth and becoming financially free.


JOHN LEE is the CEO and Co-Founder of Wealth Dragons. After becoming a self-made property millionaire at 27, John spoke on stages around the world about business and entrepreneurship. He now teaches marketing, speaking and entrepreneurship and has helped many clients build highly successful international businesses.
VINCENT WONG, Co-Founder and Executive Chairman of Wealth Dragons Group PLC, is one of the UK's most dynamic and well-respected property entrepreneurs. As well as building his own multi-million-pound property portfolio, Vincent has helped countless people source and structure deals. At the height of the financial crisis, Vincent pioneered the use of lease-option deals for purchasing residential property, revolutionizing the way that people could buy and sell property. He now teaches his property investment techniques in seminars around the world.
Preface ix
Acknowledgments xi
About the Authors xiii
Introduction: The Story of the Wealth Dragons 1
PART I The Why
Chapter 1 What Is Wealth? 27
Chapter 2 The Moral Obligation to Be Wealthy 31
Chapter 3 Why a Wealth Dragon? 35
Chapter 4 Undesirable Truths 41
Chapter 5 Welcome to the Parallel Universe 47
The Value of Embracing Failure 48
The Learning Curve 50
You Don't Have to Be Bad to Be Rich! 53
Getting and Spending Money 55
What's the Limit to What You Can Achieve? 58
Living in Excuseville 59
Taking Action 60
PART II The When
Chapter 6 Get Rich Quick or Get Rich Forever? 67
Chapter 7 Who Is Stopping You? 71
Chapter 8 What Is Stopping You? 77
Chapter 9 The Trap of the Rat Race 83
Chapter 10 It's about Work, Stupid! 89
PART III The How
Chapter 11 The Wealth Superhighway 97
Asset Building 99
Passive Income Generation 101
Business Creation and Brand Building 103
The Path to Infinite Wealth 106
Chapter 12 The More Money Mindset 111
Taking Control of Your Money 116
Your Design for Life 118
Your Wealth Education 119
Chapter 13 A Foolproof Guide to Property Investing? 123
The Golden Rules 128
Auctions: Caveat Emptor 131
Learn before You Earn 133
Deal Making 136
Lease Options 143
People before Property 147
Chapter 14 Property Investment in Practice 151
John's Property Stories 151
Vince's Property Stories 160
Chapter 15 Being a Wealth Dragon 167
Top 10 Wealth Dragon Principles 167
Additional Top Tips for Success 174
Conclusion: The Now 179
Final Word 187
Index 189
"..this guide will change your whole perspective on wealth and your personal growth potential." (Best You, November 2015)