The Wiley Encyclopedia of Packaging Technology, 3rd Edition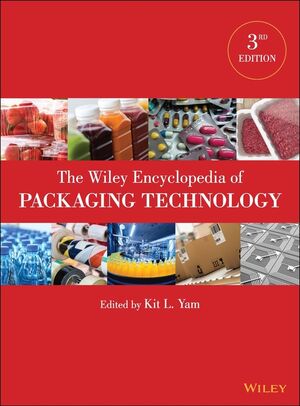 The Wiley Encyclopedia of Packaging Technology, 3rd Edition
ISBN: 978-0-470-08704-6 October 2009 1368 Pages
Description
The complete and authoritative guide to modern packaging technologies —updated and expanded
From A to Z, The Wiley Encyclopedia of Packaging Technology, Third Edition covers all aspects of packaging technologies essential to the food and pharmaceutical industries, among others. This edition has been thoroughly updated and expanded to include important innovations and changes in materials, processes, and technologies that have occurred over the past decade. It is an invaluable resource for packaging technologists, scientists and engineers, students and educators, packaging material suppliers, packaging converters, packaging machinery manufacturers, processors, retailers, and regulatory agencies.
In addition to updating and improving articles from the previous edition, new articles are also added to cover the recent advances and developments in packaging. Content new to this edition includes:
Advanced packaging materials such as antimicrobial materials, biobased materials, nanocomposite materials, ceramic-coated films, and perforated films

Advanced packaging technologies such as active and intelligent packaging, radio frequency identification (RFID), controlled release packaging, smart blending, nanotechnology, biosensor technology, and package integrity inspection

Various aspects important to packaging such as sustainable packaging, migration, lipid oxidation, light protection, and intellectual property

Contributions from experts in all-important aspects of packaging

Extensive cross-referencing and easy-to-access information on all subjects

Large, double-column format for easy reference
Cannot be combined with any other offers.
Table of contents
Contributors.
Preface.
A-W.
Appendix A.
Appendix B.
Index.
Reviews
"The complete and authoritative guide to modern packaging technologies?—updated and expanded."  (Food and Beverage Packaging – Online, 19 December 2012)
"This excellent Third edition represents an invaluable resource for packaging technologists, scientists and educators, packaging material suppliers, machinery manufacturers, processors, retailers, and regulatory agencies." (Food Science & Technology, 3 September 2011)
"Since the previous edition, major innovations have occurred in sustainable packaging, intelligent packaging, smart blending technology, and nanotechnology; the volume also addresses increased security and environmental concerns. All these developments are reflected in new or greatly expanded coverage within this useful reference work." (CHOICE, July 2010)"Throughout the book there is a good balance of breadth and depth of detail in all sections, including those about the manufacturing and handling operations required for the different packaging types. There are excellent sections regarding chemical and physical testing of packaging materials." (Innova Market Insights, 2010)