True Blood and Philosophy: We Wanna Think Bad Things with You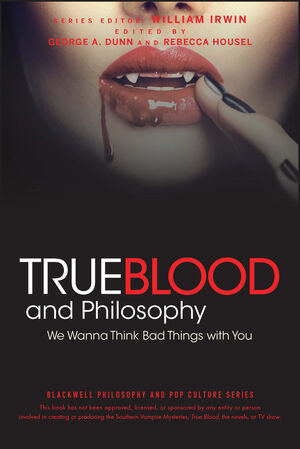 True Blood and Philosophy: We Wanna Think Bad Things with You
ISBN: 978-0-470-59772-9 May 2010 256 Pages
Description
The first look at the philosophical issues behind Charlaine Harris's New York Times bestsellers The Southern Vampire Mysteries and the True Blood television series

Teeming with complex, mythical characters in the shape of vampires, telepaths, shapeshifters, and the like, True Blood, the popular HBO series adapted from Charlaine Harris's bestselling The Southern Vampire Mysteries, has a rich collection of themes to explore, from sex and romance to bigotry and violence to death and immortality. The goings-on in the mythical town of Bon Temps, Louisiana, where vampires satiate their blood lust and openly commingle with ordinary humans, present no shortages of juicy metaphysical morsels to sink your teeth into.

Now True Blood and Philosophy calls on the minds of some of history's great thinkers to perform some philosophical bloodletting on such topics as Sookie and the metaphysics of mindreading; Maryann and sacrificial religion; werewolves, shapeshifters and personal identity; vampire politics, evil, desire, and much more.
The first book to explore the philosophical issues and themes behind the True Blood novels and television series
Adds a new dimension to your understanding of True Blood characters and themes
The perfect companion to the start of the third season on HBO and the release of the second season on DVD
Smart and entertaining, True Blood and Philosophy provides food—or blood—for thought, and a fun, new way to look at the series.
ACKNOWLEDGMENTS:
For the "Supes" We Just Can't Live Without.
Introduction: "If a Tree Falls in the Woods, It's Still a Tree—Ain't It?"
PART ONE: "I USED TO HATE VAMPIRES, UNTIL I GOT TO KNOW ONE": VAMPIRE-HUMAN ETHICS.
1 To Turn or Not to Turn: The Ethics of Making Vampires (Christopher Robichaud).
2 Dressing Up and Playing Human: Vampire Assimilation in the Human Playground (Jennifer Culver).
3 Pets, Cattle, and Higher Life Forms on True Blood (Ariadne Blayde and George A. Dunn).
PART TWO: "LIFE-CHALLENGED INDIVIDUALS": THE POLITICS OF BEING DEAD.
4 Signed in Blood: Rights and the Vampire-Human Social Contract (Joseph J. Foy).
5 "Honey, If We Can't Kill People, What's the Point of Being a Vampire?": Can Vampires Be Good Citizens? (William M. Curtis).
6 Un-True Blood: The Politics of Artificiality (Bruce A. McClelland).
PART THREE: "THEIR VERY BLOOD IS SEDUCTIVE": EROS, SEXUALITY, AND GENDER.
7 Coming Out of the Coffin and Coming Out of the Closet (Patricia Brace and Robert Arp).
8 "I Am Sookie, Hear Me Roar!": Sookie Stackhouse and Feminist Ambivalence (Lillian E. Craton and Kathryn E. Jonell).
9 Sookie, Sigmund, and the Edible Complex (Ron Hirschbein).
PART FOUR: "I AM ACTUALLY OLDER THAN YOUR JESUS": NATURAL, SUPERNATURAL, AND DIVINE.
10 Let the Bon Temps Roll: Sacrifice, Scapegoats, and Good Times (Kevin J. Corn and George A. Dunn).
11 Are Vampires Unnatural? (Andrew Terjesen and Jenny Terjesen).
12 Does God Hate Fangs? (Adam Barkman).
PART FIVE: "OUR EXISTENCE IS INSANITY": THE METAPHYSICS OF SUPERNATURAL BEINGS.
13 A Vampire's Heart Has Its Reasons That Scientifi c Naturalism Can't Understand (Susan Peppers-Bates and Joshua Rust).
14 Keeping Secrets from Sookie (Fred Curry).
15 Vampires, Werewolves, and Shapeshifters: The More They Change, the More They Stay the Same (Sarah Grubb).
CONTRIBUTORS: "I Don't Know Who You Think You Are, but Before the Night Is Through . . .."
INDEX: Sookie's Words of the Day.
Can John Locke's memory theory explain the nature of vampire identity? Is there a PETA message buried in True Blood's take on vampire-human relations? These and other biting issues constitute the smart and amusing essays in the latest William Irwin-edited Blackwell Philosophy and Pop Culture Series (after Mad Men and Philosophy). Authors invoke the likes of Kant, Sartre, and Freud and approach their topics with the seriousness of a devoted fan balanced with the levity and wit the series is known for. More than one essay focusing on God and vampires duplicate efforts, but highlights include Christopher Robichaud's examination of consent in creating a vampire, William M. Curtis's discussion of metaphor and the mainstreaming of blood suckers, Ron Hirschbein's exploration of the "Edible Complex," and Patricia Brace and Robert Arp's analysis of the not-so-subtle similarities between vampire rights and gay rights. These easily-digestible philosophical morsels are perfect for fans of Jon Stewart and anyone else who likes to laugh while they learn. (June) (PW.com, August 16, 2010)