Ullmann's Encyclopedia of Industrial Chemistry, 40 Volume Set, 7th Edition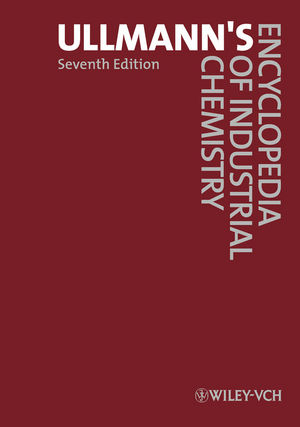 Ullmann's Encyclopedia of Industrial Chemistry, 40 Volume Set, 7th Edition
ISBN: 978-3-527-32943-4
Aug 2011
29456 pages
Description
ULLMANN'S is built from generations of expertise. Since the first edition was published almost 100 years ago, ULLMANN'S has established itself internationally as the household name for industrial chemists and chemical engineers.

Held in the highest regard as a source of reliable, authoritative, and valuable information. Generations of chemists across the world trust the insight and inexhaustible knowledge of ULLMANN'S, in both daily reference and for continuing professional development.

Now publishing in its 7th Edition. 3,000 authors from over 30 countries have contributed. 600 of the 1,050 articles have been thoroughly updated, 40 provide completely new content. Several hundred full color figures are placed throughout. With a new and modern layout, ULLMANN'S presents a wealth of information in a clear, accessible and beautifully presented format.

Key features of the new edition:


For over 100 years, this state-of-the-art reference work has been detailing the science and technology in all areas of industrial chemistry

Fully international in scope and coverage, the contents have been compiled under the supervision of a renowned editorial advisory board

Features more than 16 million words, nearly 15,000 tables, 25,000 figures, and innumerable literature sources and cross-references

Brings together over 1,100 articles from over 3,000 contributors (with 70-90 new or updated articles added each year)

Previous versions of articles are archived for historical reference

Free education site available: ULLMANN'S Academy

In 2014, The Smart Article functionalities were added to ULLMANN'S. These enhanced article tools enable searching for structures and reactions through ULLMANN'S and across related products, such as journals, databases, and other reference works.

40 Volumes

wileyonlinelibrary.com/ref/ullmanns
The 7th print edition of the Ullmann's Encyclopedia offers 1050 articles in A -
Z order, contained in 39 hardbound volumes, plus an index volume.

It covers the following main topics:

Agrochemicals (19 Articles)
Analytical Techniques (52 Articles)
Biochemistry & Biotechnology (33 Articles)
Chemical Reactions (18 Articles)
Dyes and Pigments (46 Articles)
Energy (26 Articles)
Environmental Protection, Industrial Safety (34 Articles)
Fat, Oil, Food and Feed, Cosmetics (61 Articles)
Inorganic Chemicals (108 Articles)
Materials (55 Articles)
Metals and Alloys (69 Articles)
Organic Chemicals (172 Articles)
Pharmaceuticals (67 Articles)
Polymers and Plastics (72 Articles)
Processes & Process Engineering (122 Articles)
Renewable Resources (21 Articles)
Special Topics (83 Articles)
Quotes from recent reviews:

"Generations of chemists and engineers have relied on the well structured and trusted information from Ullmann's Encyclopedia - and you still can..." - Word Trade

"Every user in industry and academia will be enthusiastic about this comprehensive and excellently conceived reference work." - Chemie Ingenieur Technik

"The culmination of 80 years of experience and tradition, fully international in scope and presentation with articles of the highest quality. It deserves a place in every library that aspires to offer comprehensive reference material on industrial chemistry. I can recommend it without reservation." - Angewandte Chemie

"Clearly, it stands as one of the preeminent encyclopedias in the field of science and technology and should be acquired by any library that claims to offer comprehensive reference collections." - American Reference Books Annual

"An indispensable reference work for applications scientists of all persuasions. Every library should have a copy. A publication of highest quality and recommended without any reservations." - Dyes and Pigments

"Ullmann's has a number of plus features that distinguish it from competing material: its structure is the result of over 80 years of experience and tradition; it is entirely international in scope, concept, and presentation; only the very best and most authoritative reference material being presented at the highest levels of authenticity." - Chemical Business