VCE Media New Ways and Meaniongs Units 1 and 2 eBookPLUS (Online Purchase)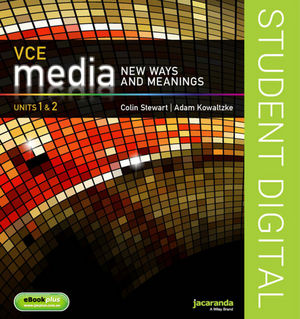 VCE Media New Ways and Meaniongs Units 1 and 2 eBookPLUS (Online Purchase)
ISBN: 978-0-730-30942-0
Jacaranda
248 pages
Product not available for purchase
Description

VCE Media New Ways & Meanings Units 1 & 2 eBookPLUS  provides extensive new media production sections to help students do everything from developing their idea, to filming safely and editing creatively.
 
KEY FEATURES

• Bigger, improved new chapters on each VCE unit and each outcome.
• Contemporary information allows students to access, analyse and create media in new and exciting ways.
• New Chapter on Media Production supported by a chapter covering Advanced Production in Units 3 & 4.
• Chapters on every film and media genre provide an in depth reference for students' own productions.
• Expanded, updated chapters on representation and new media.
• New chapter on narrative covering conventions and techniques.
• Expanded chapters on media texts and society's values and media influence.
VCE Media New Ways & Meanings Units 1 & 2 eBookPLUS is available as a digital-only resource and provides access to all the course content plus a wealth of multimedia resources accessed through our JacarandaPLUS website (http://www.jacplus.com.au/).   




> eBookPLUS resource includes:

• Access from any digital device PC/MAC/iPad/Android Tablet.
• Worksheets - Word documents designed for easy customisation and editing.
• Interactivities and games to reinforce and enhance student learning.
• eLessons - engaging video clips and supporting material.
• Weblinks to relevant support material on the internet.
• ProjectsPLUS - unique ICT-based projects that provide opportunities for students to demonstrate creativity, thinking skills and teamwork.
• eBookPLUS resources are cost effective, ranging in price from $25.95 - $53.95 depending on your subject area.
Unit 1: Representation and technologies of representation
Chapter 1 Introduction to the media
Chapter 2 Representation
Chapter 3 Technologies of representation
Chapter 4 New media
UNIT 2: Media production and the media industry
Chapter 5 Media production – the essentials
Chapter 6 Media industry production
Chapter 7 Australian media organisations
Media Genres chapters
Note: these chapters appear on both Units 1 and 2 and Units 3 and 4 ebooks.
Media genres 1 – Film
Media genres 2 – Cross-media genres
Media genres 3: Television
Media genres 4: Radio
Media genres 5: Newspapers
Media genres 6: Magazines