War Crimes, Atrocity and Justice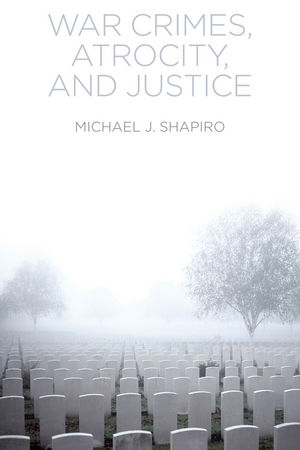 War Crimes, Atrocity and Justice
ISBN: 978-0-745-67154-3 November 2014 Polity 240 Pages
Description
What do we know about war crimes and justice? What are the discursive practices through which the dominant images of war crimes, atrocity and justice are understood?
In this wide ranging text, Michael J. Shapiro contrasts the justice-related imagery of the war crimes trial (for example the solitary, headphone-wearing defendant at the Hague listening with intent to a catalogue of charges) with ?literary justice?: representations in literature, film, and biographical testimony, raising questions about atrocities and justice that juridical proceedings exclude.
By engaging with the ambiguities exposed by the artistic and experiential genres, reading them alongside policy and archival documentation and critical theoretical discourses, Shapiro?s War Crimes, Atrocity, and Justice challenges traditional notions of ?responsibility? in juridical settings. His comparative readings instead encourage a focus on the conditions of possibility for war crimes as they arise from the actions of states, non-state agencies and individuals involved in arms trading, peace keeping, sex trafficking, and law enforcement and adjudication. 
Theory springs to life as Shapiro draws on examples from legal discourse, literature, media, film, and television, to build a nuanced picture of politics and the problem of justice. It will be of great interest to students of film and media, literature, cultural studies, contemporary philosophy and political science
Table of contents
Preface and Acknowledgments vii
Introduction 1
1 The Global Justice Dispositif 13
2 Atrocity, Securitization, and Exuberant Lines of Flight 50
3 What does a Weapon See? 80
4 Borderline Justice 119
5 Justice and the Archives 154
Notes 186
Index 210
Reviews
"This compelling and original analysis by Michael Shapiro skilfully explores the relationship between violence, life, and the problem of justice. I found it hard to put down, and it will certainly be an important resource for students of film and media studies, literature, cultural studies, contemporary philosophy, and political science."
—Adrian Parr, University of Cincinnati
"We should all read and learn from Michael Shapiro's brilliantly conceived, strikingly original, and profoundly illuminating text. His use of movies, literature, and philosophy to expand our consciousness of the deep roots of atrocity, while contrasting what justice means for the imaginative mind with what passes for justice in a court of law, transforms conventional understandings of war crimes."
—Richard A. Falk, Princeton University
"Michael Shapiro is one of the most perceptive political analysts of our time. He is especially attuned to the dangers of unwarranted certainty and premature judgment, and is often brilliant at making connections between apparently distinct events. The argument is at once astute, provocative, and uplifting."
—R.B.J. Walker, University of Victoria, Canada and PUC-Rio de Janeiro, Brazil

"Shapiro's voice is signature: few otyher range so widely across genres, locales, events, and sources of artistic and conceptual inspiration; few pursue the deterritorializing promise of transversal relations so insistently."
—Theory & Event

"Through War Crimes, Atrocity, and Justice, Michael J. Shapiro challenges our traditional understanding about war crimes and atrocities through the skilful use of selections from modern literature and the world of films."
—Journal of Defence Studies

"Dr. Shapiro's book deservedly won the 2015 Easton Prize for Political Theory from the American Political Science Association. This approach to modern politics, especially violence and the devolution of civil society, is an insightful and stimulating tool for scholars in many fields, including literature, politics and history."
—Studies in Twentieth and Twenty-First Century Literature