Web Design: A Complete Introduction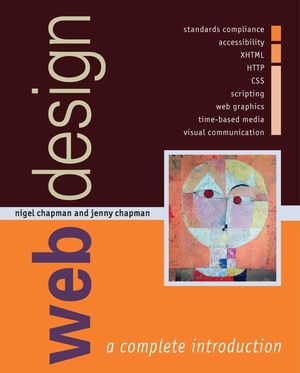 Web Design: A Complete Introduction
ISBN: 978-1-118-95089-0 April 2014 368 Pages
Description
Simply the best introduction to all aspects of the design and development of successful Web sites.
As the World Wide Web has matured, the need for high quality education in all aspects of Web design has become widely acknowledged. This book is a core text for undergraduate and masters courses that provides a complete introduction to every aspect of the building of Web pages and Web sites. A complete understanding of the basics of all aspects of Web design is essential to the development of good practice.
Starting from a review of Web experiences, the text provides a deep and thorough introduction to Web technology, markup, stylesheets, Web graphics, Web animation and embedded video, client-side scripting, Web applications, usability, accessibility, page design and site design. At all times, the focus remains on good practice, underpinned by sound principles, in the context of the real World Wide Web. Full coverage of the essential technologies is provided: HTTP, XHTML, CSS, Javascript and the DOM, and the use of Web Standards is emphasized throughout as an essential part of the authors' forward-looking approach. Some elementary programming knowledge is required for use of this text.
Suitable for course use or self-study, this comprehensive introduction represents a complete overview of the practice of Web design, providing clear summaries and a wealth of exercises and short practical assignments, as well as a valuable survey of the most popular software tools used in Web design. An extensive glossary and a wide rage of other supplementary material are provided on the supporting Web site.
Table of contents
Welcome x
1. Web Experiences 1
Web Pages and Sites 2
Using the Web 8
The Web Community 15
Web Design Principles 21
New Developments 25
Key Points 29
Exercises 32
2. Web Technology 35
Web Pages 36
Fetching Pages 46
Data Representations 70
Transmission of Digital Data 79
Key Points 93
Exercises 97
3. Markup 99
XML 101
XHTML 110
Key Points 145
Exercises 148
4. Stylesheets 151
Rules in CSS 153
Typography 162
Layout 176
Positioning 191
Special Cases 199
Advanced Features of CSS 208
Key Points 215
Exercises 220
5. Web Graphics 223
Display and Storage of Images 224
Colour 227
Bitmapped Images 237
Vector Graphics 254
XHTML Markup for Images 269
Key Points 276
Exercises 281
6. Time-Based Media 283
Time-Based Media and Web Pages 287
Animation 296
Video 307
Sound 326
Key Points 331
Exercises 335
7. DOM Scripting 339
Fundamentals 342
The DOM 349
JavaScript 357
Dynamic Pages 370
Applications of DOM Scripting 386
Embedded Applications 412
Key Points 427
Exercises 432
8. Web Applications 435
Server-Side Technologies 436
Ready-Made Applications 446
Databases 450
Dynamically Generated Pages 462
Key Points 496
Exercises 500
9. Web Accessibility 503
Problems with Access 504
Assistive Technology 510
Making Sites More Accessible 513
Accessible Content 519
Accessible Function 533
Key Points 541
Exercises 545
10. Web Page Design 547
Visual Communication 549
Layout 563
Colour and Tone 586
Typography 592
Key Points 604
Exercises 608
11. Web Site Design 611
Logical Structure 613
URL Structure 616
Navigational Structure 619
Creating Web Sites 633
Epilogue 646
Key Points 647
Exercises 650
Appendix A. Software for Web Designers 652
Appendix B. XML Namespaces 666
Index 672
New To This Edition
Complete introduction in the classic academic sense - a foundation text which focuses on principles.
By the authors of Digital Multimedia and Digital Media Tools, textbooks which helped shape Multimedia syllabuses across the world.
Provides a broad, unified subject coverage, embracing all aspects of Web design from the technical to the aesthetic to the social
Covers all topics within the context of Web-specific needs and constraints – from those of visual communication to accessiblity, standards compliance, etc
Presents a strong emphasis on underlying principles and theory throughout
Includes integrated practical exercises (labs) throughout and workthroughs where appropriate, with all practical material available for download from the accompanying web site.
Extra
Companion Site Powerpoint Slides Answers to Test Exercises Extensive Online Glossary Working examples and files for practical work