Why is construction so backward?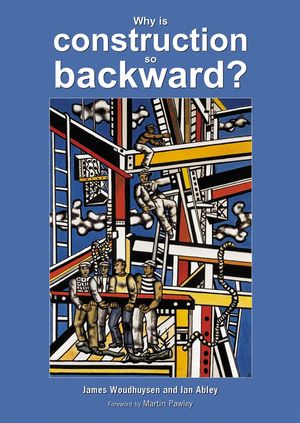 Why is construction so backward?
ISBN: 978-0-470-85289-7
Jan 2004
336 pages
Description
Construction is vital both to Gross Domestic Product and to today's politics. Prime Minister Tony Blair himself chairs a cabinet committee on the Thames Gateway development, to the east of London. Housing has proved a big factor in Chancellor Gordon Brown's worries about the Euro. But the construction sector is one of the world's weakest in innovation. Deputy Prime Minister John Prescott's target of just 4000 homes to be made through prefabrication shows how building remains a 19th century affair, not a 21st century one.

Drawing on the latest technologies that have emerged both inside and outside the sector, Why is construction so backward? forms a detailed, practical alternative to the conventional wisdom in building design and urban planning. It is a powerful call for reform, and a sharp polemic against architecture as social engineering and environmentalist dogma.
Contains a foreword by Martin Pawley
Includes contributions from such high profile figures as Stefan Muthesius and Miles Glendinning
Praise for Why is construction so backward?:
'Very compelling… a significant piece of research and thought leadership. Essential.' Colin Bartle-Tubbs, UK Operations Director, Deloitte
'Welcome and timely… takes on an industry that has revelled in complacency for too long.' Bernhard Blauel, Principal, Blauel Architects
'The authors are prepared to be daring, reframe the question and posit new paradigms. Reflecting effortlessly across the literature of property, business, market research and construction, the book's kaleidoscope of ideas, examples and images gives it a refreshing depth of insight and breadth of vision.' John Worthington, Founder, DEGW
'A tour de force of polemical provocation. This timely work forces one to think about construction in the broadest terms. Required reading.' Paul Finch, Editorial Director, EMAP Construct
'A must-read for architecture students and also important for practitioners, this is a passionate critique of the construction industry and the planning process, and brings new depth to debate about the relationship between architecture and society.'  Penny Lewis, Editor, Prospect
'Shock therapy for construction policymakers.' Austin Williams, Technical Editor, The Architects' Journal
'The introspection of architects, planners and politicians involved in urban, housing and planning issues needs a little turmoil, perhaps. The book is persuasive, at times heavily prescriptive, and certainly argumentative – but it may catalyse a wider and more informed debate on the future of UK housing policy.' Michael Hulme, Director, International Centre for the Study of Media, Technology and Culture, Henley Management College
 'The pleasure of this book is not only that it takes apart, with great gusto, the all-pervasive environmental prejudices of our time, but that it does so with such detailed scrutiny of construction and with such passion to build more and better.' Alan Hudson, Director of Studies in Social and Political Science, Oxford University Department for Continuing Education
'Important not just for architecture and design, but also for marketing – especially given how the corporate world uses different design elements, such as buildings, to build brands.' Lisbeth Svengren and Mats Frick, Stockholm University School of Business, Sweden
Foreword xi
Martin Pawley
Chapter I An Industry that barely deserves the term 1
1.1 Construction becomes a mainstream political issue 1
1.2 Progress, but only of a sort 4
1.3 Local small firms do up existing homes – and always work on site 11
1.4 Illegal, cursed and DIY 15
1.5 Arise, Sir John Egan 17
1.6 Background thinking in municipal strategy 21
1.7 Construction, risk and the wider crisis in capitalist innovation 26
Chapter 2 Backward perspectives: measurement, therapy, naturalism 37
2.1 The reduction of strategy to measurement 37
2.2 Campaigns for safety and against cowboys 38
2.3 Respecters of health, enemies of stress 45
2.4 The mantra of teamwork 47
2.5 Government buildings pioneer design as social engineering 49
2.6 New Labour's sustainable communities 50
2.7 The messianic approach 54
2.8 Build-up brownfields forever 57
2.9 Out-of-date theories of urbanization 63
2.10 Out-of-date theories of Britain's green and pleasant land 66
2.11 Key worker housing and the microflat mentality 68
2.12 Longevity and the Royal Institute of British Architects 77
2.13 Therapeutic and naturalistic perspectives meet in proximity 79
2.14 The Holy Trinity in architecture 84
Chapter 3 Backward practices: the regulation of urban districts, workplaces and the environment 109
3.1 Urban innovation as Business Improvement Districts 109
3.2 Innovation in the law around workplace health and business continuity 111
3.3 Innovation in the law around the environment 112
3.4 Quango quagmire: the ceaseless re-branding of Britain's building regulators 117
3.5 Power in the building trade 127
Chapter 4 Architecture versus Building in the 1960s housing boom 132
Miles Glendinning and Stefan Muthesius
4.1 Industrialisation in post-war architectural perspective 132
4.2 Experiments in systems building in the 1950s and early 1960s 137
4.3 The reality of post-war mass production 145
4.4 State patrons of private-sector builders 149
4.5 The end of the boom 157
Chapter 5 False innovation and real innovation 163
5.1 Buildings as brands 163
5.2 The new prefabrication 178
5.3 Not fearing materials, but doing more with them and about them 194
5.4 Not fearing energy use, but getting it in proportion 205
5.5 Face time, playing with the virtual space, and monkeying with CAD 214
5.6 Organising wider aspects of IT to live up to their full potential 225
5.7 When teams model buildings in 3D 237
Richard McWilliams
5.8 The cultural climate impeding technological innovation 255
Chapter 6 To take human achievement seriously 271
6.1 Holding the line against the reaction to 9-11 271
6.2 How construction can catch up 282
6.3 Conclusion 296
Biographies 302
7.1 Ian Abley 302
7.2 Miles Glendinning 302
7.3 Richard McWilliams 303
7.4 Clare Morris 304
7.5 Stefan Muthesius 304
7.6 Vicky Richardson 305
7.7 James Woudhuysen 306
Index of names and subjects 308
"…this impressive book…[is] exhaustively researched and entertainingly written." (Financial Times, 25 March 2004)
"…a welcome and necessary book…" (Architectural Review, July 04)