Wiley Pathways Marketing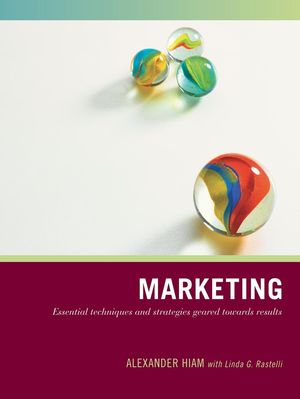 Wiley Pathways Marketing
ISBN: 978-0-471-79079-2 September 2006 376 Pages
Download Product Flyer
Download Product Flyer
Download Product Flyer is to download PDF in new tab. This is a dummy description. Download Product Flyer is to download PDF in new tab. This is a dummy description. Download Product Flyer is to download PDF in new tab. This is a dummy description. Download Product Flyer is to download PDF in new tab. This is a dummy description.
Description
You can get there

Where do you want to go? You might already be working in a business setting. You may be looking to expand your skills. Or, you might be setting out on a new career path.

Wherever you want to go, Marketing will help you get there. Easy-to-read, practical, and up-to-date, this text not only helps you learn fundamental marketing concepts; it also helps you master the core competencies and skills you need to succeed in the classroom and beyond. The book's brief, modular format and variety of built-in learning resources enable you to learn at your own pace and focus your studies.

With this book, you will be able to:
* Develop an effective marketing plan designed to reach your target audience.
* Assess buying factors and estimate marketing effectiveness in buying situations.
* Learn how to segment and target markets.
* Conduct market research, including primary and secondary research methods, and quantitative and qualitative methods.
* Develop and manage products, and learn how to use product packaging and labeling to your advantage.
* Make the most of marketing channels.
* Implement merchandising and direct marketing strategies.
* Understand the factors to consider when setting prices.
* Pump up marketing communications with great visuals, writing, and attention-getting strategies.
* Choose the best possible advertising options for your marketing plan.
* Learn how to handle public relations tasks, prepare reasonable impact scenarios, and use press releases to tell a story.
* Use the internet to market your products.

Wiley Pathways helps you achieve your goals

When it comes to learning about business, not everyone is on the same path. But everyone wants to succeed. The new Wiley Pathways series in Business helps you achieve your goals with its brief, inviting format, clear language, and focus on core competencies and skills.

The books in this series--Business Communication, Finance, Marketing, Business Math, and Real Estate--offer a coordinated curriculum for learning business. Learn more at www.wiley.com/go/pathways.
Cannot be combined with any other offers.
Cannot be combined with any other offers.
Cannot be combined with any other offers.
Table of contents
Part I Business Marketing
1. Making Marketing Happen 1
2. The Marketing Plan 19
Part II Analyzing Marketing Opportunities
3. Knowing Consumers 47
4. Segmenting and Targeting Markets 71
5. Marketing Research 95
Part III Product and Distribution
6. Developing and Managing Products 118
7. Marketing Channel Management 145
8. Retailing 171
9. Pricing 195
Part IV Advertising and Promotion
10. Marketing Communications and Personal Selling 221
11. Advertising 248
12. Publicity, Public Relations, and Sales Promotions 276
13. Internet Marketing 296
Glossary 321
Index 335
Features
Learning Aids
Clear, everyday language and clean format. Students can read each chapter without being intimidated by difficult language or overwhelmed by sidebars, textboxes, and other fillers that interrupt the flow of the writing.  
Modular format.  Instructors can reorder textbook content to suit the needs of a particular class. The text proceeds logically from the basics to more challenging material, and chapters are further organized into sections that are self-contained for maximum teaching and learning flexibility. 
Pre-test. This pre-reading assessment tool in multiple-choice format  introduces chapter material and the learning outcomes. By focusing students' attention on what they do not know, the self-test provides a benchmark against which they can measure their own progress. 
What You'll Learn in this Chapterand After Studying this Chapter. These bulleted lists tell students what they will be learning in this chapter and why it is significant. "What You'll Learn…" lists focus on subject matter that will be taught. Each bullet in the list corresponds to a chapter section.  "After Studying This Chapter…" lists emphasize capabilities and skills students will learn.
Goals and Outcomes. These lists identify specific learner capabilities that will result from reading the chapter.  They set students up to synthesize and evaluate the chapter material, and relate it to the real world. 
"For Example" Boxes. Found within each section, these boxes tie section content to real-world organizations, scenarios, and applications.
Figures and tables. Line art and photos have been carefully chosen to be truly instructional rather than filler. Tables distill and present information in a way that is easy to identify, access, and understand, enhancing the focus of the text on essential ideas without distracting or overwhelming the reader.     
Self-Check. Related to the "What You'll Learn" bullets and found at the end of each section, this battery of short answer questions emphasizes student understanding of concepts and mastery of section content. Each Self-Check question set includes a link to a section of the pre-test for further review and practice.
Key Terms and Glossary. To help students develop a professional vocabulary, key terms are bolded in the introduction, summary and when they first appear in the chapter.  A complete list of key terms with brief definitions appears at the end of each chapter and again in a glossary at the end of the book.  Knowledge of key terms is assessed by all assessment tools (see below). 
Summary. Each chapter concludes with a summary paragraph that reviews the major concepts in the chapter and links back to the "What You'll Learn" list. 
Evaluation and Assessment Tools
Summary Questions. These help students summarize the chapter's main points by asking a series of multiple choice and true/false questions that emphasize student understanding of concepts and mastery of chapter content. 
Review Questions. In short answer format, these questions review the major points in each chapter, prompting analysis while reinforcing and confirming student understanding of concepts, and encouraging mastery of chapter content. 
Applying this Chapter Questions. This feature is used to drive home key ideas by asking students to synthesize and apply chapter concepts to new, real-life situations and scenarios.
You Try It! Questions.   Designed to extend students' thinking, these questions are ideal for discussion or writing assignments.  Using an open-ended format and sometimes based on Web sources, they encourage students to draw conclusions using chapter material applied to real-world situations, which fosters both mastery and independent learning. 
Post-test.   After students have completed the chapter they have the ability to take a post test. It includes all of the questions in the pre-test, so that students can see how their learning has progressed and improved.