Will China Save the Planet?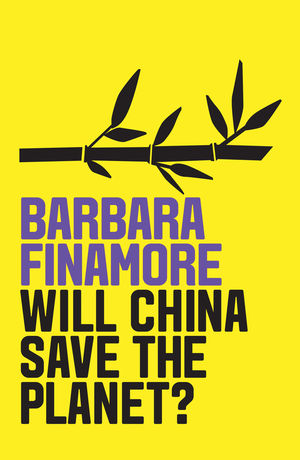 Will China Save the Planet?
ISBN: 978-1-509-53266-7 November 2018 Polity 200 Pages
Description
Now that Trump has turned the United States into a global climate outcast, will China take the lead in saving our planet from environmental catastrophe? Many signs point to yes. China, the world's largest carbon emitter, is leading a global clean energy revolution, phasing out coal consumption and leading the development of a global system of green finance.

But as leading China environmental expert Barbara Finamore explains, it is anything but easy. The fundamental economic and political challenges that China faces in addressing its domestic environmental crisis threaten to derail its low-carbon energy transition. Yet there is reason for hope. China's leaders understand that transforming the world's second largest economy from one dependent on highly polluting heavy industry to one focused on clean energy, services and innovation is essential, not only to the future of the planet, but to China's own prosperity.
Table of contents
Acknowledgements
List of Abbreviations
Introduction: China: The New Climate Torchbearer?
Chapter One: China's Climate Diplomacy
Chapter Two: Dethroning Old King Coal
Chapter Three: Catalyzing the Clean Energy Revolution
Chapter Four: Jumpstarting the Electric Vehicle Industry
Chapter Five: Greening China's Financial System
Epilogue: China in the Driving Seat
Reviews
"A hugely informative and readable book about how much China is doing - and needs to do - to spur the clean energy revolution that is a crucial element in the fight against climate change. I highly recommend it."
Todd Stern, Former Special Envoy for Climate Change under President Obama
"Finamore has written an impressively well-researched and truly fascinating account of China's fitful odyssey to climate consciousness. In an otherwise pretty bleak global tableau, this progress offers some welcome grounds for hope."
Orville Schell, Arthur Ross Director, Center on US-China Relations, Asia Society


"A must-read."
Make Wealth History

'Barbara Finamore has written a highly readable and informative overview of China's role in the global climate change battle. Will China Save the Planet? is a good primer for environmental policy analysts and anyone else interested in studying feasible solutions to climate change, humanity's greatest threat.'
Eurasia Review

"If you want to read one book on China's energy and environmental transformation, Finamore's lucid volume is the one."
Asian Review of Books

'Authoritative and comprehensive'.
The South China Morning Post