Work Time: Conflict, Control, and Change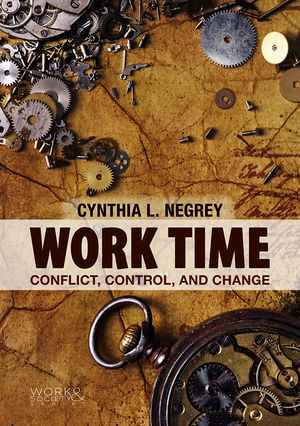 Work Time: Conflict, Control, and Change
ISBN: 978-0-745-65425-6 March 2012 Polity 200 Pages
Description
Work Time is a sociological overview of a complex web of relations that shapes much of our experience of work and life yet often goes without critical examination.

Cynthia Negrey examines work time past and present, exploring structural economic change and the gender division of labor to ask: what are the historical, cultural, public policy, and business sources of current work-time practices? Topics addressed include work-time reduction in the US culminating in the 40-hour statute of 1938, recent trends in annual and weekly hours, overtime, part-time work, temporary employment, work-family integration, and international comparisons. She focuses on the US in a global context and explores how a new political economy of work time is taking shape.

This book brings together existing knowledge from sociology, anthropology, history, labor economics, and family studies to answer its central question and will change the way upper-level students think about the time we devote to work.
Table of contents
List of Figures, Tables, and Boxes vii
Acknowledgments ix
Introduction 1
1 From Field to Factory and Beyond 9
Original Affluence? 10
Medieval Church Time, Modern Clock Time 14
Commodified Time 18
Industrial Time-discipline 19
Time-work Discipline in the Twenty-first Century 25
Gendered Time 27
2 Work-time Reduction in the US 31
Citizenship, Leisure, Education, and Health 34
From Haymarket to Henry Ford 40
Work Sharing and Fair Labor 51
Two 30-hour Experiments 57
Conclusion 63
3 Current Trends 65
Annual Hours 66
Weekly Hours 69
Overtime 71
Non-standard Work 74
Non-standard Schedules 90
Hours Mismatches 92
4 Work–family, Work–life 96
From Family-based to Family Consumer Economy 97
Women's Labor-force Participation 99
Family Structure and Employment Hours 102
Housework, Child Care, and Free Time 102
Work–family 108
Private Adaptations 109
Workplace and Public Policy Initiatives 114
Work–life 124
5 Work Time Outside the US 128
Work Hours in Industrialized Nations 128
Work Hours Regulations in Europe 136
Women's Part-time Employment in Europe 148
Family Policies 151
European Couples' Work-hour Strategies 158
Work Hours in Transition and Developing Countries 163
Work Hours Preferences 171
Conclusion 172
6 A New Political Economy of Work Time 174
The Electronic Cottage 178
Customized Time: Two Forms 180
Recommendations for Change 181
Work Time and Environmental Sustainability 187
Conclusion 191
Notes 195
References 201
Index 229
Reviews
"Cynthia Negrey has written an astute, thorough review of what we have learned about the issue of work time since the issue was put back on the table by Juliet Schor's
The Overworked American
. By placing the issue in historical context, and by providing a comparative framework for thinking about the American experience, her book succeeds in its goal of getting readers to think about how work time might be organized differently, in ways more compatible with the needs of a changing workforce."
Peter Meiksins, Cleveland State University
"Engaging and accessible, Work Time illustrates the historical development of the concept of time, then deftly weaves together the broad literature around the defining work-time innovations of our era, namely the transition to part-time, temporary, and other non-permanent forms of employment. By integrating the literature on today's work-time configurations and providing an international comparison of social policies aimed at supporting work-life balance, Negrey helps readers make sense of one of the most complex and significant issues of our times. Work Time is essential reading for students and a valuable resource for researchers, educators, and practitioners who are interested in work, gender, and the intersection of the two."
Anne Zacharias-Walsh, Solidarity Ink

"an excellent example of good sociological analysis which illuminates the underlying social characteristics of dominant institutions."
Contemporary Sociology

Features
An engaging sociological overview of the complex web of relations that shapes our experience of work and life.
Focuses on an area that has previously not been explored adequately: what are the social causes and consequences of the accepted norms of working hours?
Covers topics such as recent trends in annual and weekly hours, overtime, part-time work, temporary employment, and work-family integration.
Brings together knowledge from sociology, anthropology, history, labour economics, and family studies, as well as internationally comparative material.