Writings on Cities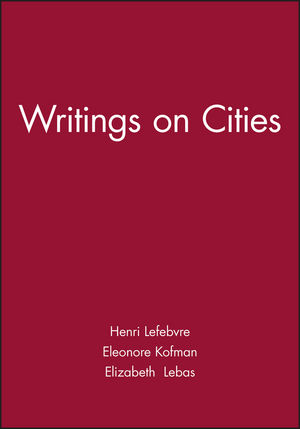 Writings on Cities
ISBN: 978-0-631-19188-9 November 1995 Wiley-Blackwell 260 Pages
Description
The work of Henri Lefebvre - the only major French intellectual of the post-war period to give extensive consideration to the city and urban life - received considerable attention among both academics and practitioners of the built environment following the publication in English of
The Production of Space.
This new collection brings together, for the first time in English, Lefebvre's reflections on the city and urban life written over a span of some twenty years.
The selection of writings is contextualized by an introduction - itself a significant contribution to the interpretation of Henri Lefebvre's work - which places the material within the context of Lefebvre's intellectual and political life and times and raises pertinent issues as to their relevance for contemporary debates over such questions as the nature of urban reality, the production of space and modernity.

Writings on Cities is of particular relevance to architects, planners, geographers, and those interested in the philosophical and political understanding of contemporary life.
Table of contents
Acknowledgements.
Part I Introduction.
1 Lost in Transposition-Time, Space and the City.
Part II Right to the City.
2 Preface.
3 Industrialization and Urbanization.
4 Philosophy and the City.
5 Fragmentary Sciences and Urban Reality.
6 Philosophy of the City and Planning Ideology.
7 The Specificity of the City.
8 Continuities and Discontinuities.
9 Levels of Reality and Analysis.
10 Town and Country.
11 Around the Critical Point.
12 On Urban Form.
13 Spectral Analysis.
14 The Right to the City.
15 Perspective or Prospective?.
16 The Realiziation of Philosophy.
17 These on the City, the Urban and Planning.
Part III Spaces and Politics.
18 Introduction.
19 Institutions of a Post-technological Society.
Part IV Interviews.
20 No Salvation away from the Centre?.
21 The Urban in Question.
Part V Elements of Rhythmanalysis.
22 Seen from the Window.
23 Rhythmanalysis of Mediterranean Cities.
Index.
Features
This volume brings together material previously unavailable in English
Collects Lefebvre's reflections, written over some twenty years, on the city and urban life
A prologue to and continuation of The Production of Space which received considerable attention
The introduction helpfully contextualises the selected material within Lefebvre's intellectual life and times.