e-Business: Organizational and Technical Foundations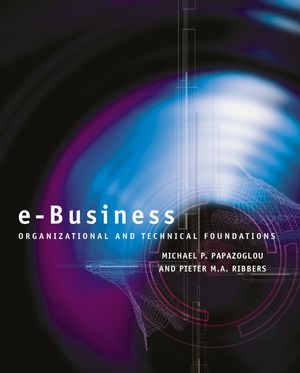 e-Business: Organizational and Technical Foundations
ISBN: 978-0-470-84376-5 January 2006 750 Pages
Description
Two significant factors combine to drive the phenomenon of e-Business.  Competition constantly motivates companies in their marketplaces, while rapidly developing information technologies offer new opportunities and challenges.
For Mike Papazoglou and Pieter Ribbers, both business and technology are integral to e-Business.  They demonstrate here how a solid understanding of business, organization, management and technology is crucial to an understanding of what e-Business is today and how it is going to be shaped in the future.
e-Business: Organisational and Technical Foundations focuses on the development of e-Business between and within enterprises.  In particular it addresses how enterprises collaborate, what coordination mechanism are necessary and how this is reflected at the technical infrastructure level.
It includes:
Abundant real-world examples to encourage readers to understand and appreciate real-life
e-Business
An analytical and critical approach to understanding business issues, decision-making and technology use and development
Extensive end of chapter discussion questions and assignments for students
A companion website at www.wiley.com/go/ebusiness with additional exercises for students and PowerPoint slides and solutions for lecturers
About the Authors xv
Foreword xvii
Preface xix
1. The World of e-Business 1
1.1 What is e-Business? 2
1.1.1 e-Business vs. e-Commerce 2
1.1.2 Some critical factors 3
1.2 Characteristics of e-Business 4
1.3 Elements of an e-Business solution 5
1.4 e-Business roles and their challenges 8
1.5 e-Business requirements 10
1.6 Impacts of e-Business 12
1.7 Inhibitors of e-Business 14
1.7.1 Management/strategy issues 14
1.7.2 Cost/financing issues 15
1.7.3 Security and trust issues 15
1.7.4 Legal issues 16
1.7.5 Technological concerns 17
1.7.6 Arguments against investment 17
1.8 Chapter summary 17
2. e-Business Strategy 21
2.1 What is e-Business strategy? 23
2.2 Strategic positioning 26
2.3 Levels of e-Business strategy 26
2.4 The changing competitive agenda: business and technology drivers 28
2.5 The strategic planning process 32
2.6 Strategic alignment 35
2.7 The consequences of e-Business: theoretical foundations 37
2.7.1 Theory of competitive strategy 38
2.7.2 The resource-based view 41
2.7.3 Transaction cost economics 42
2.8 Success factors for implementation of e-Business strategies 44
2.8.1 e-Business transformation as an 'ill-structured problem' 44
2.8.2 The need for program management 46
2.8.3 Design characteristics of program management 46
2.8.4 Change agentry 48
2.9 Chapter summary 49
3. Business Models 53
3.1 Pressures forcing business changes 55
3.2 Business models – definitions 57
3.3 Classifications of business models 60
3.3.1 Internet-enabled business models 61
3.3.2 Value Web business models 62
3.3.3 The e-Business-enabled business models 63
3.3.4 Market participants business model 66
3.3.5 Cybermediaries business model 69
3.4 Towards networked business models 70
3.5 Chapter summary 72
4. e-Business Relationships 75
4.1 Modeling interdependent business activities: the value chain 77
4.1.1 The business unit value chain 77
4.1.2 Value chain analysis 80
4.1.3 Value stream analysis 82
4.1.4 Unbundling the business unit value chain 83
4.1.5 The industry value chain 83
4.2 Business processes and their management 85
4.2.1 Business process management 87
4.2.2 Characteristics of business processes 88
4.2.3 Types of business processes 90
4.2.4 Role of IT in business processes 92
4.3 Types and characteristics of e-Business relationships 94
4.3.1 Types of e-Business relationships 95
4.3.2 Types of business relationships and information exchange 97
4.3.3 Characteristics of e-Business relationships 98
4.4 Electronic links and the value chain 100
4.5 Chapter summary 102
5. Governance Structures 107
5.1 Markets versus hierarchies: theoretical contributions 108
5.1.1 The transaction cost perspective 109
5.1.2 Transaction aspects: asset specificity, product complexity and frequency 110
5.1.3 Behavioural assumptions: bounded rationality and opportunism 111
5.1.4 The resource-based perspective 112
5.2 Networks 113
5.3 A supply chain perspective: value-adding partnerships 115
5.4 The effects of information technology on governance 116
5.4.1 The electronic market hypothesis 116
5.4.2 The move-to-the-middle hypothesis 118
5.4.3 A supply chain perspective 120
5.5 Chapter summary 121
6. e-Business Technological Infrastructure 125
6.1 Technical e-Business challenges 127
6.2 Basic infrastructure: client/server technology 129
6.3 Web technologies and applications 133
6.3.1 Web-based applications 135
6.3.2 Architectural features of Web-based applications 138
6.4 Collaborative technologies 143
6.4.1 Electronic Data Interchange (EDI) 143
6.4.2 Workflow systems 150
6.5 The role of Enterprise Information Systems in e-Business 162
6.6 Chapter summary 163
7. XML the Enabling Technology for e-Business 165
7.1 Brief overview of XML 166
7.2 Characteristics of XML documents 167
7.2.1 XML declaration 169
7.2.2 Element 170
7.2.3 XML namespaces 170
7.2.4 Well formed and valid documents 172
7.3 Defining structure in XML documents 173
7.3.1 Document Type Definition (DTD) 173
7.3.2 Overview of XML schema 176
7.4 Document presentation and transformation 186
7.4.1 Using XSL to display documents 188
7.4.2 Using XSLT to transform documents 188
7.5 Processing XML documents 190
7.6 XML, EDI and e-Business 192
7.7 Chapter summary 194
8. e-Markets 197
8.1 Electronic markets defined 199
8.1.1 How electronic markets work 201
8.1.2 Functional characteristics of business-to-business e-Markets 203
8.1.3 Classification of electronic markets 204
8.1.4 Market-making mechanisms 207
8.1.5 Biased or unbiased markets 207
8.2 The functions of electronic markets 208
8.3 How do electronic markets differ from traditional markets? 209
8.3.1 Personalization and customization 209
8.3.2 Information goods 210
8.3.3 Search 211
8.3.4 Transaction mechanisms 211
8.3.5 Price discovery 212
8.3.6 Facilitation 212
8.3.7 Electronic invoicing and payment 212
8.4 What are the effects of electronic markets? 214
8.4.1 The impact of the emergence of electronic markets 214
8.4.2 Stakeholders: buyers, suppliers, investors and service suppliers 215
8.5 Electronic market success factors 216
8.5.1 Context-related success factors 217
8.5.2 Process-related success factors 219
8.6 e-Market technology solutions 221
8.7 Chapter summary 223
9. e-Procurement 227
9.1 Introduction 228
9.2 The purchasing process 230
9.2.1 Modeling the purchasing process 231
9.2.2 Purchasing as part of supply chain management 233
9.3 Developments in purchasing 234
9.4 IT and purchasing 235
9.5 e-Procurement 235
9.5.1 e-Procurement models 239
9.5.2 The components of e-Procurement systems 241
9.5.3 Internet-based e-Catalog systems 242
9.5.4 Catalog aggregation 245
9.6 Auctions 245
9.7 e-Procurement solutions 246
9.8 Chapter summary 247
10. e-Business Networks 252
10.1 Introduction 252
10.2 Network organizations 254
10.2.1 Classifying networks 255
10.3 Interorganizational information systems and network organizations 259
10.3.1 System integration and business benefits 259
10.3.2 Interoperability: a matter of standards 262
10.3.3 Classifying interorganizational information systems 263
10.3.4 Limits to the reach of network organizations 266
10.4 Supply chains 267
10.4.1 Logistics – flow and network perspectives 269
10.4.2 Supply chain management 271
10.4.3 Technology solutions for supply chains 272
10.5 Integrated supply chains 275
10.5.1 Essential requirements of integrated value chains 276
10.6 Concluding remarks 278
10.7 Chapter summary 279
10.7.1 Network organization and their IOSs 279
10.7.2 Supply chains 281
11. Intermediaries in the Value Systems 285
11.1 Introduction 288
11.2 Definition and classification of intermediaries 288
11.2.1 Transactional intermediaries or infomediaries 289
11.2.2 Added value and functions 290
11.2.3 Services 292
11.3 Dynamics in the value system 293
11.3.1 Disintermediation 293
11.3.2 Are intermediaries threatened? 294
11.3.3 The intermediation–disintermediation–re-intermediation cycle 299
11.4 Chapter summary 301
12. e-Business Modeling 305
12.1 Business modeling 307
12.2 Business processes and collaborations 309
12.3 Business modeling with UML 310
12.3.1 Class diagrams 311
12.3.2 Activity diagrams 313
12.3.3 Use case diagrams 313
12.3.4 Sequence diagrams 316
12.3.5 Deployment diagram 316
12.3.6 Business process modeling with UML 2.0 316
12.4 Business process modeling methodologies 320
12.4.1 The Unifi ed Software Development Process 322
12.4.2 The Rational Unified Process (RUP) 323
12.4.3 The UN/CEFACT Modeling Methodology 325
12.5 The Supply-Chain Operations Reference (SCOR) model 331
12.6 Business Process Modeling Notation 335
12.7 Comparing BPMN with UML 339
12.8 The Model Driven Architecture (MDA) 340
12.9 Chapter summary 344
13. Security and Reliability for e-Business 349
13.1 Reliability and quality considerations 351
13.2 Quality requirements 353
13.3 Trust 357
13.4 e-Business risks 359
13.5 e-Business security 361
13.5.1 Application security requirements 362
13.5.2 Security mechanisms for e-Business 364
13.6 Realizing a secure e-Business infrastructure 367
13.6.1 Infrastructure availability 367
13.6.2 Network level security 368
13.6.3 Secure communications 372
13.6.4 Digital certification and trusted third parties 376
13.6.5 Trust services overview 378
13.7 Chapter summary 387
14. Approaches to Middleware 391
14.1 What is middleware? 392
14.2 Messaging 393
14.3 Remote Procedure Calls (RPCs) 396
14.4 Remote Method Invocation (RMI) 398
14.5 Message-Oriented Middleware (MOM) 400
14.5.1 Integration brokers 402
14.5.2 The Java Message Service 405
14.6 Data-access middleware 406
14.7 Transaction-oriented middleware 407
14.7.1 Transaction-processing (TP) monitors 408
14.7.2 Application servers 409
14.8 Distributed-object middleware 411
14.8.1 Object Request Brokers (ORBs) 412
14.8.2 The Enterprise Java Beans (EJB) component model 416
14.9 Newer generation frameworks 418
14.9.1 .NET 418
14.9.2 J2EE 420
14.10 Chapter summary 428
15. Component-based Development 431
15.1 What are components? 433
15.1.1 Component characteristics 436
15.2 Interfaces and contracts 438
15.3 Business components and entities 441
15.3.1 Business entities 442
15.3.2 Business components 442
15.4 Component models and compositions 444
15.4.1 Component models 444
15.4.2 Component compositions 445
15.5 Component frameworks and patterns 447
15.5.1 Characteristics and types of frameworks 447
15.5.2 Business patterns 449
15.6 Business component architecture 450

15.7 Business component-based design and development 452
15.7.1 Designing components 452
15.7.2 Developing components 459
15.7.3 Certifying components 460
15.8 Advantages and limitations of component-based development 460
15.9 Chapter summary 462
16. Leveraging Legacy Applications 465
16.1 Enterprise information systems and legacy enterprise assets 467
16.2 Strategies for modernizing legacy systems 469
16.3 Non-invasive approaches 471
16.3.1 Refacing 471
16.3.2 Repurposing 471
16.3.3 Presentation tier modernization techniques 472
16.4 Invasive approaches 474
16.4.1 Maintenance 474
16.4.2 Replacement 474
16.4.3 Re-engineering and transformation 475
16.5 Legacy modernization techniques 483
16.5.1 Legacy componentization 483
16.5.2 Requirements for componentization 486
16.6 Chapter summary 492
17. Enterprise Application Integration 495
17.1 The application integration imperative 497
17.1.1 Target applications 499
17.2 Operational and financial drivers 501
17.3 What is Enterprise Application Integration? 502
17.4 Typical topologies for enterprise application integration 504
17.4.1 Point-to-point topology 505
17.4.2 Publish/Subscribe (shared bus) topology 507
17.4.3 Hub and spoke topology 509
17.4.4 Conclusion 510
17.5 Types of application integration: passive vs. active 511
17.6 Layers of EAI integration 512
17.6.1 Transportation layer 512
17.6.2 Data integration layer 513
17.6.3 Application programming interface integration layer 517
17.6.4 Business process integration layer 518
17.7 Workflow, EAI, and BPM technologies: A comparison 524
17.8 When to use synchronous or asynchronous communication 525
17.9 Elements of the application integration architecture 527
17.10 Implementing business process-level EAI 529
17.10.1 Integration broker-based process-level integration 530
17.10.2 Application server-based process-level integration 534
17.11 Summary of application integration infrastructure functions 537
17.12 Chapter summary 538
18. e-Business Integration 543
18.1 Business processes and e-Business integration 545
18.2 Business process redesign 547
18.3 e-Processes 548
18.4 Overview of e-Business integration 549
18.4.1 Choosing the type of integration 551
18.4.2 The role of standards 553
18.4.3 Initial comparison between EAI and e-Business integration 554
18.5 Topologies for e-Business integration 555
18.6 Workflow, BPM, EAI and e-Business 559
18.7 Integration challenges: the semantic interoperability problem 561
18.7.1 Semantic issues at the data level 562
18.7.2 Semantic issues at the business-process level 563
18.8 Business integration patterns and their implications 567
18.8.1 Integrated enterprise business pattern 567
18.8.2 Brokered enterprise business pattern 569
18.8.3 Federated enterprise 570
18.9 e-Business integration requirements revisited 571
18.10 Wrapping up: the real differences between e-Business and EAI 573
18.11 Chapter summary 574
19. Loosely Coupled e-Business Solutions 579
19.1 Introduction 581
19.2 The concept of software as a service 584
19.3 What web services are 585
19.4 Web services: types and characteristics 588
19.5 The service-oriented architecture 590
19.5.1 Roles of interaction in the service-oriented architecture 591
19.5.2 Operations in the service-oriented architecture 592
19.6 The web services technology stack 593
19.7 Web services standards 595
19.7.1 SOAP: Simple Object Access Protocol 595
19.7.2 WSDL: Web Services Description Language 599
19.7.3 UDDI: Universal Description, Discovery, and Integration 607
19.8 Web services orchestration 612
19.9 Web services transactions 617
19.10 Web services security and policy considerations 620
19.11 EAI and web services 621
19.12 Chapter summary 623
20. Business Protocols 627
20.1 Introduction 628
20.2 Why are business standards and protocols needed? 629
20.3 XML technology stack for e-Business integration 630
20.3.1 Components in support of e-Business within a single value chain 631
20.3.2 Components in support of e-Business within an e-Market 632
20.4 RosettaNet 635
20.5 Electronic business XML 637
20.5.1 Conducting business via ebXML 638
20.5.2 Architectural model of ebXML 639
20.6 Convergence between Rosetta, ebXML and web services 654
20.7 Chapter summary 656
Glossary 661
References 681
Index 701
Abundant real-world examples to encourage readers to understand and appreciate real-life
e-Business
An analytical and critical approach to understanding business issues, decision-making and technology use and development
Extensive end of chapter discussion questions and assignments for students
A companion website at www.wiley.com/go/ebusiness with additional exercises for students and PowerPoint slides and solutions for lecturers