CompTIA A+ Complete Review Guide: Exams 220-901 and 220-902, 3rd Edition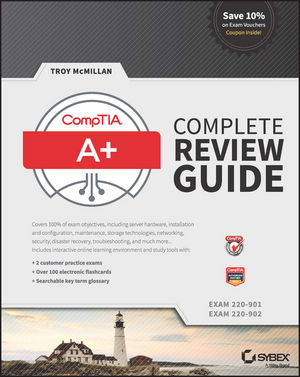 CompTIA A+ Complete Review Guide: Exams 220-901 and 220-902, 3rd Edition
ISBN: 978-1-119-13789-4 December 2015 704 Pages
Description
NOTE: The exam this book covered, CompTIA A+ (Exams 220-901 and 220-902), was retired by CompTIA in 2019 and is no longer offered.
For coverage of the current exam CompTIA A+: Exam 220-1001 and Exam 220-1002, please look for the latest edition of this guide: CompTIA A+ Complete Review Guide: Exam 220-1001 and Exam 220-1002 4e (9781119516958).
The CompTIA A+ Complete Review Guide, 3rd Edition is your ideal solution for preparing for exams 220-901 and 220-902. The perfect companion to the CompTIA A+ Complete Study Guide, 3rd Edition this book provides you with extra review and reinforcement of key topics you'll see on the exam. The material is broken into two parts that each focus on a single exam, then organized by domain objective so you can quickly find the information you need most. This new third edition has been updated to reflect the revised exams, with the latest best practices and an emphasis on Windows 8/8.1 and mobile OSes. You also get access to the exclusive Sybex online learning environment featuring over 170 review questions, four bonus exams, 150 electronic flashcards, and a glossary of key terms — over 500 practice questions in all!
The CompTIA A+ certification is the essential computer technician credential, and is required by over 100 leading employers. This book gives you the review and practice you need to approach the exam with confidence.
Brush up on PC hardware, laptops, printers, and mobile devices
Review the fundamentals of networking and security
Delve into the latest operating systems and operating procedures
Troubleshoot common IT issues, and learn the latest best practices
Table of contents
Introduction xv
Part I CompTIA A+ 220-901 1
Chapter 1 Hardware 3
1.1 Given a Scenario, Configure Settings and Use BIOS/UEFI Tools on a PC 8
1.2 Explain the Importance of Motherboard Components, Their Purpose, and Properties 18
1.3 Compare and Contrast Various RAM Types and Their Features 32
1.4 Install and Configure PC Expansion Cards 37
1.5 Install and Configure Storage Devices and Use Appropriate Media 44
1.6 Install Various Types of CPUs and Apply the Appropriate Cooling Methods 59
1.7 Compare and Contrast Various PC Connection Interfaces, Their Characteristics, and Purpose 64
1.8 Install a Power Supply Based on Given Specifications 74
1.9 Given a Scenario, Select the Appropriate Components for a Custom PC Configuration to Meet Customer Specifications or Needs 79
1.10 Compare and Contrast Types of Display Devices and Their Features 87
1.11 Identify Common PC Connector Types and Associated Cables 92
1.12 Install and Configure Common Peripheral Devices 102
1.13 Install SOHO Multifunction Devices/Printers and Configure Appropriate Settings 108
1.14 Compare and Contrast Differences Between the Various Print Technologies and the Associated Imaging Process 114
1.15 Given a Scenario, Perform Appropriate Printer Maintenance 128
Review Questions 135
Chapter 2 Networking 137
2.1 Identify the Various Types of Network Cables and Connectors 140
2.2 Compare and Contrast the Characteristics of Connectors and Cabling 147
2.3 Explain the Properties and Characteristics of TCP/IP 152
2.4 Explain Common TCP and UDP Ports, Protocols, and Their Purpose 158
2.5 Compare and Contrast Various Wi-Fi Networking Standards and Encryption Types 161
2.6 Given a Scenario, Install and Configure a SOHO Wireless/Wired Router and Apply Appropriate Settings 164
2.7 Compare and Contrast Internet Connection Types, Network Types, and Their Features 170
2.8 Compare and Contrast Network Architecture Devices, Their Functions, and Features 174
2.9 Given a Scenario, Use Appropriate Networking Tools 178
Review Questions 182
Chapter 3 Mobile Devices 185
3.1 Install and Configure Laptop Hardware and Components 187
3.2 Explain the Function of Components Within the Display of a Laptop 199
3.3 Given a Scenario, Use Appropriate Laptop Features 202
3.4 Explain the Characteristics of Various Types of Other Mobile Devices 209
3.5 Compare and Contrast Accessories and Ports of Other Mobile Devices 215
Review Questions 222
Chapter 4 Hardware and Network Troubleshooting 225
4.1 Given a Scenario, Troubleshoot Common Problems Related to Motherboards, RAM, CPU, and Power with Appropriate Tools 227
4.2 Given a Scenario, Troubleshoot Hard Drives and RAID Arrays with Appropriate Tools 238
4.3 Given a Scenario, Troubleshoot Common Video, Projector, and Display Issues 245
4.4 Given a Scenario, Troubleshoot Wired and Wireless Networks with Appropriate Tools 250
4.5 Given a Scenario, Troubleshoot and Repair Common Mobile Device Issues While Adhering to the Appropriate Procedures 264
4.6 Given a Scenario, Troubleshoot Printers with Appropriate Tools 275
Review Questions 284
Part II CompTIA A+ 220‐902 287
Chapter 5 Windows Operating Systems 289
1.1 Compare and Contrast Various Features and Requirements of Microsoft Operating Systems (Windows Vista, Windows 7, Windows 8, and Windows 8.1) 293
1.2 Given a Scenario, Install Windows PC Operating Systems Using Appropriate Methods 315
1.3 Given a Scenario, Apply Appropriate Microsoft Command-Line Tools 325
1.4 Given a Scenario, Use Appropriate Microsoft Operating System Features and Tools 338
1.5 Given a Scenario, Use Windows Control Panel Utilities 363
1.6 Given a Scenario, Install and Configure Windows Networking on a Client/Desktop 383
1.7 Perform Common Preventive Maintenance Procedures Using the Appropriate Windows OS Tools 397
Review Questions 408
Chapter 6 Other Operating Systems and Technologies 411
2.1 Identify Common Features and Functionality of the Mac OS and Linux Operating Systems 414
2.2 Given a Scenario, Set Up and Use Client-Side Virtualization 433
2.3 Identify Basic Cloud Concepts 435
2.4 Summarize the Properties and Purpose of Services Provided by Networked Hosts 438
2.5 Identify Basic Features of Mobile Operating Systems 441
2.6 Install and Configure Basic Mobile Device Network Connectivity and E-mail 445
2.7 Summarize Methods and Data Related to Mobile Device Synchronization 456
Review Questions 461
Chapter 7 Security 463
3.1 Identify Common Security Threats and Vulnerabilities 466
3.2 Compare and Contrast Common Prevention Methods 477
3.3 Compare and Contrast Differences of Basic Windows OS Security Settings 489
3.4 Given a Scenario, Deploy and Enforce Security Best Practices to Secure a Workstation 498
3.5 Compare and Contrast Various Methods for Securing Mobile Devices 502
3.6 Given a Scenario, Use Appropriate Data Destruction and Disposal Methods 509
3.7 Given a Scenario, Secure SOHO Wireless and Wired Networks 512
Review Questions 518
Chapter 8 Software Troubleshooting 521
4.1 Given a Scenario, Troubleshoot PC Operating System Problems with Appropriate Tools 523
4.2 Given a Scenario, Troubleshoot Common PC Security Issues with Appropriate Tools and Best Practices 540
4.3 Given a Scenario, Troubleshoot Common Mobile OS and Application Issues with Appropriate Tools 549
4.4 Given a Scenario, Troubleshoot Common Mobile OS and Application Security Issues with Appropriate Tools 556
Review Questions 562
Chapter 9 Operational Procedures 565
5.1 Given a Scenario, Use Appropriate Safety Procedures 567
5.2 Given a Scenario with Potential Environmental Impacts, Apply the Appropriate Controls 574
5.3 Summarize the Process of Addressing Prohibited Content/Activity and Explain Privacy, Licensing, and Policy Concepts 581
5.4 Demonstrate Proper Communication Techniques and Professionalism 585
5.5 Given a Scenario, Explain the Troubleshooting Theory 591
Review Questions 595
Appendix Answers to Review Questions 597
Index 609
Downloads
CompTIA Discount Voucher
The CompTIA Discount Voucher is now hosted within the test bank. Please login to the test bank to access the voucher.
Download
Errata
Chapter
Page
Details
Date
Print Run
9
596
Errata in text
Chapter 9 Review Questions
p. 596
QUESTION:
8. Which of the following is a drop in voltage lasting more than a few minutes?
A. sag
B. spike
C. blackout
D. brownout
Appendix: Answers to Review Questions
INCORRECT:
Chapter 9
p. 607
8. Answer: B
There are a number of power-related threats that can harm computers.Among them are the following:
■Blackout: A complete failure of the power supplied.
■Brownout: A drop in voltage lasting more than a few minutes.
■Sag: A very short-term voltage drop.
■Spike: The opposite of a sag, this is a short (typically under 1 second) increase in voltage that can do irreparable damage to equipment.
■Surge: A long spike (sometimes lasting many seconds). Though they are typically a less intense increase in power, they can also damage equipment.
CORRECT:
8. Answer: D
13-Jul-17

---