Conflict Resolution Quarterly, Volume 25, Number 2, Winter 2007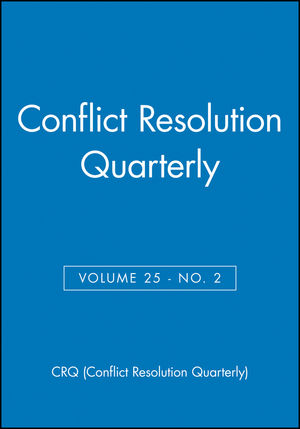 Conflict Resolution Quarterly, Volume 25, Number 2, Winter 2007
ISBN: 978-0-470-27438-5 February 2008 Jossey-Bass 128 Pages
Description
Conflict Resolution Quarterly, an official publication of the Association for Conflict Resolution (ACR), publishes quality scholarship on relationships between theory, research, and practice in the conflict management and dispute resolution field to promote more effective professional applications.
Table of contents
ARTICLES.
Harmony, Peacemaking, Power: Controlling Processes and African Mediation (Mark Davidheiser)
Taking the Footing of a Neutral Mediator (Brian L. Heisterkamp)

Managing Conflict During an Organizational Acquisition (Cynthia F.Cohen, Stanley J. Birkin, Murray E.Cohen, Monica J.Garfield, Harold W.Webb)

COLLOQUY: THE HUMAN FACE OF ON-LINE DISPUTE RESOLUTION (Guest Editors: Melissa Conley Tyler and Susan S. Raines).
The Human Face of On-line Dispute Resolution (Melissa Conley Tyler, Susan S. Raines)

Keeping Pace: On-line Technology and ADR Services (David Syme)

Mediating in Your Pajamas: The Benefits and Challenges for ODR Practitioners (Susan S. Raines)

Transforming Landscapes: Forging New ODR Systems with a Human Face (Sanjana Hattotuwa)
Accreditation of On-line Dispute Resolution Practitioners (Melissa Conley Tyler, Jackie Bornstein)