Hey, Whipple, Squeeze This: The Classic Guide to Creating Great Ads, 5th Edition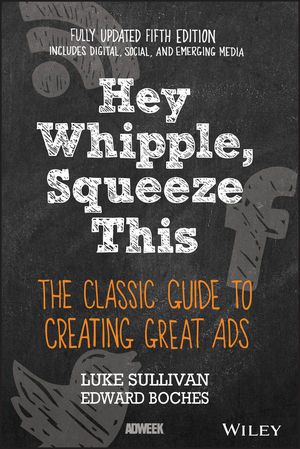 Hey, Whipple, Squeeze This: The Classic Guide to Creating Great Ads, 5th Edition
ISBN: 978-1-119-16403-6 January 2016 448 Pages
Description
The classic guide to creating great advertising now covers all media: Digital, Social, and Traditional
Hey Whipple, Squeeze This has helped generations of young creatives make their mark in the field. From starting out and getting work, to building successful campaigns, you gain a real-world perspective on what it means to be great in a fast-moving, sometimes harsh industry. You'll learn how to tell brand stories and create brand experiences online and in traditional media outlets, and you'll learn more about the value of authenticity, simplicity, storytelling, and conflict.
Advertising is in the midst of a massive upheaval, and while creativity is still king, it's not nearly enough. This book is an essential resource for advertising professionals who need up-to-date digital skills to reach the modern consumer.
Turn great ideas into successful campaigns
Work effectively in all media channels
Avoid the kill shots that will sink any campaign
Protect your work
Succeed without selling out
Today's consumer has seen it all, and they're less likely than ever to even notice your masterpiece of art and copy, let alone internalize it. Your job is to craft a piece that rises out of the noise to make an impact. Hey Whipple, Squeeze This provides the knowledge to create impressive, compelling work.
Table of contents
PREFACE VII
INTRODUCTION: ON BEING THE SECOND-SMARTEST PERSON IN THE ROOM. IX
CHAPTER 1 A Brief History of Why Everybody Hates Advertising
And why you should try to get a job there. 1
CHAPTER 2 The Creative Process
Or, Why it's impossible to explain what we do to our parents. 17
CHAPTER 3 Ready Fire! Aim
Or, What to say comes before how to say. 31
CHAPTER 4 The Sudden Cessation of Stupidity
How to get ideas—the broad strokes. 47
CHAPTER 5 Write When You Get Work
Completing an idea—some finer touches. 79
CHAPTER 6 The Virtues of Simplicity
Or, Why it's hard to pound in a nail sideways. 105
CHAPTER 7 Stupid, Rong, Naughty, and Viral
Getting noticed, getting talked about. 121
CHAPTER 8 Why Is the Bad Guy Always More Interesting?
Storytelling, conflict, and platforms. 143
CHAPTER 9 Zen and the Art of Tastee-Puft
Or, Managing time, energy, panic, and your creative mind. 155
CHAPTER 10 Digital Isn't a Medium, It's a Way of Life
Ads, media, content, and customers—they've all gone digital. 171
CHAPTER 11 Change the Mindset, Change the Brief, Change the Team
Digital work means the end of "us and them." 183
CHAPTER 12 Why Pay for Attention When You Can Earn It?
Or, Advertising so interesting, people go out of their way to see it. 197
CHAPTER 13 Social Media Is the New Creative Playground
It seems like a free-for-all, but there are some basic guidelines. 219
CHAPTER 14 How Customers become Customers in the Digital Age
Be findable, be present, be everywhere. 233
CHAPTER 15 Surviving the Digital Tsunami
Or, How to be a one, not a zero. 247
CHAPTER 16 In the Future, Everyone Will Be Famous for 30 Seconds
Some advice on telling stories visually. 259
CHAPTER 17 Radio Is Hell, but It's a Dry Heat
Some advice on working in a tough medium. 271
CHAPTER 18 Only the Good Die Young
The enemies of good ideas. 299
CHAPTER 19 Pecked to Death by Ducks
Presenting and protecting your work. 327
CHAPTER 20 A Good Book . . . or a Crowbar
What it takes to get into the business. 357
CHAPTER 21 Making Shoes versus Making Shoe Commercials
Is this a great business, or what? 393
SUGGESTED READING 403
NOTES 407
BIBLIOGRAPHY 417
ALSO BY LUKE SULLIVAN 421
ACKNOWLEDGMENTS 423
ABOUT THE AUTHOR 425
INDEX 427
Reviews
"The writing is very informal and easy to understand. The authors' wit and humor are also on display. Anyone interested in learning how to write copy for advertisements should read this book." (Choice Connect 2016)