The Art of Shrinking Heads: The New Servitude of the Liberated in the Era of Total Capitalism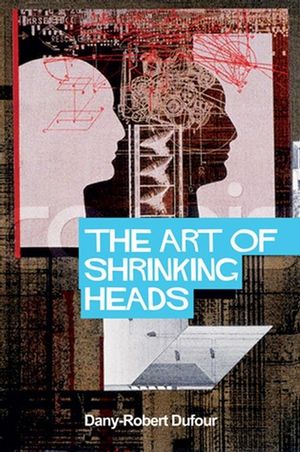 The Art of Shrinking Heads: The New Servitude of the Liberated in the Era of Total Capitalism
ISBN: 978-0-745-63690-0 December 2007 Polity 200 Pages
Description
After the hell of the Nazis and the terror of Communism, it is possible that a new catastrophe has appeared on the horizon: this time it is neoliberalism that wants to create its own 'new man'.
For two centuries, Kant's critical subject and Freud's neurotic subject provided us with philosophical templates for modernity, but today modern capitalism is systematically destroying these two subjects and replacing them with something new. The two subjects of modernity both presupposed some reference to a higher value or power (like Reason) which provided a symbolic guarantor, but neoliberalism, by emphasizing the exchange of commodities in the marketplace, destroys all transcendental references of this kind. Now human beings no longer look beyond themselves and no longer have to agree about symbolic values: they only have to get on with the circulation and consumption of goods. Deprived of his faculty of judgement and urged to enjoy himself without restraint, the 'new man' of neoliberalism takes centre stage in the era of global capitalism.

In this biting critique of our contemporary condition Dufour shows that the radical transformation of the subject brought about by neoliberalism – what he calls 'the art of shrinking heads' – contains a new kind of violence which has far-reaching consequences for our ways of living together.
Table of contents
Foreword.
1. From Modernity to Postmodernity.
Mapping the Transition.
2. Homo Zappiens Goes to School.
The Denial of Generational Difference.
3. The Denial of Sexion.
4. Neo-Liberalism as Desymbolisation.
A New Form of Domination.
Acknowledgements.
Bibliography.
Reviews
"This little four-chapter book is valuable because it engages with aspects of that theory that are not readily available to an English-speaking audience. There is a useful range of references to existing French debates in the book, and the book is a good contribution to these debates, and so also as a consequence to some parallel debates in the English-speaking world."
British Journal of Sociology
"In this fascinating book, Dany-Robert Dufour shows the dangers we are facing in a society that promotes excessive individualism. This book enables us to understand why it is not a contradiction to feel increasingly dissatisfied in a society which seemingly offers an abundance of freedom and choice. In a cunning way, today's consumerist ideology actually thrives on our dissatisfactions. This book gives us the tools to understand and fight against it."
Renata Salecl, University of Ljubljana
Features


A biting new book from Dany-Robert Dufour – an international icon of the resistance to global capitalism

A detailed critique on the new state of capitalism known as 'neo-liberalism'

Dufour laments the desymbolisation of the world – the dismantlement of traditional symbolic value in favour of a never-ending circulation of commodities

This book will suit students of many different disciplines, as well as interested general readers