Wine: Flavour Chemistry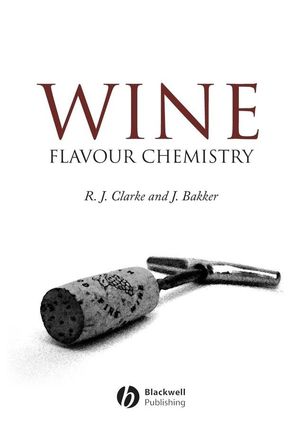 Wine: Flavour Chemistry
ISBN: 978-1-405-15004-0 May 2008 Wiley-Blackwell 336 Pages
Description
The commercial importance of wine continues to increase across the globe, with the availability of many new wines, encompassing a remarkable and exciting range of flavours.
Wine Flavour Chemistry
focuses on aspects of wine making procedures that are important in the development of flavour, describing some of the grapes used and their resulting wines. In-depth descriptions of flavour reaction pathways are given, together with cutting-edge scientific information concerning flavour release, its associated chemistry and physics, and the sensory perception of volatile flavours.
Wine Flavour Chemistry contains a vast wealth of information describing components of wine, their underlying chemistry and their possible role in the taste and smell characteristics of wines, fortified wines, sherry and port. Many extremely useful tables are included, linking information on grapes, wines, composition and resulting perceived flavours.

Wine Flavour Chemistry is essential reading for all those involved in commercial wine making, be it in production, trade or research. The book will be of great use and interest to all enologists, and to food and beverage scientists and technologists in commercial companies and within the academic sector. Upper level students and teachers on enology courses will need to read this book. All libraries in universities and research establishments where food and beverage science and technology, and chemistry are studied and taught, should have multiple copies of this important book.
Table of contents
Preface.
Introduction:.
Origins; Wine Flavour; Wine Colour; Vinification Processes; Physiological Factors.
Grape Varieties and Growing Regions:.
Wine Grapes; Grape Growing and Wine Producing Areas; Chemical Composition of Grapes, Must and Finished Wine; Quality Control and Classification of Wine.
Basic Taste, Stimulant and Other Constituents of Wines:.
Ethyl Alcohol and Polyols; Acidity; Sweetness; Bitterness, Astringency and Mouthfeel; Colouring Matter; Some other constituents; Changes in Storage/Ageing.
Volatile Components: .
Volatile Compounds Detected; Volatile Compounds Quantified in Amounts; GC Techniques of Measurement; Physical Properties and Chemical Structures.
Wine Tasting Procedures and Overall Wine Flavour:.
Balance of Basic Taste Constituents; Wine Aromas.
Sherry and Port:.
Introduction; Sherry; Port wine.
Formation Pathways in Vinification: .
Process Variables in Vinification; Production of Ethyl Alcohol; Production of Individual Groups of Compounds; Development of 'Noble Rot'.
Appendix I.
Appendix II.
Index
Reviews
"This book aims at elucidating the relationship between the perceived flavour of wines and their chemical composition, in the light of modern scientific knowledge and the continuing research in this field.
...this book is well written and very informative because it provides a collection of seven (7) chapters in topics of crucial importance for the scientists involved therein. It is a very useful book and is addressed to a wide readership (academic staff, research institutes, students, industrial practitioners) who will find a lot of useful and updated information therein."
International Journal of Food Science and Technology, Vol 40 (5), 2005
"The first impression of Wine Flavour Chemistry is that it is readable! It is not just aimed at the technical intelligentsia but also at anyone with an interest in alcoholic beverages.
Overall (it) would be an invaluable addition to the library of anybody interested in wine or alcoholic beverages. The authors are to be congratulated for their diligence and for the thorough way they have compiled…an excellent book."
Chemistry & Industry, 2005

"…the book is an absolute must for anyone involved professionally in the wine industry, scientist or otherwise."
Chemistry World, 2004

"This book contains a wealth of information on the chemistry of wine flavour as well as on sensory evaluation methods...The content of the book is based on recent published studies, is well organized, focused and easy to read.
This book may therefore be of interest to scholars, consumers, and all those involved in wine production and trade including those who are afraid of chemistry"
Chronica Horticulturae, 2004
"This isn't your average wine book. It's for those with a fairly serious interest in wine science… This is a valuable addition to the wine literature, and I recommend it to you… there aren't any other books out there like this, so for those wanting a technical reference on wine flavour chemistry, this could be the book for you."
Review on www.wineanorak.com

"an invaluable addition to the literature...the authors are to be congratulated for their dilligence and for the thorough way they have compiled a significant amount of constructive data to produce an excellent book".

Journal of the Institute of Brewing, Vol 111, No 2, 2005
Features
* comprehensive coverage of all aspects of wine flavour
* essential information for the wine industry
* authors highly regarded for work in flavour chemistry and enology