Clinical Anatomy of the Eye, 2nd Edition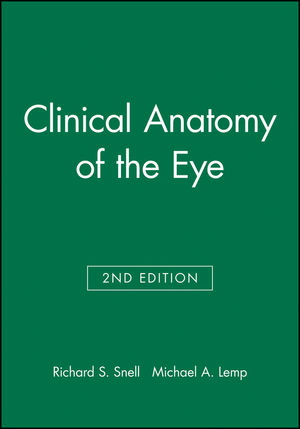 Clinical Anatomy of the Eye, 2nd Edition
ISBN: 978-1-118-69100-7 April 2013 Wiley-Blackwell 432 Pages
Description
Clinical Anatomy of the Eye has proved to be a very popular textbook for ophthalmologists and optometrists in training all over the world. The objective of the book is to provide the reader with the basic knowledge of anatomy necessary to practice ophthalmology. It is recognised that this medical speciality requires a detailed knowledge of the eyeball and the surrounding structures. The specialist's knowledge should include not only gross anatomic features and their development, but also the microscopic anatomy of the eyeball and the ocular appendages. The nerve and blood supply to the orbit, the autonomic innervation of the orbital structures, the visual pathway, and associated visual reflexes should receive great emphasis. The practical application of anatomic facts to ophthalmology has been emphasised throughout this book in the form of Clinical Notes in each chapter. Clinical problems requiring anatomic knowledge for their solution are presented at the end of each chapter. Illustrations are kept simple and overview drawings of the distribution of the cranial and autonomic nerves have been included.
Table of contents
Preface;.
1. Development of the eye and the ocular appendages;.
2. An overview of the anatomy of the skull;.
3. The orbital cavity;.
4. The paranasal sinuses;.
5. The ocular appendages;.
6. The eyeball;.
7. The anatomy of the eyeball as seen with the ophthalmoscope, slit lamp, and gonioscope;.
8. Movements of the eyeball and the extrocular muscles;.
9. The orbital blood vessels;.
10. Cranial nerves part I: Those nerves directly associated with the eye and orbit;.
11. Cranial nerves part II: Those nerves not directly associated with the eye and orbit;.
12. The autonomic nervous system;.
13. The visual pathway;.
Index
Reviews
"The most stunning aspect of this book is that the authors serve the needs of all levels of expertise...this format greatly aids the clinician...and guides the beginner..." American Journal of Ophthalmology on the first edition
Features
* user-friendly: each chapter is now preceded by a short table of contents for quick reference to the material, and subject headings are now very clear and easy to follow * fully updated and revised, to include a new chapter on Cranial Nerves with many new tables and colour illustrations * the anatomy of new clinical techniques has been introduced * includes photographs of living subjects to assist this study