Estrogens and Human Diseases, Volume 1089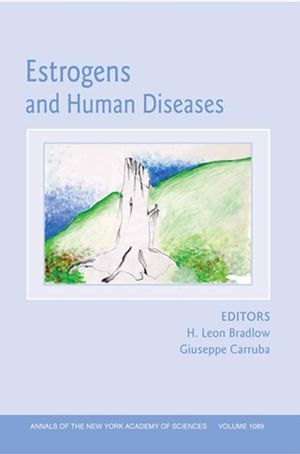 Estrogens and Human Diseases, Volume 1089
ISBN: 978-1-573-31669-9 January 2007 Wiley-Blackwell 400 Pages
Download Product Flyer
Download Product Flyer
Download Product Flyer is to download PDF in new tab. This is a dummy description. Download Product Flyer is to download PDF in new tab. This is a dummy description. Download Product Flyer is to download PDF in new tab. This is a dummy description. Download Product Flyer is to download PDF in new tab. This is a dummy description.
Description
Estrogens may play a role, not only in classical endocrine-related tumors, such as breast or prostate, but also in several other human nosological entities, including neurodegenerative disorders, cardiovascular and immune-related diseases.
This volume focuses on topics ranging from the impact of endogenous and exogenous estrogens on human development and cancer risk, to novel aspects in mechanisms of estrogen action, to estrogen implication in human malignancies (breast, prostate, liver), to the emerging role of estrogen in neurodegenerative disorders (Alzheimer's disease, multiple sclerosis, Parkinson's disease), to estrogen action in the cardiovascular system (including both genomic and nongenomic), to estrogen effects on cells of the immune system and their relevance to immune response and autoimmune diseases. The resulting inferences for clinics, diagnosis, prognosis, and treatment are also presented and extensively discussed.

NOTE: Annals volumes are available for sale as individual books or as a journal. For information on institutional journal subscriptions, please visit www.blackwellpublishing.com/nyas.
ACADEMY MEMBERS: Please contact the New York Academy of Sciences directly to place your order (www.nyas.org). Members of the New York Academy of Science receive full-text access to the Annals online and discounts on print volumes. Please visit http://www.nyas.org/MemberCenter/Join.aspx for more information about becoming a member
Table of contents
Preface (
H. Leon Bradlow and Giuseppe Carruba
).
Inside Cancer Complexity (Luisa M. Massimo).
In Tribute to Luigi Castagnetta -- Drawings: A Narrative Approach for Children with Cancer (Luisa M. Massimo and Daniela A. Zarri).
Part I: Estrogens, Development and Cancer.
1. Estrogens In Prostate Development: Gail S. Prins.
2. Timing of Dietary Estrogenic Exposures and Breast Cancer Risk: Leena A. Hilakivi-Clarke.
3. From Adult Stem Cells to Cancer Stem Cells: OCT-4 Gene, Cell-Cell Communication and Hormones During Tumor Promotion: James E. Trosko.
4. Hormonal Regulation of Human Mammary Stem and Progenitor Cells: Max S. Wicha.
5. Environmental Estrogen Signaling: John A. McLachlan.
Part II: New Insights into Estrogen Action:.
6. Recent Advances in Estrogen Signaling: Jan-Åke Gustaffson.
7. Lessons in Estrogen Biology from Knockout and Transgenic Animals: Kenneth S. Korach.
8. Integration of the Extra-Nuclear and Nuclear Actions of Estrogen: Ellis R. Levin.
9. Chromatin Remodelling by Estrogen and Progestin: Miguel Beato.
10. Estrogens and Epigenetic Signals: Richard G. Pestell.
Part III: Estrogens and Cancer I: Breast Cancer:.
11. The Role of Endogenous Hormones in the Etiology and Prevention of Breast Cancer: The Epidemiological Evidence: Paola Muti.
12. Sustainable Lifestyle Changes for Breast Cancer Prevention: Franco Berrino.
13. The Role of Gene Silencing in Cancer Development and Progression: New Therapeutic and Prevention Targets: Frank J. Rauscher 3rd.
14. Recent Results from Clinical Trials Using SERMS to Reduce the Risk of Breast Cancer: Victor Vogel.
15. Antihormones in Prevention and Treatment of Breast Cancer: Piero Sismondi.
Part IV: Estrogen and Cancer II: Prostate Cancer:.
16. Sex Steroids and Prostate Carcinogenesis: An Integrated, Multifactorial Working Hypothesis: Maarten C. Bosland.
17. Estrogens and Antiestrogens in Prostate Carcinogenesis: Key Mediators and Therapeutic Candidates: Shuk-Mei Ho.
18. Extranuclear Cross-Talk Between Androgen and Estradiol Receptors in Prostate and Breast Cancer Cells: Ferdinando Auricchio.
19. Estrogens and Mechanisms of Prostate Cancer Progression: Giuseppe Carruba.
20. Potential Therapeutic Targets of Estrogen and Selective Estrogen Receptor Modulators: Pirkko Härkönen.
Part V: Estrogens and Cancer III: Liver Cancer:.
21. [Title To Be Defined]: Giuseppe Montalto.
22. [Title To Be Defined]: Colin P. Smith.
23. Aromatase and Estrogen Formation in Human Liver Tissues and Cells: Shiuan Chen.
24. Antiestrogen and Serms in Human Hepatocellular Carcinoma.
25. Catechol Quinones of Estrogens and Dopamine in the Initiation of Cancer and Neurodegenerative Diseases: Ercole Cavalieri.
Part VI: Estrogens and Neurodegenerative Disorders:.
26. Estrogens in the Nervous System: Mechanisms and Nonreproductive Functions: Adriana Maggi.
27. Neuroprotective Action of Estrogens: Roberta Brinton.
28. Estrogen and Alzheimer's Disease: Samuel E. Gandy.
29. A Potential Role for Estrogen in Multiple Sclerosis: Halina Offner.
Part VII: The Puzzle of Myelodysplastic Syndrome: Focusing on Immunophenotyping, Cytogenetics and Molecular Genetics:.
30. The Role of Flow Cytometric Immunophenotyping in Myelodysplastic Syndrome: Guido Pagnucco.
31. Clinical Relevance of Cytogenetics in Myelodysplastic Syndrome: Paolo Bernasconi.
32. Genetic Abnormalities as Targets for Molecular Therapies in Myelodysplastic Syndrome: Daniela Cilloni.
Part VIII: Estrogens and Cardiovascular Diseases:.
33. Novel Mechanisms of Estrogen Signaling in Endothelial Cells: Tommaso Simoncini.
34. Estrogen Action and Metabolism in Smooth Muscle Cells of Human Vessels: Mariam Klouche.
35. The Effects of HRT on Cardiovascular System: Mechanisms and Implications: John C. Stevenson.
36. Implications of Recent Clinical Trials of Postmenopausal Hormone Therapy for Management of Cardiovascular Disease: Jacques E. Rossouw.
Part IX: Estrogens and Immune Diseases:.
37. [Title To Be Defined]: Claudio Franceschi.
38. Genetics, Gender and Longevity: Calogero Caruso.
39. Age-Related Inflammatory Diseases: Role of Genetics and Gender: Giuseppina Candore.
40. Estrogen as an Immunomodulator: Thomas J. Lang.
41. Steroid Hormones Regulate Replenishment of the Immune System: Paul W. Kincade.
42. Estrogens in Autoimmune Diseases: Maurizio Cutolo.
Index of Contributors.