Haematology at a Glance, 2nd Edition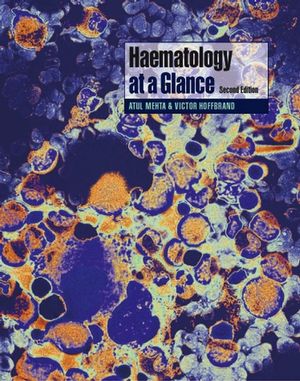 Haematology at a Glance, 2nd Edition
ISBN: 978-1-405-14485-8 February 2009 Wiley-Blackwell 120 Pages
Download Product Flyer
Download Product Flyer
Download Product Flyer is to download PDF in new tab. This is a dummy description. Download Product Flyer is to download PDF in new tab. This is a dummy description. Download Product Flyer is to download PDF in new tab. This is a dummy description. Download Product Flyer is to download PDF in new tab. This is a dummy description.
Description
Haematology at a Glance provides a concise and accessible introduction to haematology. It follows the easy-to-use 'at a Glance' format of double-page spreads comprising clear, memorable diagrams illustrating the key facts and essential textual information. It starts with an explanation of normal blood cells and routine laboratory tests. It then reviews a wide range of blood disorders.
This new edition of Haematology at a Glance:



Contains full colour throughout

Presents the key facts accompanied by clear diagrams, photos and images

Highlights the most recent developments in the field, including coverage of transplantation technology

Includes new chapters on :




The side affects of drug treatment

Pregnancy and neonatological aspects of haematology

Practical procedures
Haematology at a Glance will appeal to medical students, junior doctors on foundation programmes, haematology technicians and nursing and other health care students with an interest in haematology.

Reviews of last edition

"Haematology at a Glance is a valuable book for primary learning as well as for revision, and I am sure that I will refer to it for years to come."

The Royal College of Pathologists Bulletin

"It really is great, if you don't believe me, pick it up and look yourself,"

Black Bag – Bristol Medical School Gazette

Table of contents
1 Haemopoiesis: physiology and pathology.
2 Normal blood cells I: Red cells.
3 Normal blood cells II: Granulocytes, monocytes and the reticuloendothelial system.
4 Normal blood cells III: Lymphocytes.
5 Lymph nodes, the lymphatic system and the spleen.
6 Clinical assessment.
7 Laboratory assessment.
8 Benign disorders of white cells: granulocytes, monocytes, macrophages and lymphocytes.
9 Red cell disorders.
10 Iron I: Physiology and deficiency.
11 Iron II: Overload and sideroblastic anaemia.
12 Megaloblastic anaemia I: Vitamin B12 and folate deficiency - biochemical basis, causes.
13 Megaloblastic anaemia II: Clinical features, treatment and other macrocytic anaemias.
14 Haemolytic anaemias I: General.
15 Haemolytic anaemias II: Inherited membrane and enzyme defects.
16 Haemolytic anaemias III: Acquired.
17 Haemolytic anaemias IV: Genetic defects of haemoglobin.
18 Haemolytic anaemias V: Inherited defects of haemogolobin—sickle cell disease.
19 Bone marrow failure.
20 Haematological malignancy: basic mechanisms.
21 Chronic myeloid leukaemia.
22 Myelodysplasia.
23 Acute leukaemia I: Classification and diagnosis.
24 Acute leukaemia II: Treatment and prognosis.
25 Chronic lymphocytic leukaemia.
26 Multiple myeloma.
27 Lymphoma I: Hodgkin lymphoma (Hodgkin's disease).
28 Lymphoma II: Non-Hodgkin lymphoma – aetiology and diagnosis.
29 Lymphoma III: Non-Hodgkin lymphoma – treatment and prognosis.
30 Myeloproliferative disorders I: Polycythaemia.
31 Myeloproliferative disorders II: Essential thrombocythaemia and myelofibrosis.
32 Normal haemostasis.
33 Disorders of haemostasis: vessel wall and platelets.
34 Disorders of coagulation I: Inherited.
35 Disorders of coagulation II: Acquired.
36 Thrombosis and thrombophilia.
37 Anticoagulation.
38 Haematological aspects of systemic disease I: Inflammation—malignancy.
39 Haematological aspects of systemic disease II: Renal, liver, endocrine, amyloid.
40 Haematological aspects of systemic disease III: Infection.
41 Blood transfusion.
42 Stem cell transplantation.
43 General aspects of treatment.
44 Practical Procedures.
45 Haematology of pregnancy and infancy.
46 Haematological effects of drugs.
Appendices.
I Normal values.
II Cluster of differentiation nomenclature system.
III Further reading.
IV Sample questions and case histories
Reviews
"This is a very colourful book which concisely and clearly covers the areas of haematology for the undergraduate...this book is a welcome and reliable source of information." Surgo, Glasgow University Medical Journal, 78:4
Features
The ultimate revision aid - all you need to know in every double page spread
Contains full colour throughout

Presents the key facts accompanied by clear diagrams, photos and images

Highlights the most recent developments in the field, including coverage of transplantation technology

Includes new chapters on:
The side affects of drug treatment
Pregnancy and neonatological aspects of haematology
Practical procedures