Atmospheric Particles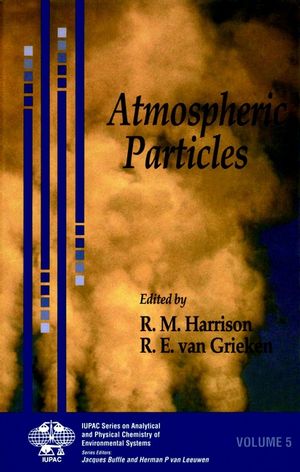 Atmospheric Particles
ISBN: 978-0-471-95935-9 May 1998 622 Pages
Description
The IUPAC Series on Analytical and Physical Chemistry of Environmental Systems provides the scientific community with a critical evaluation of the state of the art on physicochemical structures and reactions in environmental systems, as well as on the analytical techniques required to study and monitor these systems. The series is aimed at promoting rigorous analysis and understanding of physicochemical functioning of environmental systems.

The last few years have seen a spectacular growth of interest in the field of aerosol science, and particularly in the properties and consequences of atmospheric aerosols. Research in this field has focused on the role of aerosols in such topical areas as heavy metal pollution, acid rain, photochemical smog and global warming. Atmospheric Particles examines the fundamental aspects of aerosol science relating to particles in the atmosphere, including the sources and size distribution of airborne particles, the means of sampling and chemical analysis, and the serious health implications of particles in the urban atmosphere. Atmospheric Particles
* The first book to deal with aerosol particles in the atmosphere, their properties and significance.
* Leading scientists review and evaluate the latest knowledge on sampling; characterisation and properties of atmospheric particles.
* Excellent overview of current research and forthcoming developments in this rapidly expanding area.
Atmospheric Particles brings together the state-of-the-art knowledge of aerosol science relating to airborne particulate matter which will be of interest to graduate students and researchers working in atmospheric science, environmental analysis, pollution chemistry and global change.
Table of contents
Atmospheric Aerosol Size Distribution (R. Jaenicke).

Atmospheric Aerosol Sampling (D. Mark).

Inorganic Composition of Atmospheric Aerosols (M. Claes, et al.).

Speciation Techniques for Fine Atmospheric Aerosols (R. Tanner).

Structural Heterogeneity within Airborne Particles (J. Injuk, et al.).

Kinetics and Thermodynamics of Tropospheric Aerosols (A. Wexler & S. Potukuchi).

Dioxins, Dibenzofurans and PCBs in Atmospheric Aerosols (S. Harrad).

Polycyclic Aromatic Hydrocarbons in Atmospheric Particles (D. Smith & R. Harrison).

Carbonaceous Combustion Aerosols (H. Cachier).

Primary Biological Aerosol Particles: Their Significance, Sources, Sampling Methods and Size Distribution in the Atmosphere (S. Mathias-Maser).

Formation of Aerosol Particles from Biogenic Precursors (C. Hewitt & B. Davison).

Source Inventories for Atmospheric Trace Metals (J. Pacyna).

Dry Deposition of Particles (M. Zufall & C. Davidson).

Wet Processes Affecting Atmospheric Aerosols (S. Jennings).

Condensed Water Aerosols (J. Heintzenberg).

Influence of Atmospheric Aerosols upon the Global Radiation Balance (H. Horvath).

Index.