Exercise and Heart Failure: American Heart Association - Fighting Heart Disease and Stroke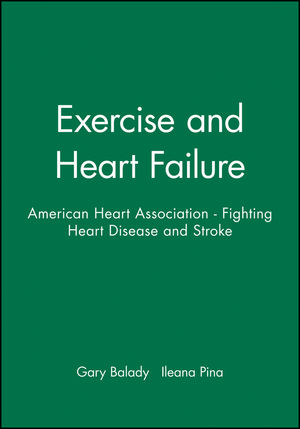 Exercise and Heart Failure: American Heart Association - Fighting Heart Disease and Stroke
ISBN: 978-0-879-93667-9 September 1997 Wiley-Blackwell 370 Pages
Description
Exercise testing has become an integral component of the management of patients with chronic heart failure. Exercise and heart failure can be seen to have a dynamic interrelationship, in which exercise can provide important diagnostic information, yet can also be used to assess the effectiveness of treatment regimes, and as a therapeutic intervention in itself. This is the first book that directly and comprehensively addresses the issues involving exercise patients with heart failure and heart transplants. It presents a unique and comprehensive overview of epidemiological, physiological and clinical aspects of this relationship.
The text covers the physiology of myocardial dysfunction, the transplanted heart, and ventricular assist devices as they affect exercise capacity and responses during exercise and exertion. It goes on to discuss in more depth the exercise testing of patients, including the methods and utility of ventilatory gas analysis, the physiologic and clinical effects of exercise training on these patients, and ecommended exercise training programs
This text, part of the American Heart Association Monograph Series, provides a cogent and comprehensive overview of its topic that should be of practical value to a broad range of physicians, exercise physiologists and consultants working in this field.
Table of contents
Preface:
G.J. Balady, I.L. Piña
.
Section 1: Epidemiology of Left Ventricular Dysfunction.
1. Epidemiology of Heart Failure: Evolving Trends.
N.B. Shah, B.M. Massie.
2. Economics of Heart Failure.
M.A. Konstam, C.D. Kimmelstiel.
.
Section 2: Heart Failure and Exercise Tolerance.
3. Systolic Failure.
M.B. Higginbotham.
4. Exercise, Diastolic Function and Dysfunction.
C.S. Apstein, J.R. Libonati, N. Varma, F.R. Eberli.
5. Neurohormonal Responses to Exercise in Heart Failure.
G.S. Francis.
6. The Transplanted Heart.
J.A. Kobashigawa.
.
Section 3: Therapeutic Approaches to Heart Failure and Their Impact on Exercise Tolerance.
7. Overview of Medical Therapy in Heart Failure: The Challenge of Rational Polypharmacy.
J.B. Young.
8. Effects of Long-Term Beta-Adrenergic Blockade on Exercise Capacity in Patients with Chronic Heart Failure.
E.E. Wolfel, M.R. Bristow.
9. Cardiac Transplantation: Current Concepts and Future Directions.
M. Argenziasno, E.A. Rose.
10. Cardiac Transplantation: Trends, Techniques and Bridges.
V. Jeevanandam.
11. Long-Term Implant of Left Ventricular Assist Devices.
B.E. Jaski, R.S. Maly.
.
Section 4: Exercise Testing and Expired Gas Analysis.
12. Exercise Testing Protocols for Use in Heart Failure.
I.L. Piña.
13. Ventilatory Gas Exchange in Heart Failure: Techniques, Problems, and Pitfalls.
J. Myers.
14. Clinical Utility of Cardiopulmonary Exercise Testing Data in Heart Failure.
R.J. Quigg.
.
Section 5: Physiological Responses to Exercise Training.
15. Cardiovascular Adaptations to Exercise Training in Left Ventricular Dysfunction.
M.J. Sullivan, B.D. Duscha.
16. Skeletal Muscle and the Role of Exercise Training in Chronic Heart Failure.
J.R. Wilson, D.B. Chomsky.
17. Central and Peripheral Responses to Training after Cardiac Transplantation.
J.R. Stratton.
.
Section 6: The Exercise Training Program.
18. Screening and Evaluation of Patients for Exercise Training.
G.F. Fletcher, V. Fernandez.
19. Training Methods and Monitoring of the Heart Failure Patients.
B.J. Fletcher, S. Dunbar.
20. Training Methods and Monitoring of Cardiac Transplant Patients.
I.L. Piña.
21. Costs and Reimbursement Issues for Exercise Training Programs.
S.K. White
Reviews
"...This is no superficial monograph, but one that is heavily laden with definitive analysis and extensive bibliography by authors who have large experience in their respective fields related to exercise and heart failure. This monograph should be of interest to a broad range of physicians and exercise physiologists and consultants working in this field."
Heart Failure Reviews
"Because of the up-to-date focus, well written style, simple but clear and ample illustrations, this volume should bridge the important gap between standard texts on exercise and cardiac rehabilitation and the need to better understand contemporary diagnosis and treatment of heart failure patients."
Doody's Review Service
"Several areas of this book make it exceptional. One is the clear overview of heart failure as a major socioeconomic health care problem. Another is the current update on heart failure therapies, including such -adrenergic blocking agents as bucindolol and carvedilol. The mechanisms of exercise limitation in the patient with heart failure are clearly presented. The final four chapters give the reader a clear road map with which to set up exercise training programs for patients with heart failure and those who have had transplantation.
"Although there is an ever increasing number of texts on heart failure,...little attention is paid to one of the most common features of this syndrome: exercise intolerance. Similarly, there are may texts on cardiac rehabilitation and even a few on cardiopulmonary exercise, but these do not usually focus on patients with heart failure in particular. This text distinguishes itself by its focus and ability to integrate multiple areas of the evaluation and treatment of heart failure."
Annals of Internal Medicine
Features
* what you need to know about exercise therapy for patients with heart problems