Knowledge Management Case Book: Siemens Best Practises, 2nd Edition, 2002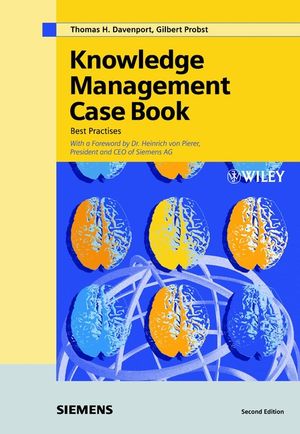 Knowledge Management Case Book: Siemens Best Practises, 2nd Edition, 2002
ISBN: 978-3-895-78181-0 June 2002 336 Pages
Download Product Flyer
Download Product Flyer
Download Product Flyer is to download PDF in new tab. This is a dummy description. Download Product Flyer is to download PDF in new tab. This is a dummy description. Download Product Flyer is to download PDF in new tab. This is a dummy description. Download Product Flyer is to download PDF in new tab. This is a dummy description.
Description
This book provides a perspective on knowledge management at Siemens - an internationally recognised benchmark - by presenting the reader with the best of the corporation's practical applications and experiences. Tom Davenport and Gilbert Probst bring together instructive case studies from different areas that reflect the rich insights gained from years of experience in practising knowledge management.
Most of the cases have been updated for the second edition. New cases have been added.
The Knowledge Management Case Book provides a comprehensive account of how organisational knowledge assets can be managed effectively. Specific emphasis is given to the development of generic lessons that can be learned from Siemens' experience. The book also offers a roadmap to building a "mature knowledge enterprise", thereby enhancing our understanding of the steps that need to be taken in order to sustain competitive dominance in the knowledge economy.
Presenting applications from very different areas, this practice-orientated book is really outstanding in the broad field of KM literature.

"Perhaps the most revealing - and interesting - part of the cases in this book is not the analysis of the various knowledge management tools and processes, but the description of their development, of how they come about, of how commitment was gained, of how implementation was led."

Yves Doz, The Timken Chaired Professor of Global Technology and Innovation at INSEAD, Fontainebleau


"This case book brings insights how our most valuable resource makes those tools happen. I found this book exciting reading, because it is, to my knowledge, the only book where a single company with a wide variety of knowledge management approaches accumulates years of experiences and lessons learned. Edited by two of the leading thinkers in the field of knowledge management, this book will show the way you practise knowledge management in your company."

Heinz Fischer, Global Head of HR, Deutsche Bank AG


"This book is a rare and valuable description of a single company's knowledge management journey. Siemens has made impressive advances in becoming a knowledge-driven firm, and this volume details many of its directions and waystations."

Laurence Prusak, Executive Director, IBM Institute for Knowledge Management


"Though there are many books on Knowledge Management, this is a unique one on a sense that it provides practical application of KM rather than the jargon."

Sushil, Modi Foundation Chair Professor and Group Chair, Department of Management Studies, Indian Institute of Technology, New Delhi
Table of contents
Introduction.
Siemens' Knowledge Journey (Thomas H. Davenport and Gilbert J.B. Probst).
I. KNOWLEDGE STRATEGY.
The Knowledge Strategy Process - an instrument for business owners (Josef Hofer-Alfeis and Rob van der Spek).
II: KNOWLEDGE TRANSFER.
ShareNet - the next generation knowledge management (Michael Gibbert, et al.).
SiemensIndustrialServices: Turning know-how into results (Marc D'Oosterlinck, et al.).
Networked knowledge - implementing a system for sharing technical tips and expertise (Andrea Dora, et al.).
Practice exchange in a Best Practice Marketplace (Michael Gibbert and Hartmut Krause).
III: COMMUNITIES OF PRACTICE.
The Power of communities: How to build Knowledge Management on a corporate level using a bottom-up approach (Ellen Enkel, et al.).
KECnetworking - Knowledge Management at Infineon Technologies AG (Michael Franz, et al.).
The development of the Siemens Knowledge Community Support (Michael Franz, et al.).
IV: ADDED VALUE OF KNOWLEDGE MANAGEMENT.
A guided tour through knowledgemotionTM: The Siemens Business Services Knowledge Management Framework (Tanja Gartner, et al.).
KnowledgeSharing@MED - turning knowledge into business (Dagmar Birk and Manuela Müller).
How to manage company dynamics: An approach for Mergers and Acquisitions Knowledge Exchange (Susanne Kalpers, et al.).
V: LEARNING AND KNOWLEDGE MANAGEMENT.
Knowledge Master - a collaborative learning program for Knowledge Management (Christine Erlach, et al.).
The Siemens Management Learning Program (Christina Bader-Kowalski and Antonie Jakubetzki).
E-Learning and Knowledge Management, symptoms of a new Siemens reality (Jef Staes).
VI: VISUALIZING MORE OF THE VALUE CREATION.
Getting real about knowledge sharing: the premium-on-Top bonus System (Michael Gibbert, et al.).
Four steps from knowledge networking to an organizational change (Thomas Klingspor and Felix Klostermeier).
Knowledge Management for the e-business transformation (Albert Goller, et al.).
VII: EPILOGUE.
Putting knowledge to work: Case-writing as a knowledge management and organizational learning tool (Gilbert J.B. Probst).
Notes on the contributors.
Reviews
"Perhaps the most revealing - and interesting - part of the cases in this book is not the analysis of the various knowledge management tools and processes, but the description of their development, of how they come about, of how commitment was gained, of how implementation was led."

Yves Doz, The Timken Chaired Professor of Global Technology and Innovation at INSEAD, Fontainebleau


"This case book brings insights how our most valuable resource makes those tools happen. I found this book exciting reading, because it is, to my knowledge, the only book where a single company with a wide variety of knowledge management approaches accumulates years of experiences and lessons learned. Edited by two of the leading thinkers in the field of knowledge management, this book will show the way you practise knowledge management in your company."

Heinz Fischer, Global Head of HR, Deutsche Bank AG


"This book is a rare and valuable description of a single company's knowledge management journey. Siemens has made impressive advances in becoming a knowledge-driven firm, and this volume details many of its directions and waystations."

Laurence Prusak, Executive Director, IBM Institute for Knowledge Management


"Though there are many books on Knowledge Management, this is a unique one on a sense that it provides practical application of KM rather than the jargon."

Sushil, Modi Foundation Chair Professor and Group Chair, Department of Management Studies, Indian Institute of Technology, New Delhi