The Fetal and Neonatal Pulmonary Circulation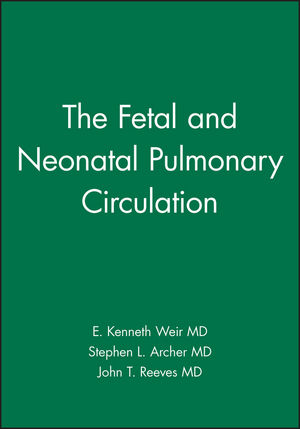 The Fetal and Neonatal Pulmonary Circulation
ISBN: 978-0-879-93439-2 June 2000 Wiley-Blackwell 404 Pages
Description
Birth is a sudden, traumatic transition of environments. Once the placental oxygen supply ceases, the foetus has only minutes to establish pulmonary oxygen transport, which requires not only inflation of the lungs, but also sudden and sustained changes in the lung circulation. Not long ago, research in this field was largely restricted to morphology and physiology. Now the powerful new tools of cellular and molecular biology have begun to
shed light on the physiological processes in the developing lung and its supporting vasculature.
In 22 chapters, three main sections explore lung growth and development, vascular cell growth and differentiation, and the mechanisms of hemodynamic control in the neonate; extensive illustrations give a comprehensive picture of pulmonary circulatory development. Factors controlling vasculogenesis and angiogenesis are described by the scientists who pioneered the field. Similarly, the intracellular signaling cascades that determine proliferation or growth inhibition of fibroblasts, smooth muscle cells, and endothelial cells are also presented in an understandable manner. Finally, the role of
substances, such as nitric oxide and endothelin, that control the hemodynamics of the fetal and neonatal circulations are discussed in detail, particularly in relation to the changes occurring at birth.
This book will inform basic scientists as well as the clinician and student, and should be of particular interest to pediatric cardiologists, pulmonary medicine physicians, and vascular biologists.
Table of contents
Preface.
(E.K. Weir, S.L. Archer, J.T. Reeves).
Section I. Lung Growth and Development.
1. The Development of Concepts of the Ontogeny of the Pulmonary Circulation.
(A.M. Rudolph).
2. The de Novo Formation of Blood Vessels in the Early Embryo and in the Developing Lung. (C.J. Drake, C.D. Little).
3. Early Development of the Vascular System of the Mouse Lung: Ontogeny of Endothelial Cell Heterogeneity. (R. Auerbach, O. Mierzoeva, K.C. Meyer).
4. Structural Elements of Human Fetal and Neonatal Lung Vascular Development. (D.E. deMello).
Section II. Vascular Cell Growth and Differentiation.
5. Contribution of the Adventitial Fibroblast to Pulmonary Vascular Disease.
(K.R. Stenmark, M. Das, D. Bouchey, E.C. Dempsey).
6. The Role of Thrombospondins 1 and 2 in Vascular Development.
(L.C. Armstrong, T.R. Kyriakides, P. Bornstein).
7. Elastic Fiber Proteins in Pulmonary Vascular Development.
(J.M.W. Hausladen, R.P. Mecham).
8. Proteolytic Modulation of the Extracellular Matrix. (M. Rabinovitch).
9. Signal Transduction Kinases in the Regulation of Matrix Metalloproteinase-9 Expression in Vascular Smooth Muscle Cells. (A. Cho, M.A. Reidy).
10. Transcription Factors Controlling Cellular Proliferation During Vascular Repair. (R.C. Smith, T. Mano, K. Walsh).
11. Perlecan Heparan Sulfates in the Control of Vascular Smooth Muscle Cell Proliferation. (M.C.M. Weiser-Evans, K.R. Stenmark).
12. B-Myb Represses Collagen Gene Expression in Bovine Vascular Smooth Muscle Cells. (K.E. Kypreos, D.J. Marhamati, M.A. Nugent, G.E. Sonenshein).
13. Mechanical Forces in Vascular Growth and Development. (B.L. Langille).
Section III. Mechanisms of Hemodynamic Control in the Neonate.
14. Lung Arteriolar Endothelial Cell Proliferation at Birth: Possible Roles of Stretch and Hypoxia. (J.T. Reeves).
15. Physiologic Roles of Nitric Oxide in the Perinatal Pulmonary Circulation.
(S.H. Abman, J.P. Kinsella, T.A. Parker, L. Storme, T.D. Le Cras).
16. Regulation of Endothelial Nitric Oxide Synthase Expression in the Developing Lung. (P.W. Shaul).
17. The Role of Endothelin in Perinatal Pulmonary Vasoregulation.
(D.D. Ivy, S.H. Abman).
18. O2-Sensitive K+ Channel Activity in the Ovine Pulmonary Circulation Shifts with Maturation. (D.N. Cornfield, H.L. Reeve, E.K. Weir).
19. Regulation of Ion Channels in the Ductus Arteriosus. (H.L. Reeve, E.K. Weir).
20. Cytochrome P450 in the Contractile Tone of the Ductus Arteriosus: Regulatory and Effector Mechanisms. (F. Coceani).
21. Maturational Changes in the Human Pulmonary Vascular Resistance.
(J.C. Huhta, J. Rasanen).
22. The Pulmonary Vasculature in Congenital Diaphragmatic Hernia.
(R. Tibboel, S.M.K. Shehata, A.H. Guldemeester).
Index.
Reviews
"Four Stars!
****
"The Contributors are all top-notch experts in their respective fields...In each section a topic is examined in exceptional detail.
"...a unique and valuable text, providing the investigator and clinician with 'one-stop shopping' for timely, detailed, and important information about pulmonary vascular development during fetal and newborn life."
Doody's Review Service
"...a most excellent work, The Fetal and Neonatal Pulmonary Circulation aims to "inform the basic scientist as well as the clinician and student, and to provide a benchmark in the field as we approach the next millennium." The resulting text serves these ambitions superbly.
"The editors have selected an impressive group of experts to contribute chapters which cover a wide range of topics, from the history of fetal and neonatal pulmonary vascular physiology, to vascular-cell growth and differentiation, to the factors and disorders, including congenital diaphragmatic hernia, which affect pulmonary hemodynamics in the newborn.
"...In an era in which the distance between the basic scientist and busy clinician seems to be ever wider, I am particularly impressed by the way in which basic science and clinical medicine fuse into a continuum in this excellent book. The Fetal and Neonatal Pulmonary Circulation shows that when we try to work together, we can. It must be the definitive work in the area. More of the same in other areas of medicine please."
The Lancet