A Comparative Syntax of the Dialects of Southern Italy: A Minimalist Approach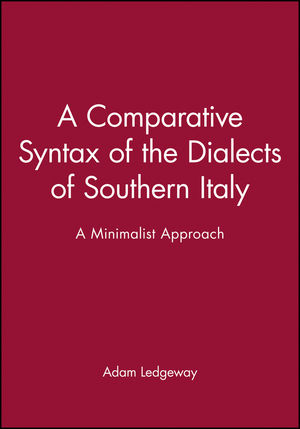 A Comparative Syntax of the Dialects of Southern Italy: A Minimalist Approach
ISBN: 978-0-631-22166-1 January 2000 Wiley-Blackwell 300 Pages
Description
The book investigates the little studied syntax of the dialects of southern Italy. In addition to providing a descriptive account of a wide range of syntactic phenomena , the discussion shows how the model of language embodied in Chomsky's (1995) Minimalist Program can be profitably extended to the study of the syntax of southern Italian dialects, focusing on such topics as Case-marking and finite, infinitival and participial complementation.
Table of contents
Introduction.
1. Case Marking.
2. Finite and Infinitival Complementation: Null Subjects and Control.
3. The Personal Infinitive.
4. Auxiliary Infinitival Constructions.
5. Auxiliary Selection.
6. Want-passives.
Features
* Offers a valuable insight into the little studied syntax of the dialects of southern Italy.
* Makes a significant contribution towards cataloguing the linguistic typology of dialect syntax within the Italian peninsula, bridging the gap between the familiar data of standard Romance and those of lesser known Romance varieties.
* Combines an account of previously unexplored descriptive problems with a principled explanation for them, without compromising either of these two complementary aspects of syntactic research.