Paediatric Audiological Medicine, 2nd Edition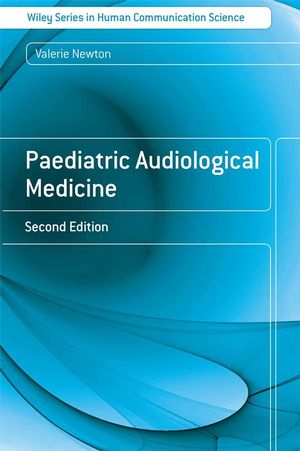 Paediatric Audiological Medicine, 2nd Edition
ISBN: 978-0-470-98796-4 December 2008 536 Pages
Description
Professionals will find a wide range of topics relevant to their work with hearing impaired children or those suspected of having an impairment in this book. A chapter on epidemiology includes the prevalence of hearing impairment and several additional chapters are devoted to the various causative factors. Detection of a hearing loss, measurement of the degree of hearing loss and identification of the site of lesion are covered together with management of any hearing loss found. Individual chapters give coverage to balance disorders, tinnitus, progressive hearing loss, auditory neuropathy, central auditory processing disorders and unilateral hearing impairment. Methods of communication, communication disorders and the psychological effects of a hearing impairment are included together with consideration of education and employment issues.
Table of contents
Contributors.
Foreword.
Preface.
1 Epidemiology of permanent childhood hearing impairment(A. Davis, K. Davis and G. Mencher).
2 Screening and surveillance (J. Stevens and G. Parker).
3 Behavioural tests of hearing (F. Tweedy and R. Booth).
4 Neuro-diagnostic paediatric audiology (J.W. Hall III and L.M. Bondurant).
5 Radiological abnormalities of the ear (F. Calzolari and A. Martini).
6 Genetics of hearing loss (A.P. Read).
7 Craniofacial syndromes and hearing loss (V.E. Newton).
8 Infectious causes of paediatric hearing impairment (P.J. Vallely and P.E. Klapper).
9 Adverse perinatal factors and hearing loss (T. Sirimanna).
10 Acute otitis media and otitis media with effusion (E. Raglan).
11 Central auditory processing disorders (J.S. Martin and R.W. Keith).
12 Auditory neuropathy (D. Bamiou).
13 Progressive hearing loss (D. Lucas).
14 Children with unilateral sensorineural hearing loss (D.P. Sladen, A. Rothpletz and F.H. Bess).
15 Medical management of the deaf child in a multidisciplinary context (B. Mac Ardle and C. Munro).
16 Selecting amplifi cation for children (D. Toe).
17 Cochlear implants in children (R.T. Ramsden and P. Axon).
18 Managing the listening environment: classroom acoustics and assistive listening devices (D. Toe).
19 Balance disorders in children (K. Harrop-Griffiths).
20 Vestibular testing in children (C. Möller).
21 Management of tinnitus in children (C.B. Coelho and R.S. Tyler).
22 Development of early vocalisation and language behaviours of young hearing-impaired children (E.A. Tobey and A.D. Warner-Czyz).
23 Deaf children and communication approaches (L. Watson).
24 Delay and disorder in speech and language (G. Baird and T. Loucas).
25 Psychological effects of deafness and hearing impairment (R. Kentish and J. Mance).
26 The education of deaf and hearing-impaired children (I. Tucker).
Index.