Cultural Studies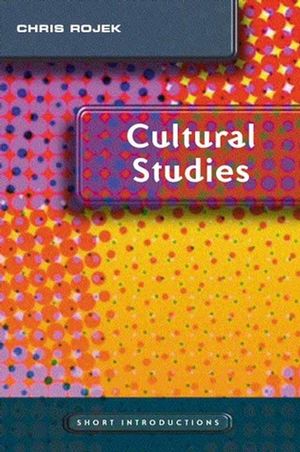 Cultural Studies
ISBN: 978-0-745-63684-9 November 2006 Polity 184 Pages
Download Product Flyer
Download Product Flyer
Download Product Flyer is to download PDF in new tab. This is a dummy description. Download Product Flyer is to download PDF in new tab. This is a dummy description. Download Product Flyer is to download PDF in new tab. This is a dummy description. Download Product Flyer is to download PDF in new tab. This is a dummy description.
Description
What has the death of Corporal Patrick D. Tillman of the US Army Rangers in an incident of friendly fire in Afghanistan in 2004 got to do with culture? How has the study of ideology, coding, theming and representation by Cultural Studies helped us to understand Reality TV, the Internet, mobile phones, the iPod and leading brands in neat capitalism like Virgin, The Body Shop and Apple?
This lively and assured book provides a concise and authoritative critical guide to Cultural Studies. It demonstrates that the field has moved through four moments': the National/Popular, the Textual/Representational, Global/Post Essentialism and Governmentality/Policy. It illustrates the meaning of each of these moments by a discussion of representative texts and concrete examples from popular culture. As such, it achieves a novel and accessible account of the origins and development of the field.
The book also shows how the readers personal experience can be systematically situated in cultural forces and used as a resource to clarify how culture works, through the analysis of on-location practice, embodiment, emplacement and context. Packed with illuminating examples, and a clear and compelling prose style, the book is the antidote to abstract, hazy accounts of the meaning and value of Cultural Studies. It is the ideal text for readers new to the field, but it will also be appreciated by established practitioners as good to think with.
Cannot be combined with any other offers.
Original Price:$60.00
Purchased together:$45.00
save $15.00
Table of contents
1 Culture Counts
2 Doing Cultural Studies
3 Culture Is Structured Like a Language
4 Zeroing-In On Culture
5 The Four 'Moments' In Cultural Studies
6 Situating Yourself In Culture
7 Cultural Distortion
8 Neat Capitalism
9 Neat Publishing
10 Conclusion: The "Long March" of the Cultural Imaginary
Notes
References
Author Index
Subject Index
Reviews
"A lively appraisal of Cultural Studies, offering an array of fresh insights into current debates about pressing social issues. Chris Rojek provokes, challenges and inspires in equal measure."
Professor Stuart Allan, University of the West of England

"Chris Rojek has for decades worked on the cutting edge of cultural studies. His book Cultural Studies presents an excellent introduction to the field; case studies in how to do cultural studies; an overview of significant moments and debates in the field; and the articulation of original categories and insights that should be of use to beginning students and seasoned scholars alike."

Douglas Kellner, University of California-Los Angeles
Features
A high quality, authoritative introductory cultural studies textbook from a leading figure in the field.

Packed full of contemporary examples to bring cultural studies to life for beginning students at any level.

Clear and accessible for students but nuanced and novel enough to appeal to lecturers too.

Highly adoptable on a range of introductory courses: cultural studies, cultural theory and popular culture.

Part of the prestigious Polity Short Introductions series, known for masterly overviews by some of the leading academics of our time.