Visualizing Human Biology Lab Manual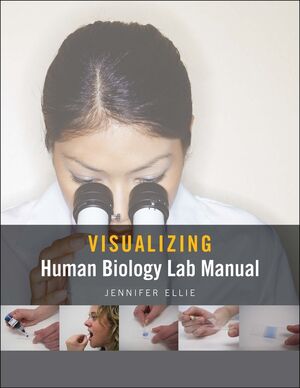 Visualizing Human Biology Lab Manual
ISBN: 978-0-470-91205-8 March 2011 512 Pages
Description
This text is an unbound, binder-ready edition.

Visualizing Human Biology Lab Manual provides 18 labs specifically designed for the non-majors biology student, each of which engages students by focusing on the structure and function of each person's own unique body. The lab manual includes key experiments with step-by-step visual guides and more interesting, real world topics to connect with students' diverse experiences. Visuals are used to teach and explain, not just illustrate, and students with varied learning styles will be engaged. The applications of common laboratory techniques in science, medicine, and everyday life are also explored in each lab topic.
Table of contents
Lab 1: Using the Scientific Method in Everyday Life.
Lab 2: Observing Cells with Light Microscopy.
Lab 3: Observing Body Tissues.
Lab 4: The Chemistry of Life.
Lab 5: The Digestive System.
Lab 6: The Cardiovascular System.
Lab 7: The Respiratory System.
Lab 8: The Urinary System.
Lab 9: The Reproductive System.
Lab 10: The Nervous System.
Lab 11: The Special Senses.
Lab 12: The Skeletal System.
Lab 13: The Muscular System.
Lab 14: Human Genetics.
Lab 15: DNA Fingerprinting.
Lab 16: Cancer.
Lab 17: Microorganisms and the Human Body.
Lab 18: Evolution.
Line Art and Text Credits.
Photo Credits.