Italian Phrases For Dummies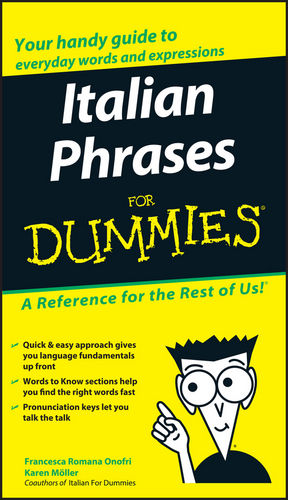 Italian Phrases For Dummies
ISBN: 978-1-118-05428-4 June 2011 224 Pages
Description
Everyday conversations in Italian made easy
Italy is a perennially popular destination for Americans, with three cities (Florence, Rome, and Venice) among the top ten in Travel & Leisure's 2003 "World's Best Cities" poll. This concise, easy-to-use guide helps travelers and students get up to speed fast on conversational Italian, showcasing the most commonly used words and phrases.
Francesca Romana Onofri is an Italian translator and teacher.
Karen Moller is a writer who has worked on several Italian-language projects for Berlitz.
Table of contents
Introduction.
Chapter 1: I Say It How? Speaking Italian.
Chapter 2: Grammar on a Diet: Just the Basics.
Chapter 3: Numerical Gumbo: Counting of All Kinds.
Chapter 4: Making New Friends and Enjoying Small Talk.
Chapter 5: Enjoying a Drink and a Snack (Or Meal).
Chapter 6: Shop 'til You Drop!
Chapter 7: Making Leisure a Top Priority.
Chapter 8: When You Gotta Work.
Chapter 9: I Get Around: Transportation.
Chapter 10: Finding a Place to Lay Your Weary Head.
Chapter 11: Dealing with Emergencies.
Chapter 12: Ten Favorite Italian Expressions.
Chapter 13: Ten Phrases That Make You Sound Like a Local.
Index.