Becoming a Personal Trainer For Dummies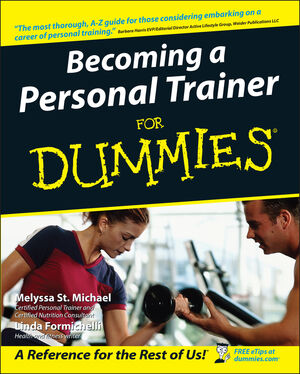 Becoming a Personal Trainer For Dummies
ISBN: 978-1-118-05402-4 March 2011 384 Pages
Description
Want to turn your passion for fitness into a lucrative career? Each year, more than 5 million Americans use personal trainers to take their workouts to the next level—and this plain-English guide shows you how to get in on the action. Whether you want a part-time job at the gym or a full-time personal training business, you'll find the practical, proven advice you need in this indispensable resource.
Becoming a Personal Trainer For Dummies is for you if you want to become a certified personal trainer and start your own business—or if you're a certified trainer looking to improve upon your existing practice. You get a thorough overview of what it takes to get certified and run a successful business, complete with expert tips that help you:
Find your training niche
Study for and pass certification exams
Attract, keep, and motivate clients
Interview, hire, and manage employees
Update your training skills
Expand your services
This user-friendly guide offers unique coverage of personal trainer certification programs, including tips on selecting the right program and meeting the requirements. You'll see how to develop your training identity as well as practice invaluable skills that will make you a great personal trainer. You also receive savvy guidance in:
Choosing the best fitness equipment
Creating a business plan, a record-keeping system, and a marketing campaign
Performing fitness assessments
Developing individualized exercise programs
Advancing your clients to the next fitness level
Managing legal issues and tax planning
Offering additional services such as massage and nutrition consultation
Training clients with special needs
Complete with ten great starter exercises and a valuable list of professional organizations and resources, Becoming a Personal Trainer For Dummies gives you the tools you need to get the most out of this fun, fabulous career!
Table of contents
Introduction.
Part I: Shaping Up to Be a Personal Trainer.
Chapter 1: Personal Training 101: Do You Have What It Takes?
Chapter 2: Getting Certified.
Chapter 3: Practicing Your Art.
Chapter 4: Planning Your Start.
Part II: Being a Successful Personal Trainer.
Chapter 5: Creating Your Business Plan.
Chapter 6: Setting Up Shop.
Chapter 7: Developing Sound Business Practices.
Chapter 8: Flexing Your Marketing Muscles.
Chapter 9: Retaining Your Clientele.
Part III: Putting the Personal into Personal Training.
Chapter 10: Getting to Know You: Performing Initial Consultations.
Chapter 11: The First Session: Performing the Fitness Assessment.
Chapter 12: Before We Meet Again: Planning the Program.
Chapter 13: The Second Session: Taking Your Client through the First Workout.
Chapter 14: Teaching Your Beginning Client Beginning Exercises.
Chapter 15: Taking Your Client to the Next Level.
Part IV: Growing Your Personal Training Business.
Chapter 16: Preparing for Growth: Automating and Documenting Your Workflow.
Chapter 17: Hiring Additional Staff.
Chapter 18: Building Your Business Culture.
Part V: The Part of Tens.
Chapter 19: Ten Great Ways to Expand Your Services.
Chapter 20: Ten Essential Pieces of Equipment.
Chapter 21: Ten Ways to Be the Best Personal Trainer You Can Be.
Appendix: Resources.
Index.
Reviews
"…This non-nonsense book covers every conceivable aspect of the personal-training industry…straightforward, informative and easy to read…" (Muscle & Fitness, March 2005)