The Adweek Copywriting Handbook: The Ultimate Guide to Writing Powerful Advertising and Marketing Copy from One of America's Top Copywriters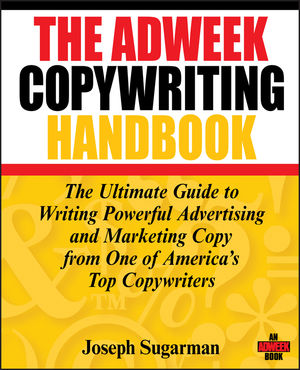 The Adweek Copywriting Handbook: The Ultimate Guide to Writing Powerful Advertising and Marketing Copy from One of America's Top Copywriters
ISBN: 978-1-118-42879-5 June 2012 368 Pages
Description
Great copy is the heart and soul of the advertising business. In this practical guide, legendary copywriter Joe Sugarman provides proven guidelines and expert advice on what it takes to write copy that will entice, motivate, and move customers to buy. For anyone who wants to break into the business, this is the ultimate companion resource for unlimited success.
Table of contents
Foreword: The Sugarman Legacy (Ray Schultz).
Acknowledgments.
Introduction: The Origin of This Book.
SECTION ONE: UNDERSTANDING THE PROCESS.
Preview.
1. General Knowledge.
2. Specific Knowledge.
3. Practice, Practice, Practice.
4. The Purpose of All the Graphic Elements of an Ad.
5. The First Sentence.
6. Creating the Perfect Buying Environment.
7. Resonating with the Reader.
8. The Slippery Slide.
9. Assumed Constraints.
10. Seeds of Curiosity.
11. Copy as Emotion.
12. Selling the Concept, Not the Product.
13. The Incubation Process.
14. How Much Copy Should You Write?
15. The Art of Personal Communication.
16. The Copy Sequence.
17. the Editing Process.
SECTION TWO: UNDERSTANDING WHAT WORKS.
Preview.
18. Powerful Copy Elements Explained.
19. The Psychological Triggers.
20. Selling a Cure, Not Prevention.
21. Rating Your Writing Level.
22. Seven Steps to Writing Great Copy.
SECTION THREE: PROVING THE POINTS-AD EXAMPLES.
Preview.
23. The Lazy Man's Way to Riches.
24. A Fluke of Nature.
25. Lingerie for Men.
26. The More You Learn.
27. A More Stimulating Way.
28. Magic Baloney.
29. Pet Plane.
30. Mail Order Mansion.
31. Hungarian Conspiracy.
32. Vision Breakthrough.
33. Gold Space Chains.
34. Consumers Hero.
35. Nautilus Spelling Sale.
A Note: The Power of Your Pen.
SECTION FOUR: UTILIZING YOUR COPYWRITING SKILLS.
Preview.
36. Writing for Different Media.
Epilogue: Some Final Thoughts.
Appendix A: Assumed Constraints, Continued.
Appendix B: Seeds of Curiosity, Continued.
Appendix C: Summary of Axioms and Major Points.
Appendix D: Recommended Reading.
Index.
About the Author.
New To This Edition
Adweek endorsed.
Starting at the very beginning of the process, the book shows students how to get prepared to write on a product before moving on to the act of writing itself.
Students will learn how to use various elements like type style, sentence length, and comprehension to best effect, as well as employ the psychological triggers that influence and persuade people to buy.
Other topics covered include press releases, brochure copy, and copywriting for the Internet.