Handbook of Training and Development, 2nd Edition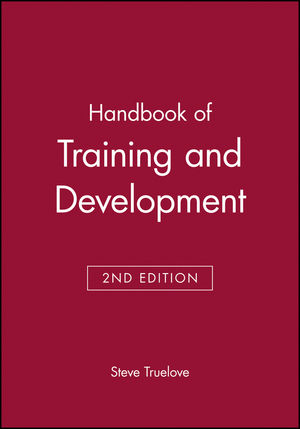 Handbook of Training and Development, 2nd Edition
ISBN: 978-0-631-19357-9 December 1994 Wiley-Blackwell 352 Pages
Description
Updated and now available in paperback, this highly successful training guide includes original contributions from leading training and development specialists. It has proved to be invaluable to newly appointed trainers and more experienced practitioners alike and is particularly suitable for students of the professional bodies' Certificate in Training and Development.
Table of contents
1. Techniques for Investigation: Malcolm Craig.
2. Techniques for Analysis: Malcolm Craig.
3. Analysis of Organizational Training Needs: John Roscoe.
4. Learning to Learn: Sylvia Downs.
5. Objectives and Evaluation: Gill Sanderson.
6. Learning and Training Design: John Roscoe.
7. Tutor Delivered Training: Steve Truelove.
8. Open and Distance Learning: Jim Stewart and Rosemary Winter.
9. Administration of Training: Steve Truelove.
10. National Training Policies in Britain: Bob Hamlin.
11. Developing Employees: Steve Truelove.
Reviews
"A good adjunct for the certificate in training and development course ..... provides a good survey." Training and Development